Isle of Skye Elopement Planning Guide
Remote, rugged, romantic – whether you are looking for a backdrop of mountains, waterfalls or sea, there is somewhere on the Isle of Skye that is the perfect spot for you and your partner to say your wedding vows to each other. Skye has become one of the most famous elopement locations in the world and it's not difficult to see why. Its scenic beauty and its famous misty weather produce photographs full of atmosphere and drama.
If you are looking for somewhere in the world to elope, or if you've already started thinking you might want to elope to Skye, then this guide can help you with all the little details and will hopefully answer some of the questions you might have about a Scotland elopement.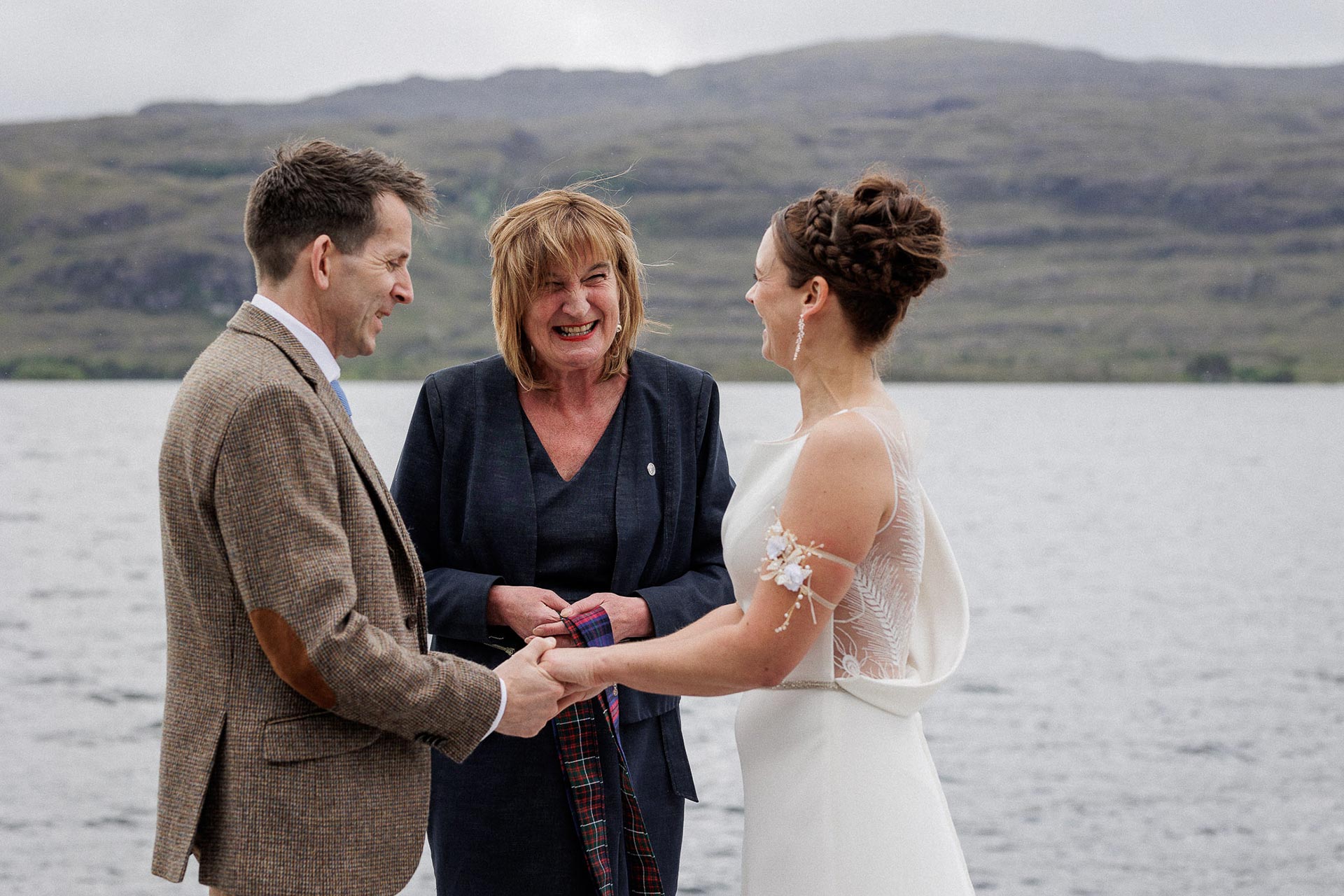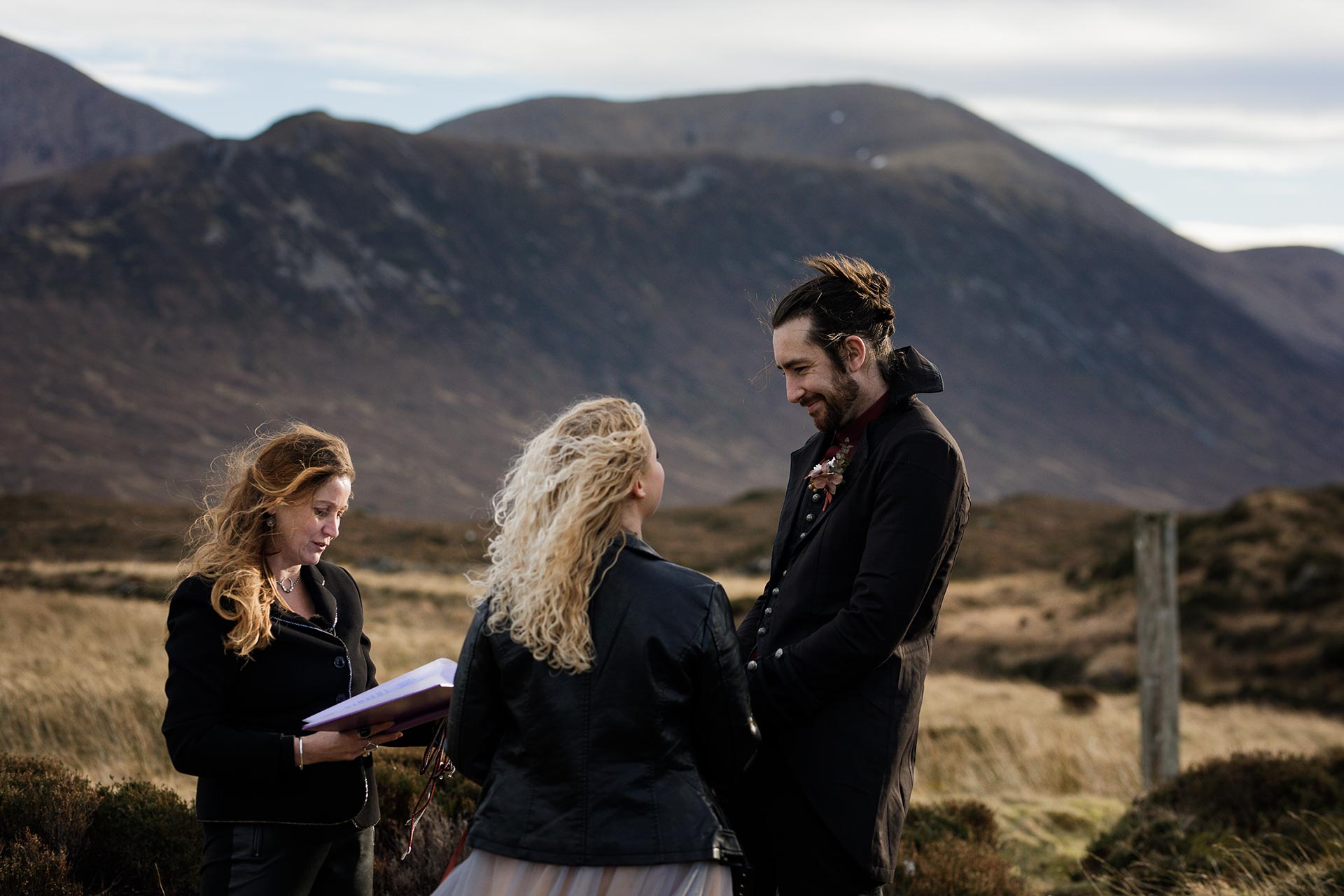 EVERYTHING YOU NEED TO KNOW ABOUT PLANNING YOUR ELOPEMENT WEDDING ON SCOTLAND'S ISLE OF SKYE IN 2022
When I first started working as an Isle of Skye wedding photographer, fifteen years ago, elopements were definitely the exception, rather than the rule.  In recent years, however, the number of couples choosing to have Isle of Skye elopement weddings has risen massively as more and more couples are realising that they don't have to have a traditional wedding, and that, actually, they can just head off on their own, marry in private and enjoy something altogether more intimate and romantic.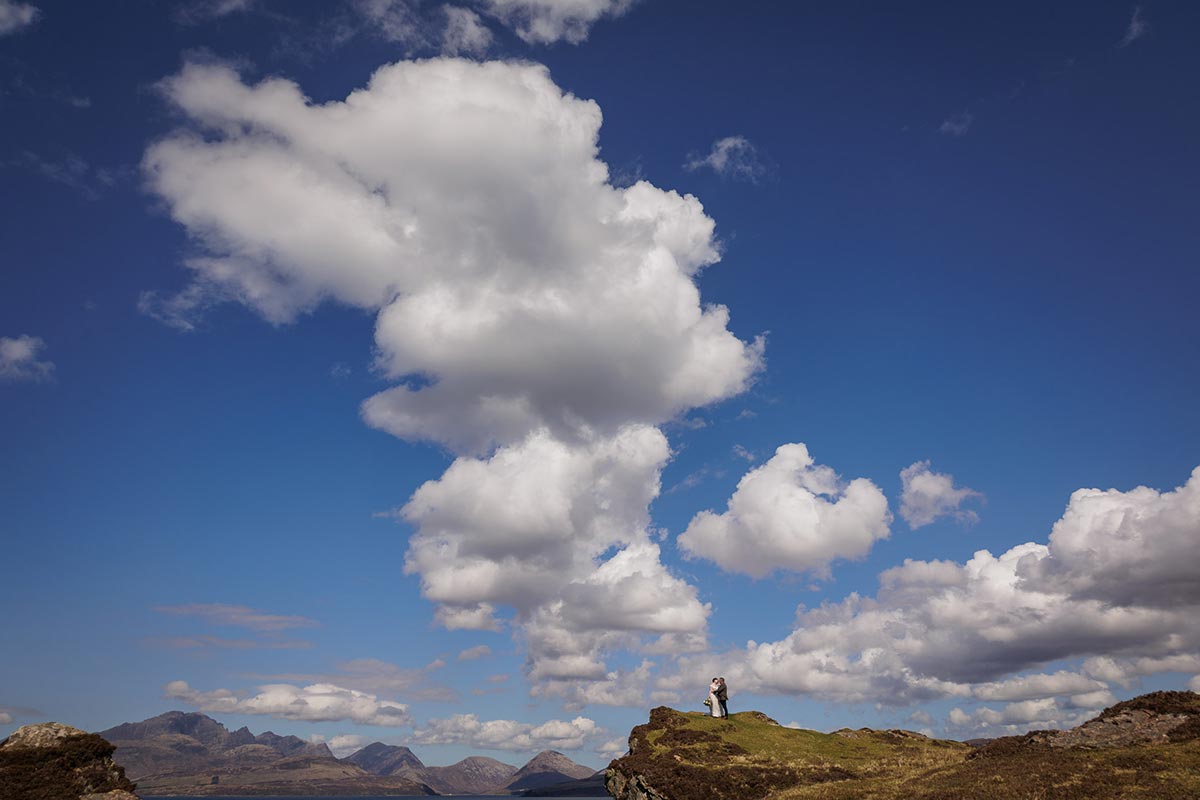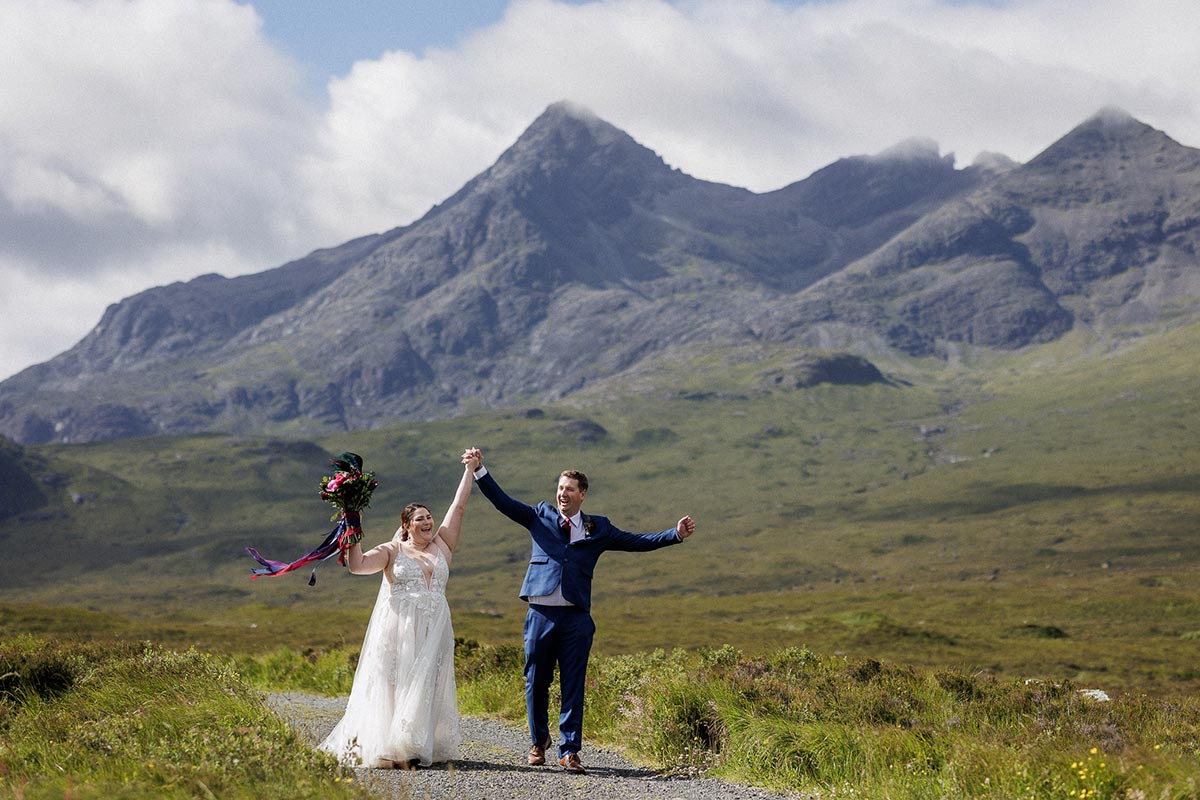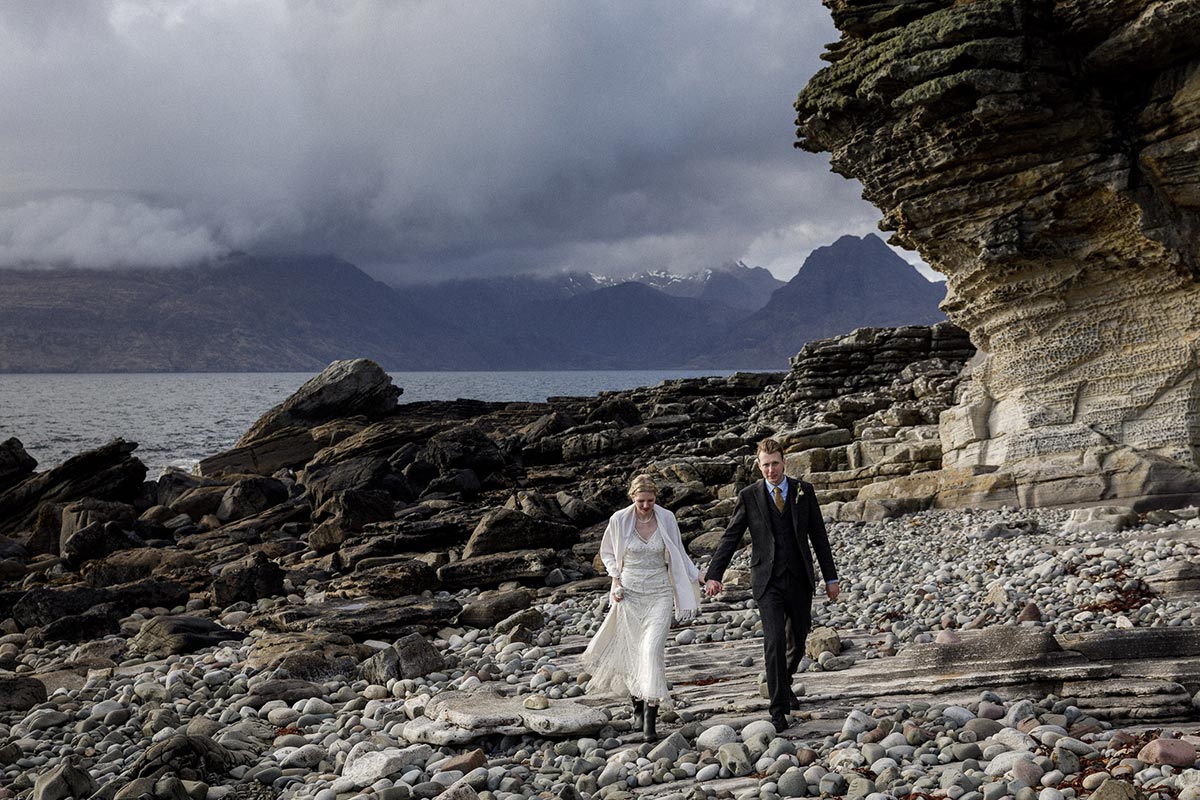 Where Is The Isle of Skye?
The Isle of Skye is situated in the northwest Highlands of Scotland and is part of the Inner Hebrides islands. It is reached either by the Skye bridge from Kyle of Lochalsh on the mainland, which takes a couple of minutes or by ferry from Mallaig with a crossing of about 25 minutes. If you want the exact latitude it's 57.424595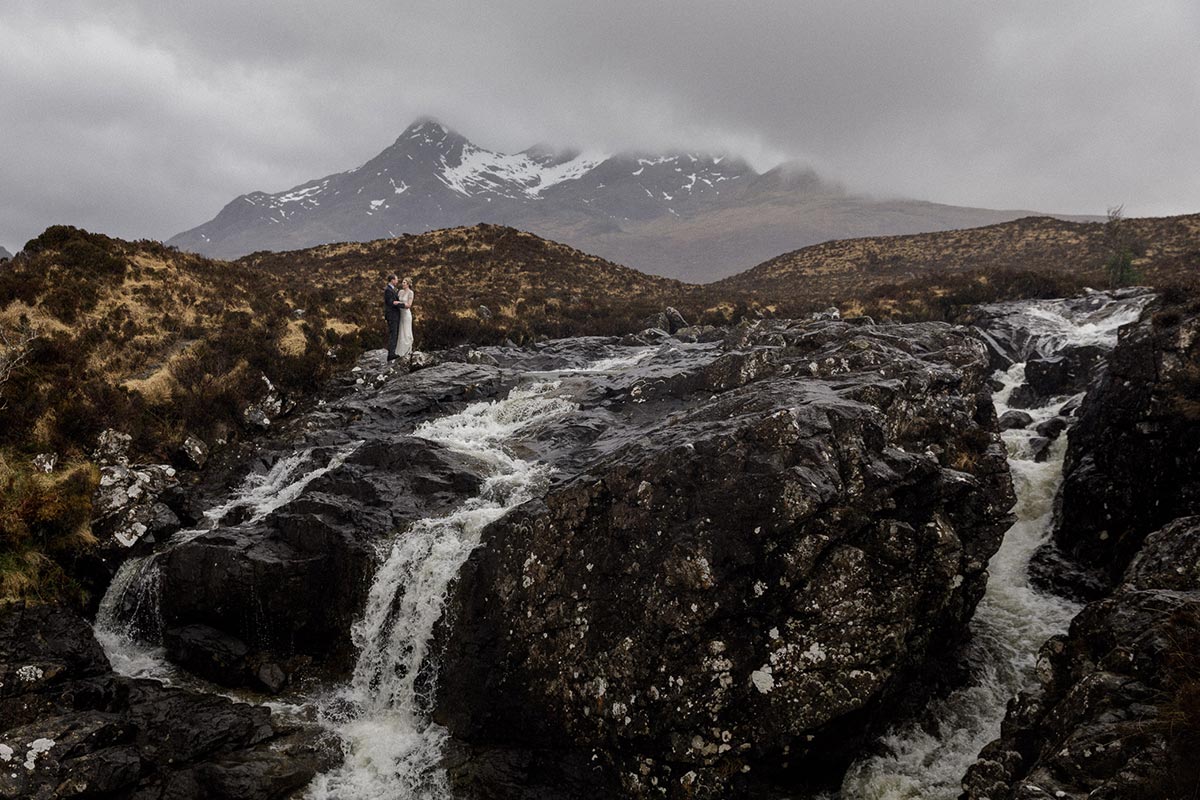 How to Travel To The Isle of Skye
The nearest airport to Skye is Inverness, which is around a two-hour drive. If you are living in the UK, then this would be the best option to fly into. For international travellers, it is possible to fly into London and then take an internal flight to Inverness, but many worldwide airports also fly into Glasgow or Edinburgh. Despite being further away (both are around four and a half to five hours drive from Skye – possibly longer in summer when there is a lot more traffic) you have the benefit of just one flight.
You can also get to Skye by train to Kyle of Lochalsh, where the Skye bridge starts, or by bus, which has several stops on the island.
Once you're in Scotland though, whichever airport you arrive at, assuming you don't get a train or bus, you are almost certainly going to want to hire a car because public transport on and around Skye is not that regular and it will make your life a lot easier having a car.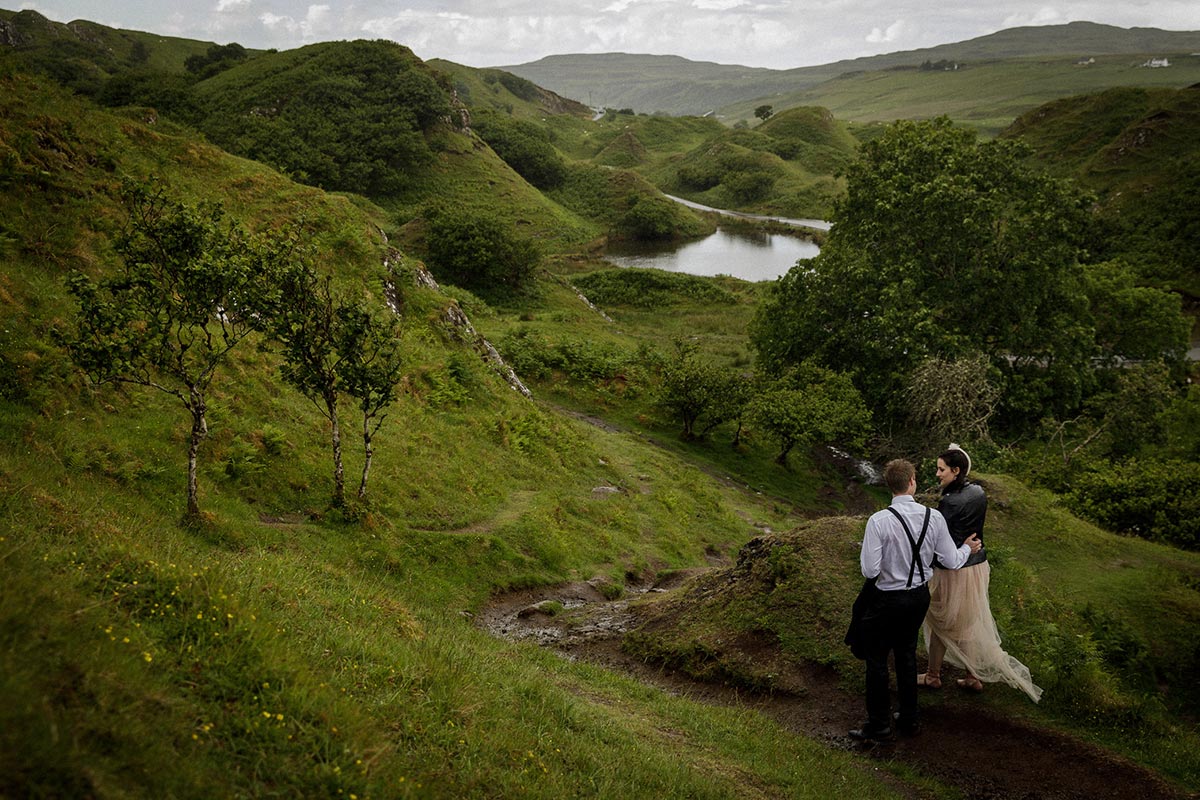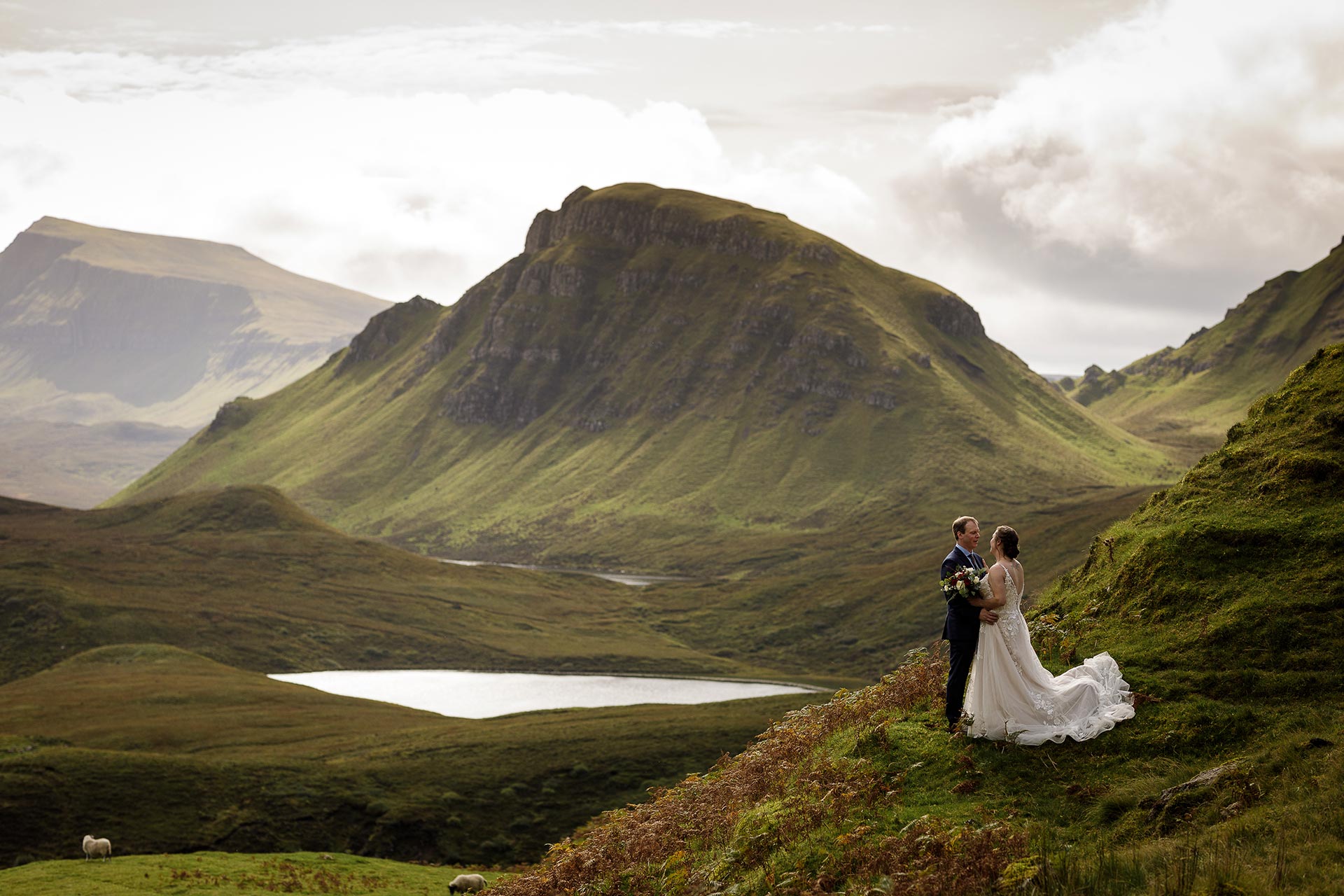 How to Travel Around Skye
Although the best way to travel around is in your own car, if you don't drive, there are a few taxi firms and depending on where you are staying on the island you could have access to a bus, but they are few and far between. On the wedding day itself, you'll probably be travelling in my car with me – it's the best way for you to be able to enjoy the day and, if you want, to have a wee celebratory drink and not worry about driving!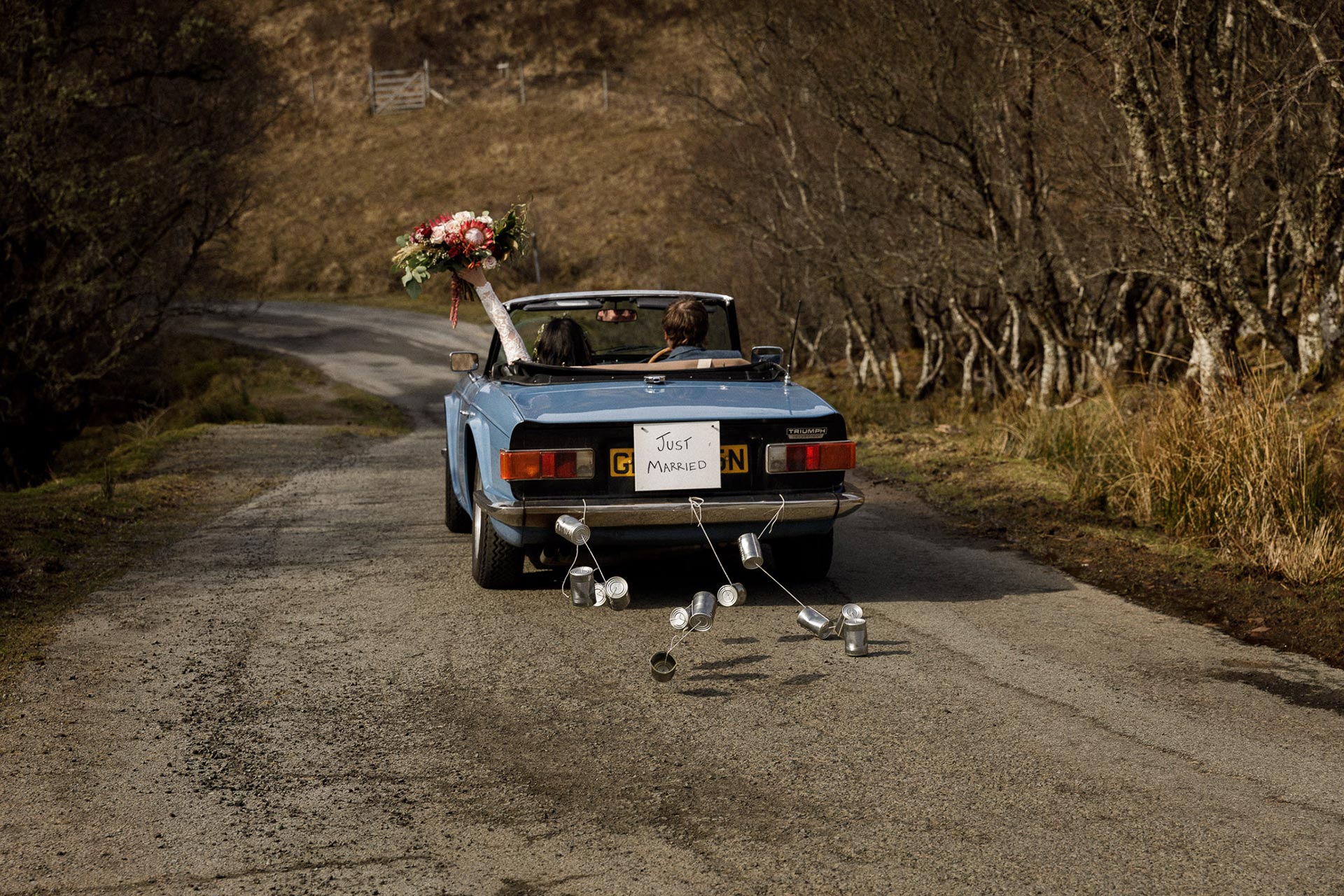 WHAT'S THE BEST TIME OF YEAR TO ELOPE ON THE ISLE OF SKYE?
So, I'm going to come clean here! If I could, I would only photograph elopements between mid-September and mid-May. Why? Well, there are a few reasons, but mostly it's because there are fewer people, no midges*  and, in my opinion, better light. In the summer months, sunrise can be as early as 3.30 am and sunset as late as 10.30 pm which means the golden hours are too early or late for most couples.
The other important factor is that it's often cheaper to travel out of high season too, which could help with your elopement budget.
However, please don't worry if you are only able to have a summer elopement! You will still have a wonderful day and I have photographed many gorgeous summer elopements on Skye. I'm just giving you all the relevant information because that's what this guide is for, and I want you to be armed with everything you need for this epic, once in a lifetime adventure!
'm going to give you some information on each of the seasons and a few photographs from elopements shot at that time of year,  but I'm also going to preface this with a bit about the weather. The one question I get asked about the most is: "What's the weather going to be like in April/August/November?"
Well, the simple answer to that question is – I can't tell you!! The only predictable thing about Scottish weather is that it is completely unpredictable. In 2019 we had no rain in November. It was the driest November for decades. This summer was also the driest for a long, long time, but sometimes we get a lot of rain in summer. We can have gorgeous sunny days in December and wild and stormy days in July. Basically, don't plan your elopement around what you think the weather is going to be like because undoubtedly you'll get caught out!
*Click here if you don't know what the Scottish midge is…..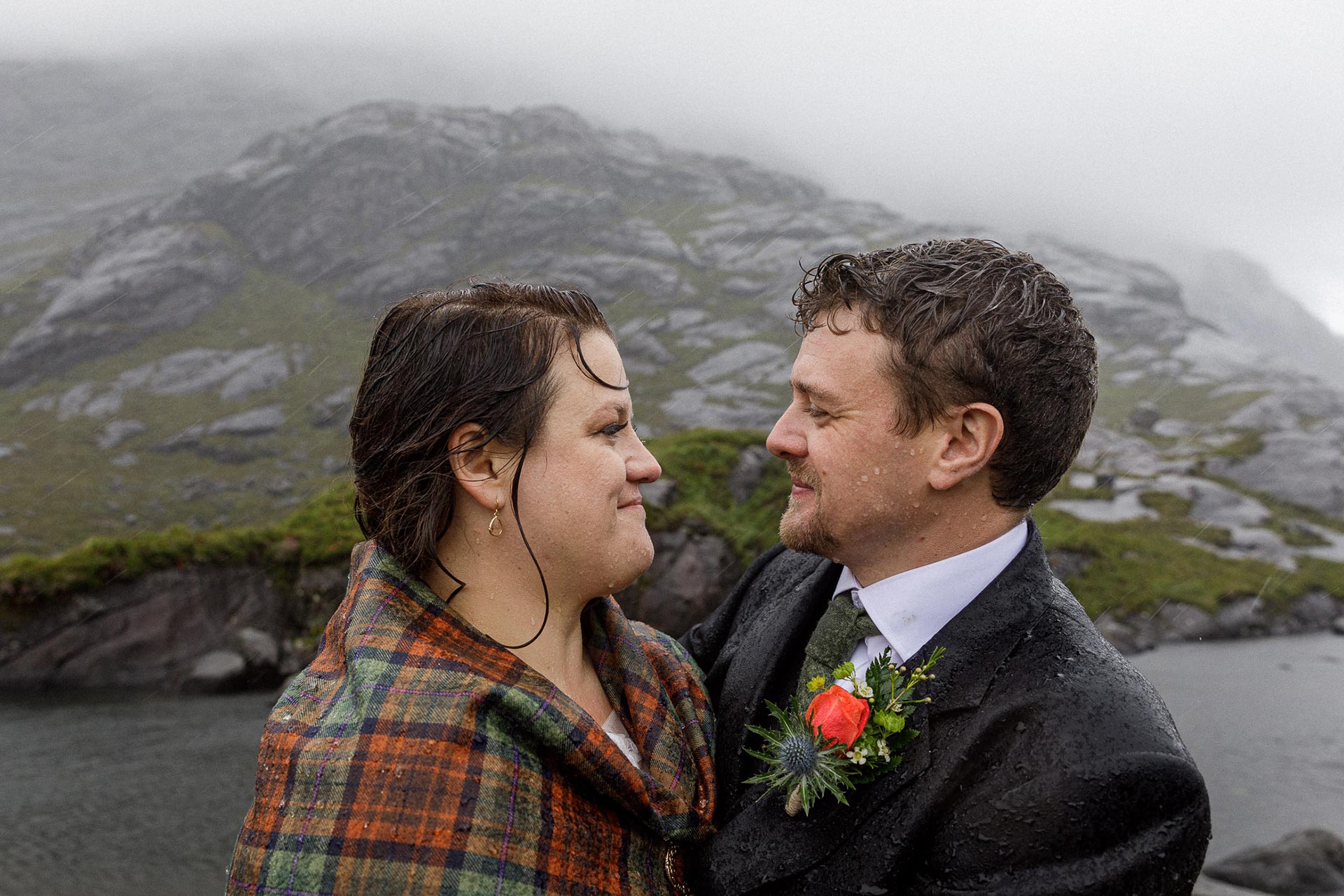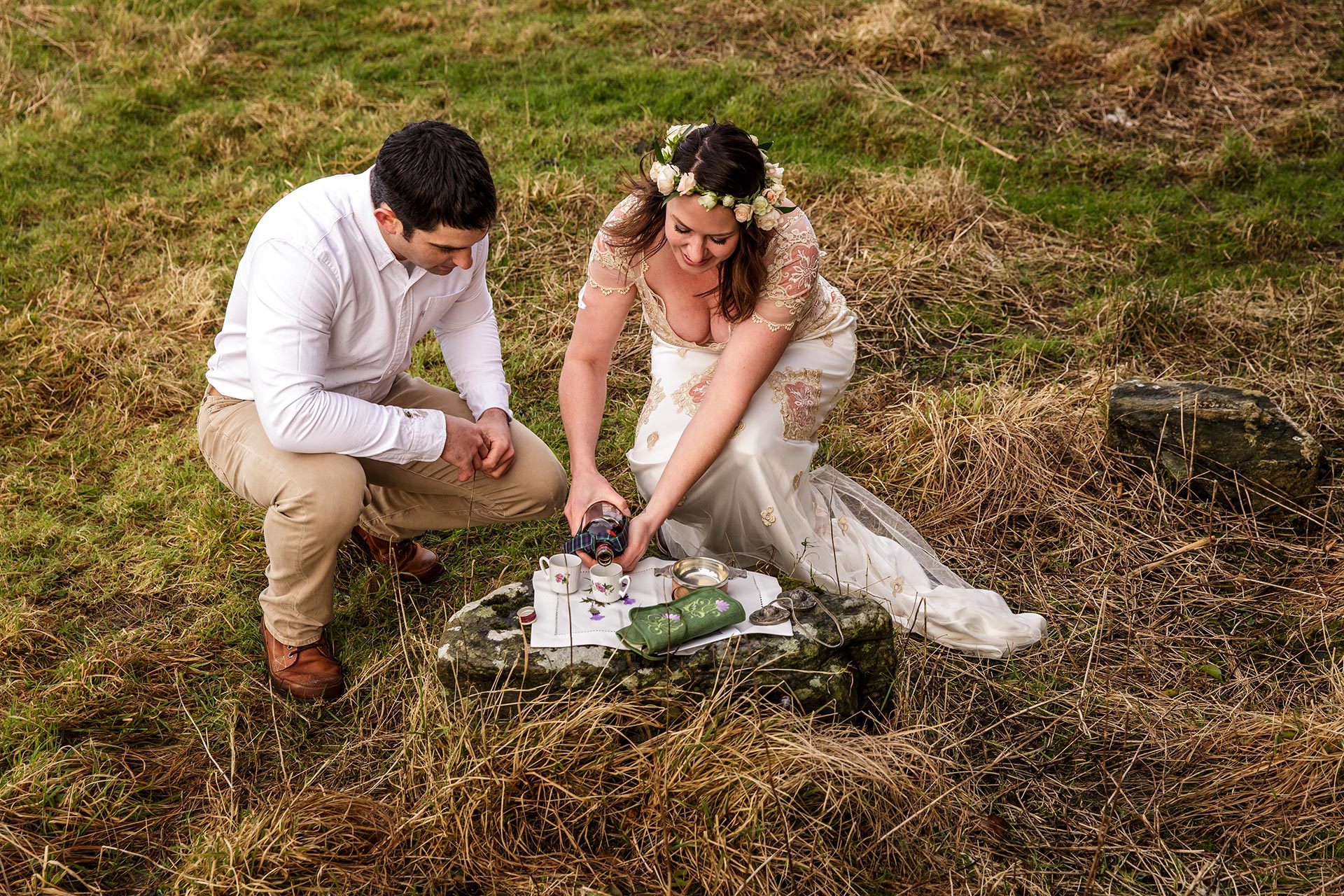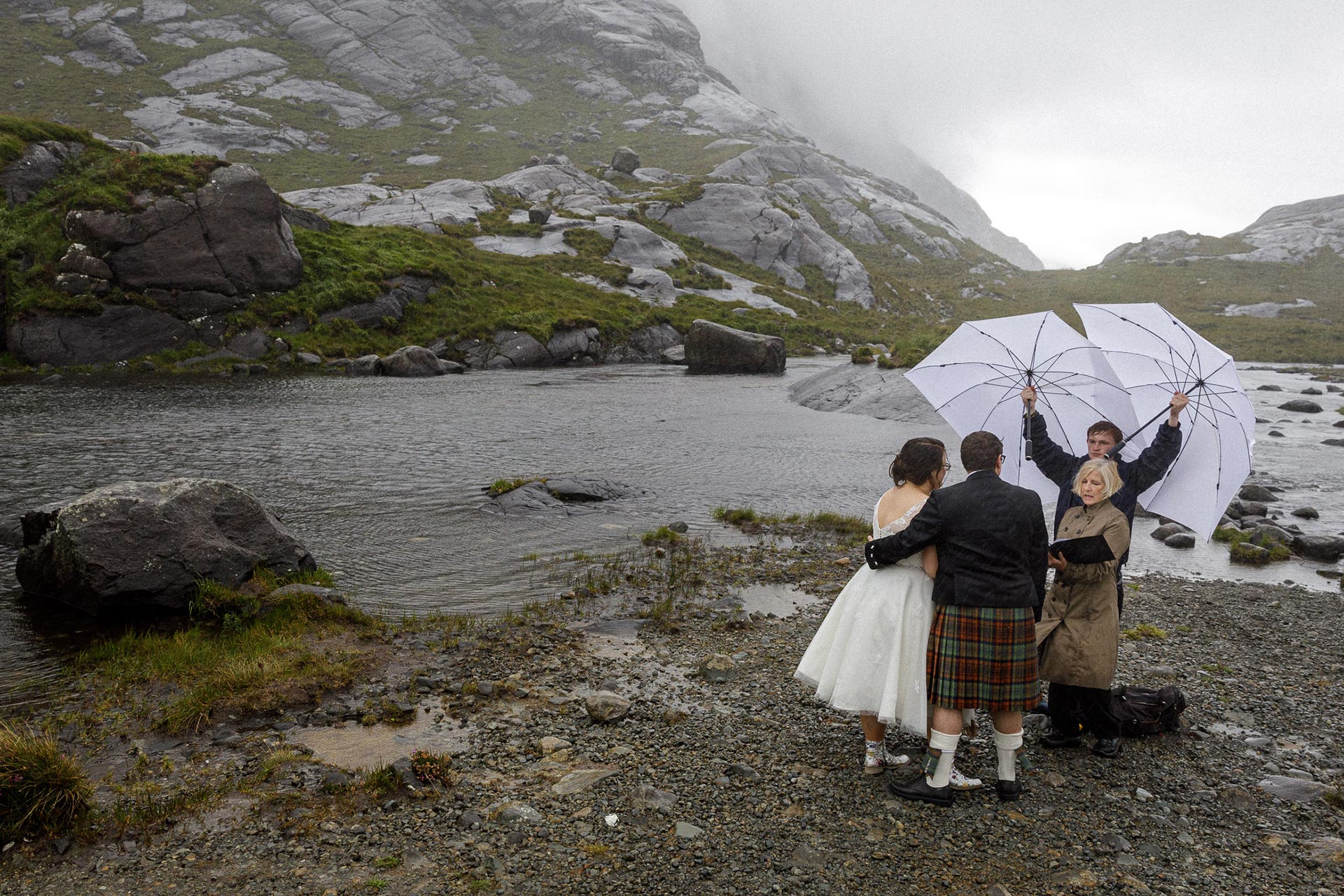 Autumn elopements – September, October, November
Autumn is my favourite season. It's when the colours are at their best. In September, the bracken starts to change from green to rusty brown, there is still the green of the grass and combined with the last bloom of the purple heather it's just beautiful. As we move into October and November, the heather dies back and the landscape becomes more reds and browns but it's so beautiful, particularly as the sun starts to set and everything turns golden. There are still tourists around in September and October but by the end of October and November things have quietened down a lot.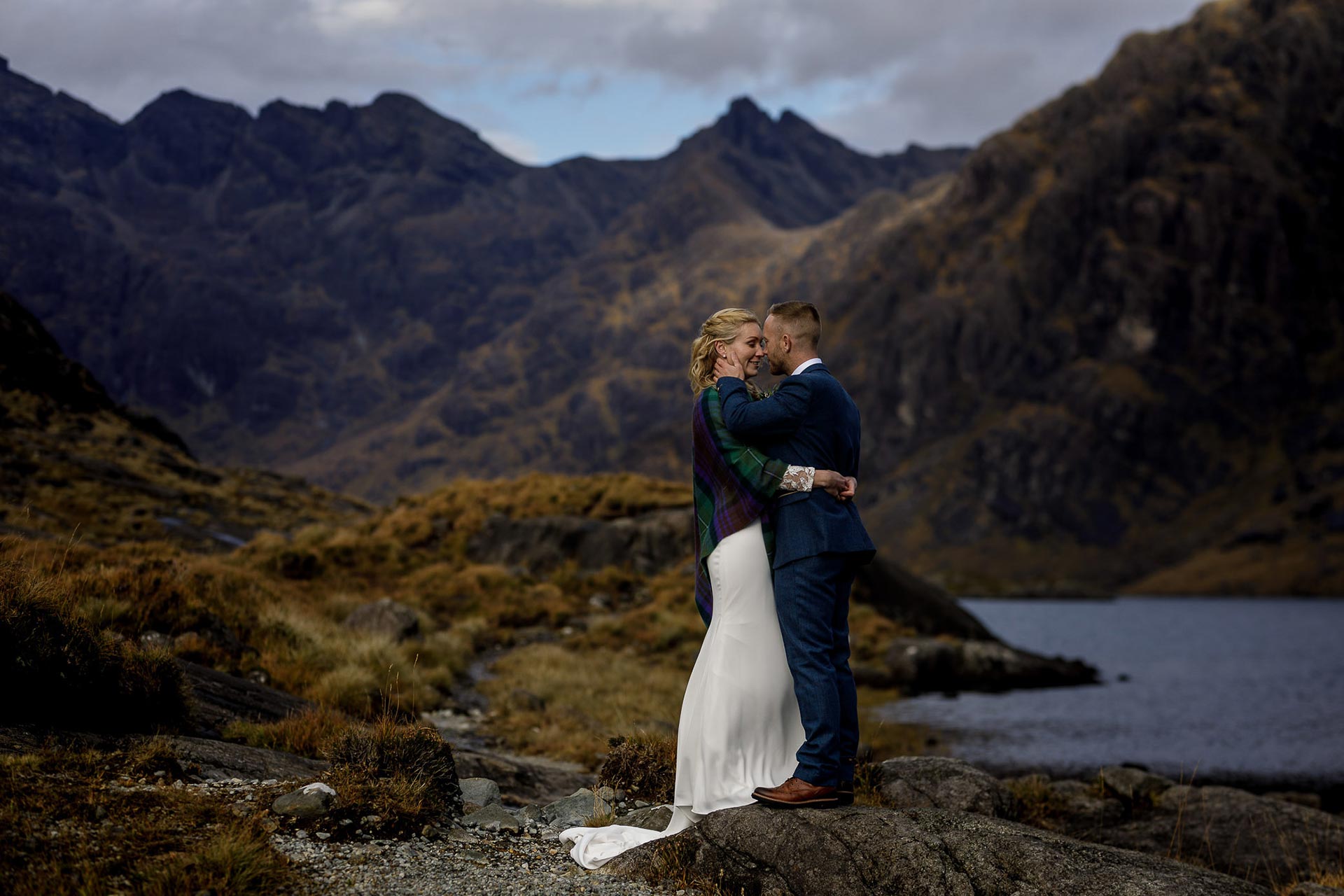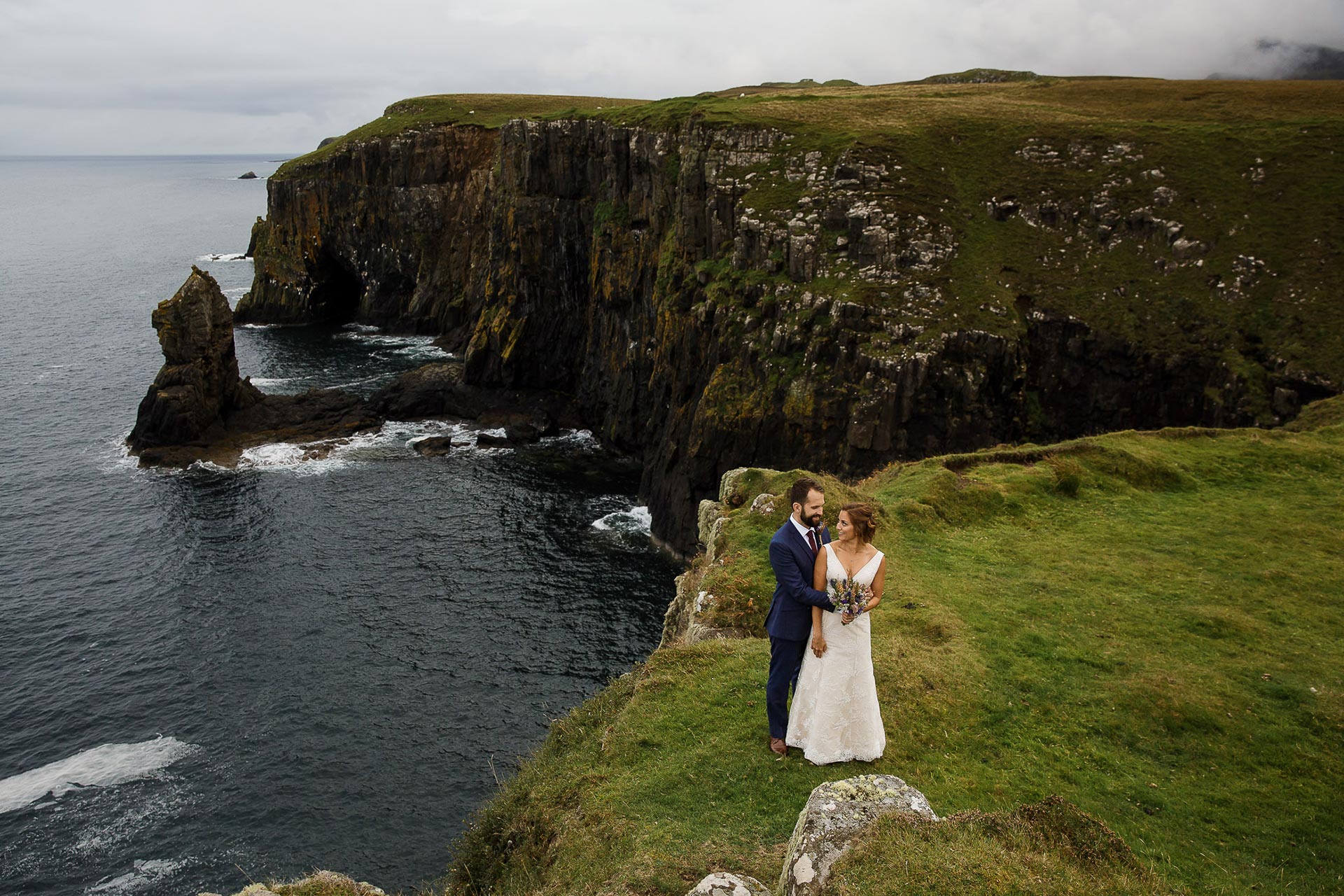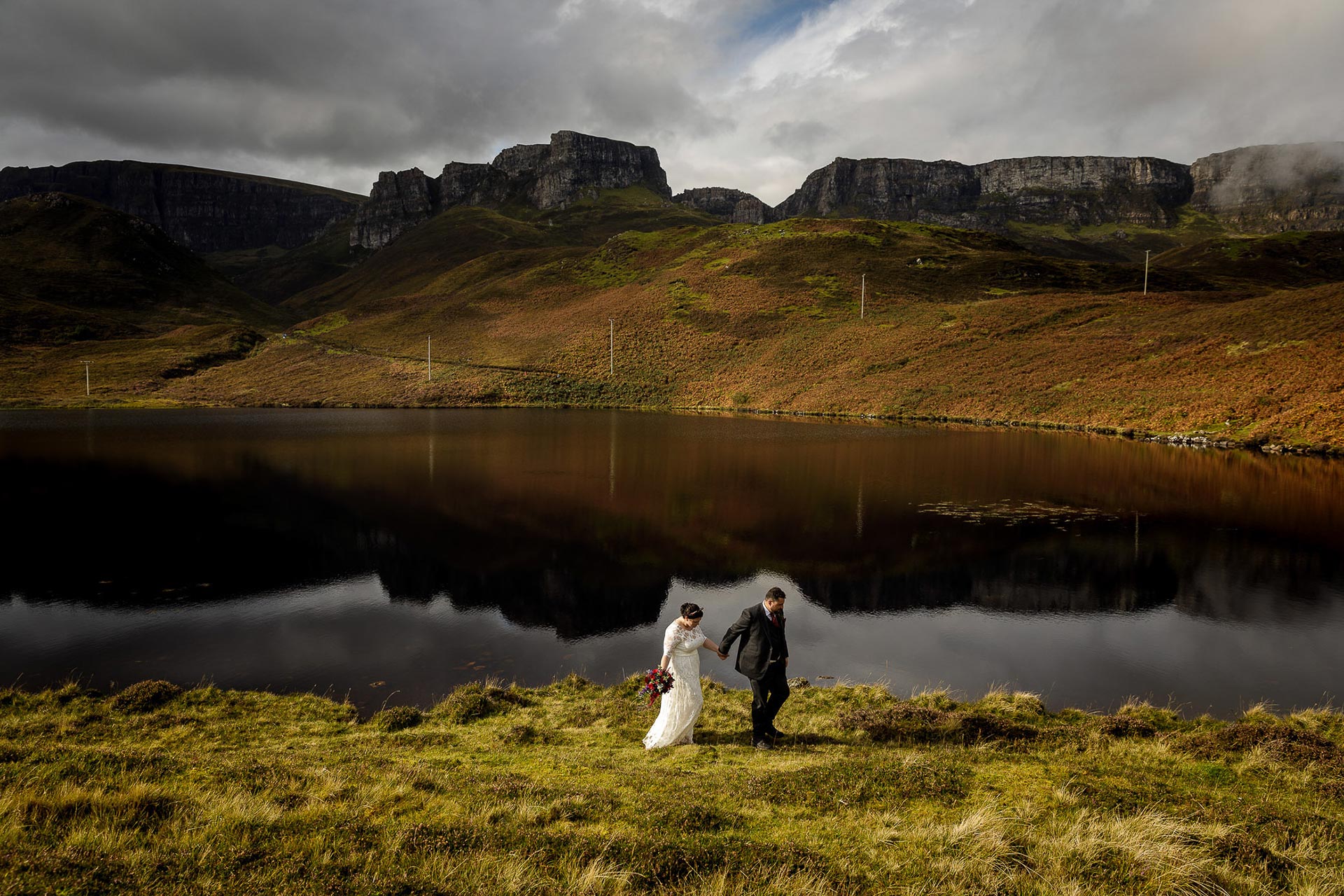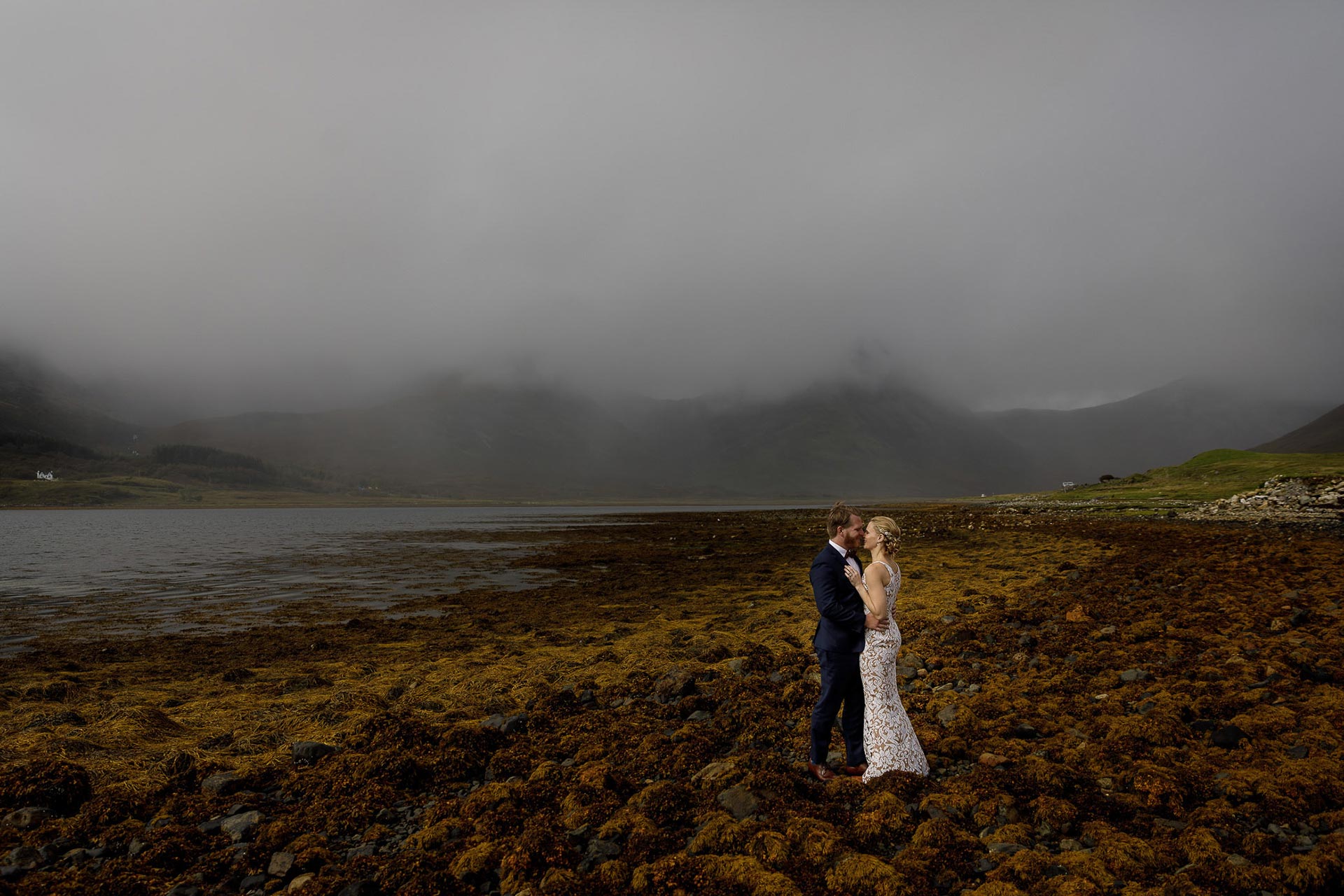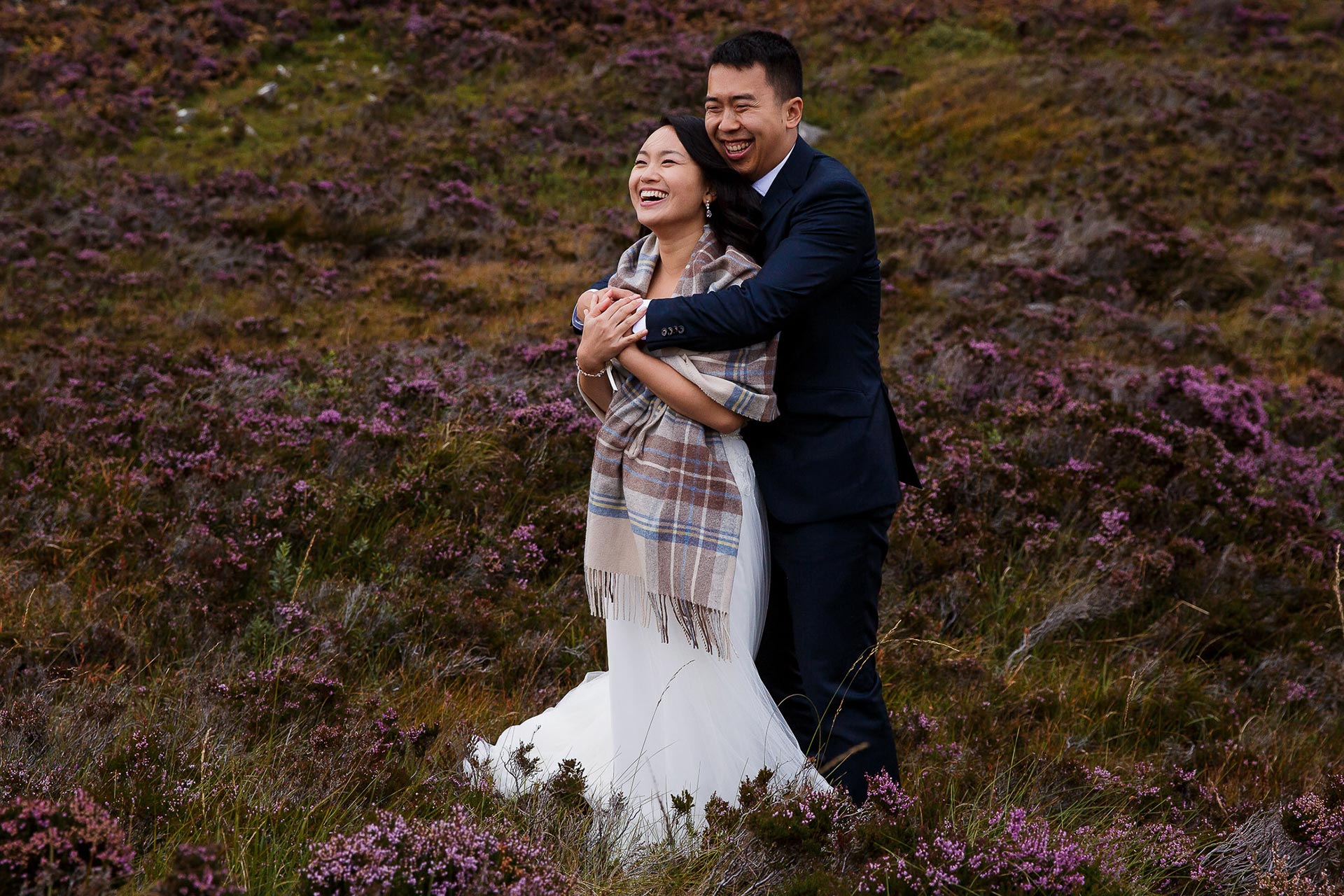 Winter elopements – December, January, February
I can't actually promise you a winter wonderland, but if it's snow-capped mountains you want as your backdrop then these months are the most likely to provide some snowy weather. We don't usually have a lot of problems with snow lying on the ground around here, but usually, there will be a period where the Cuillins are covered in snow and it is breathtakingly beautiful. Although we can have days of high-pressure calmness with beautiful golden light, it is also the season where storms are more prevalent, but that can add real drama to some of your photographs. This season is also the quietest of the year so many of the famous locations will have very few visitors – there's a good chance you might even have the place to yourselves. Sunrises are later and sunsets are earlier so you don't need to get up super early or stay up really late, to take advantage of the gorgeous light.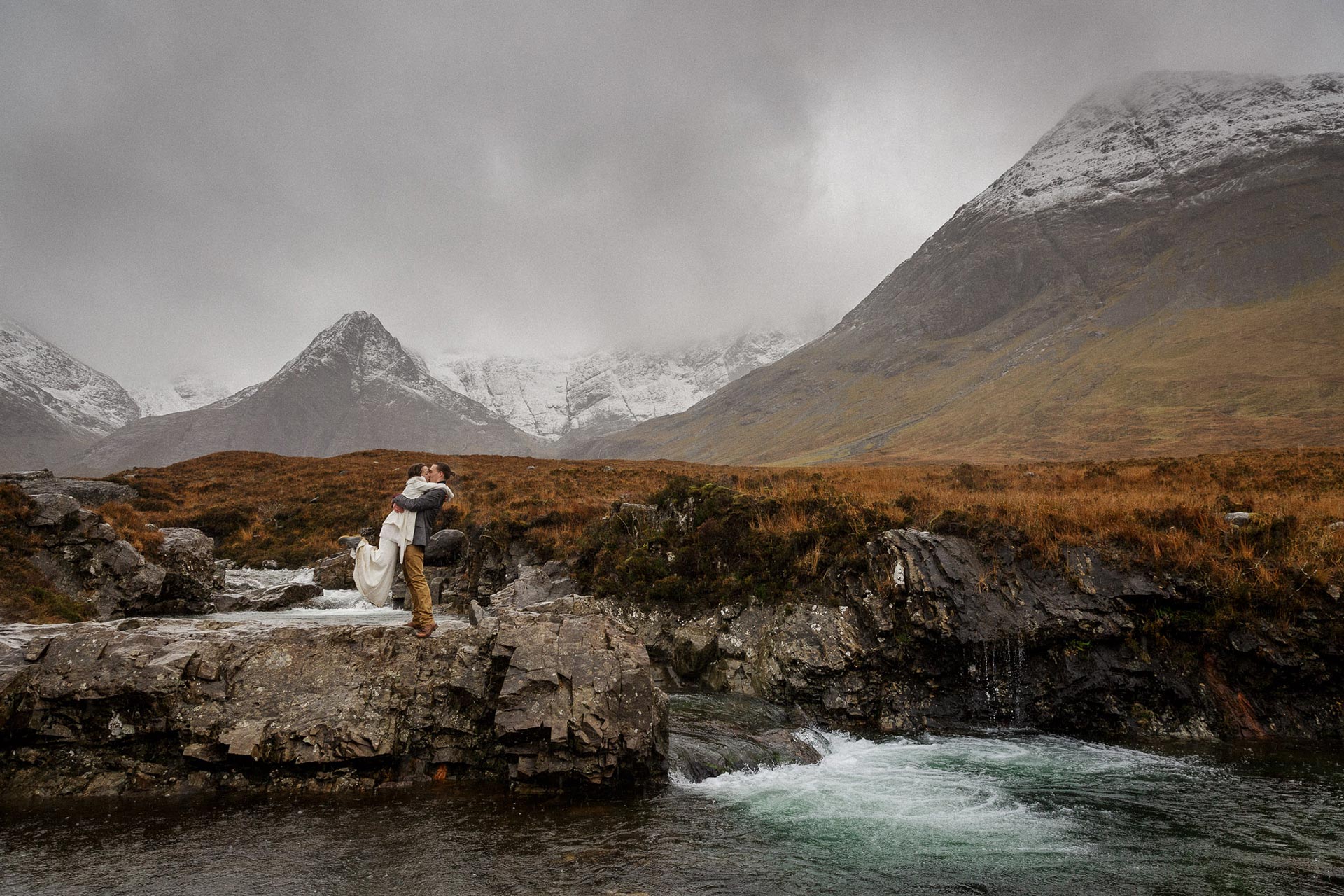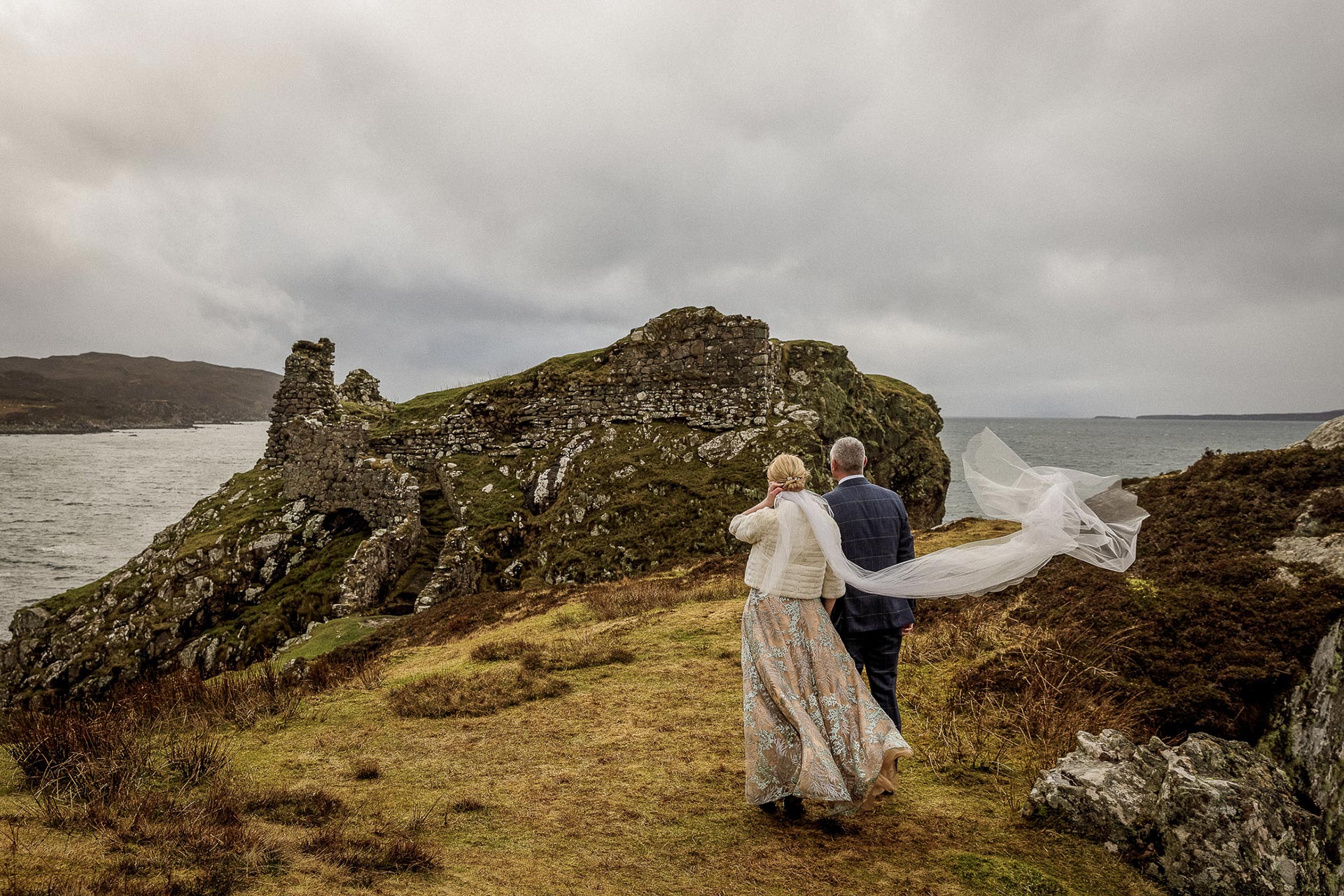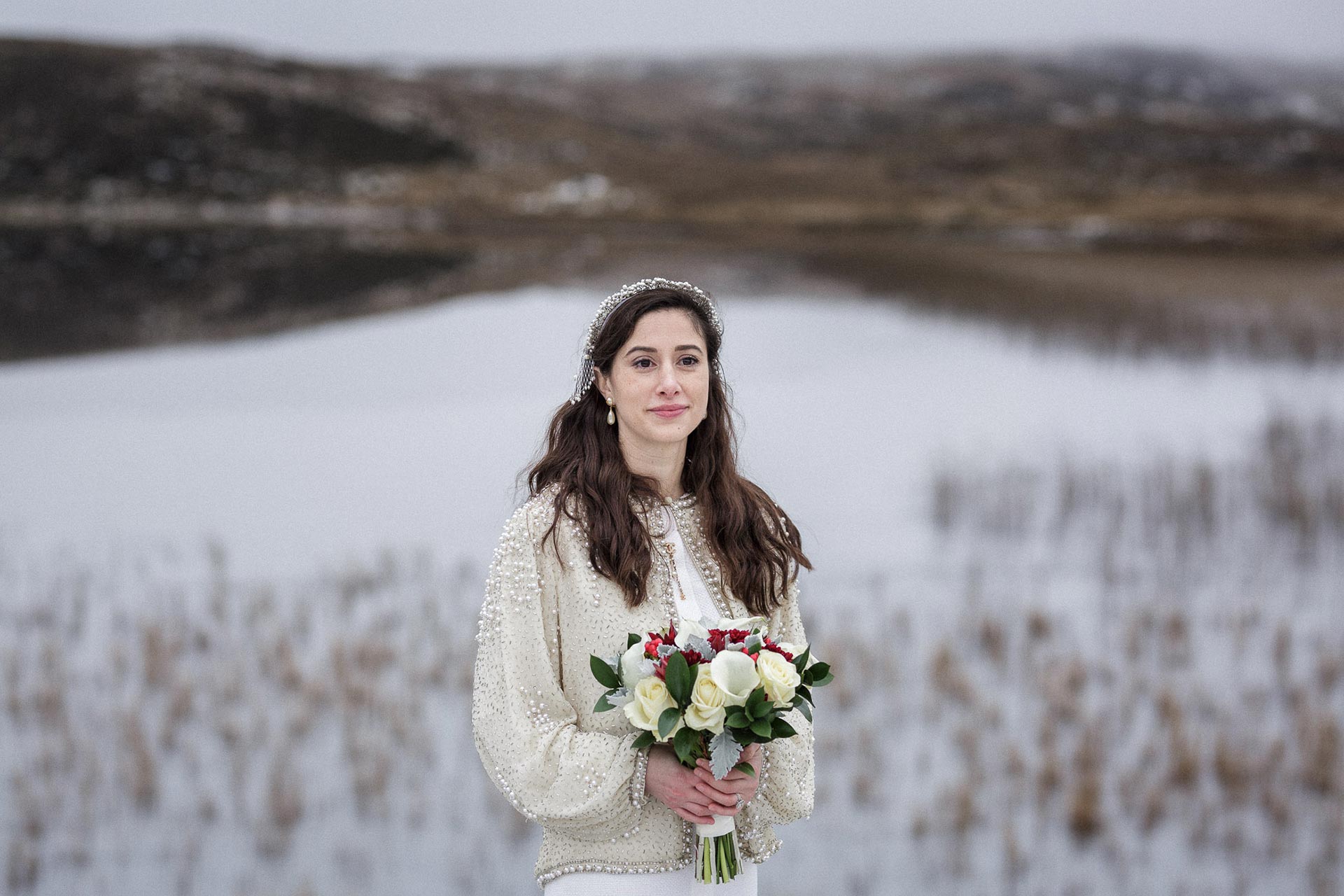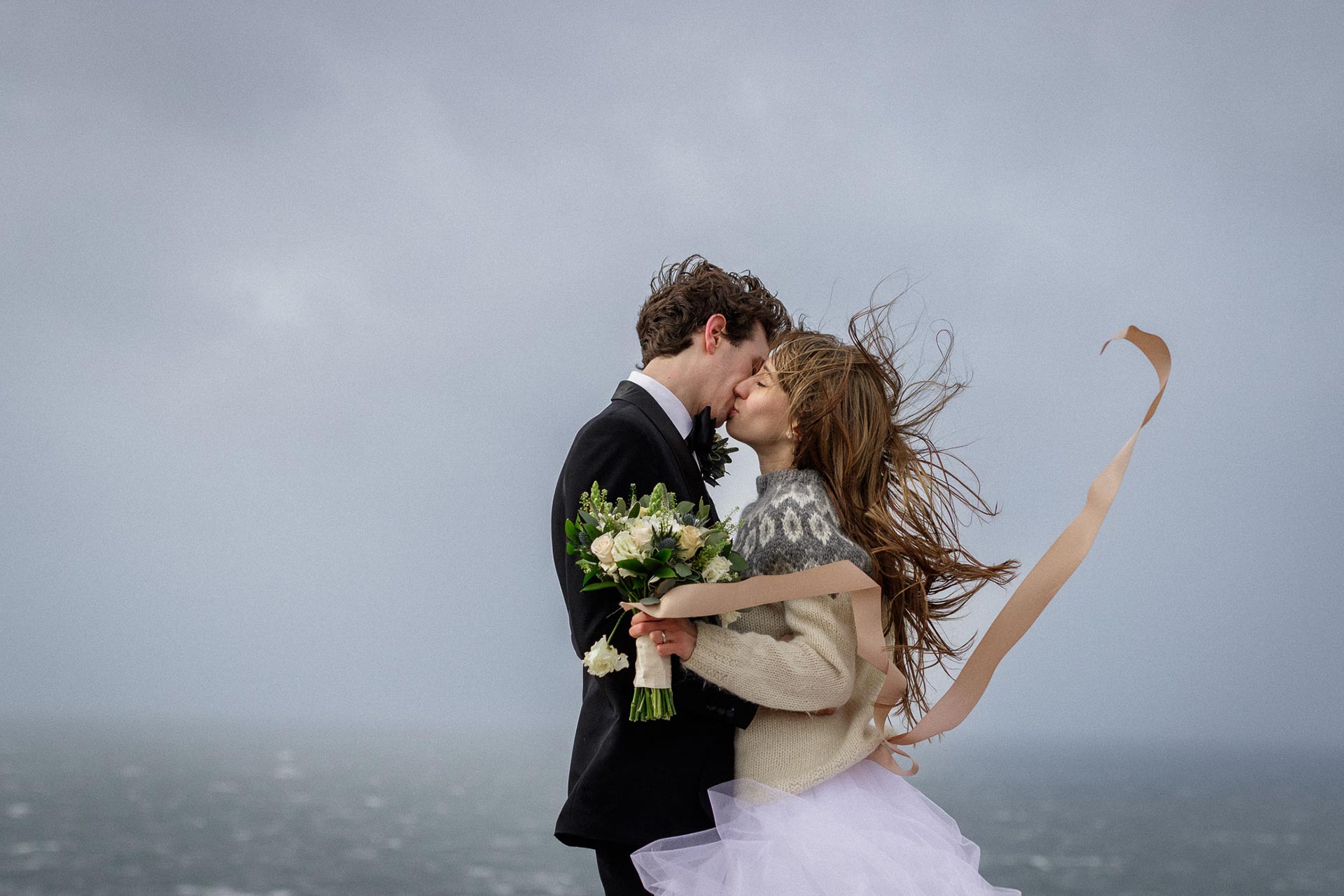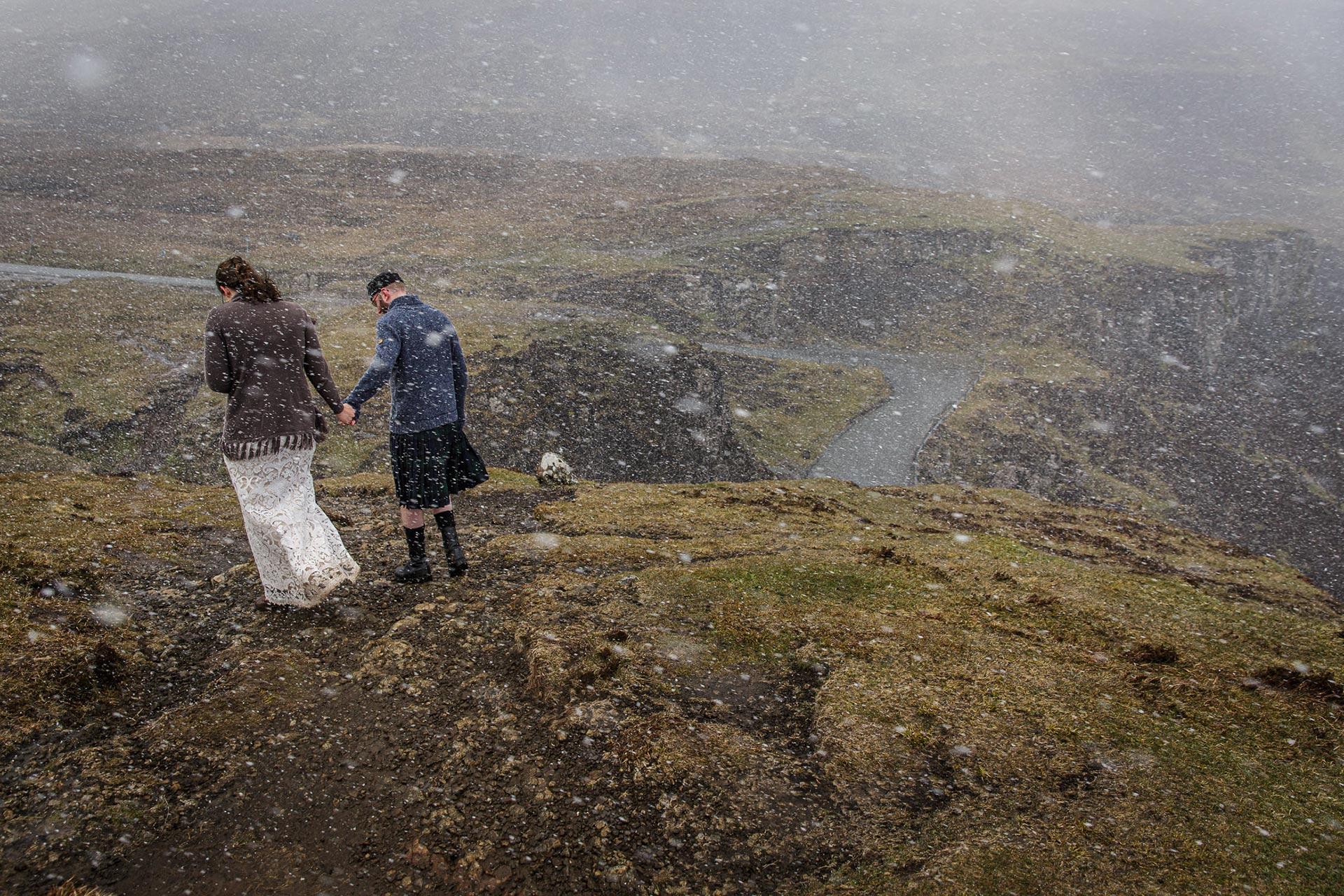 Spring Elopements – March, April, May
Spring can be quite similar to winter with some wilder weather, but we can also get beautiful calm days too and the days are beginning to stretch a little too, with earlier sunrises and later sunsets than in winter. There are still few people around in March – Easter brings quite a few visitors but then it quietens a little again until the end of May – definitely much quieter than high summer. The midges don't arrive until mid-May so it's a good time of year to avoid them and also, possibly less difficult to find accommodation.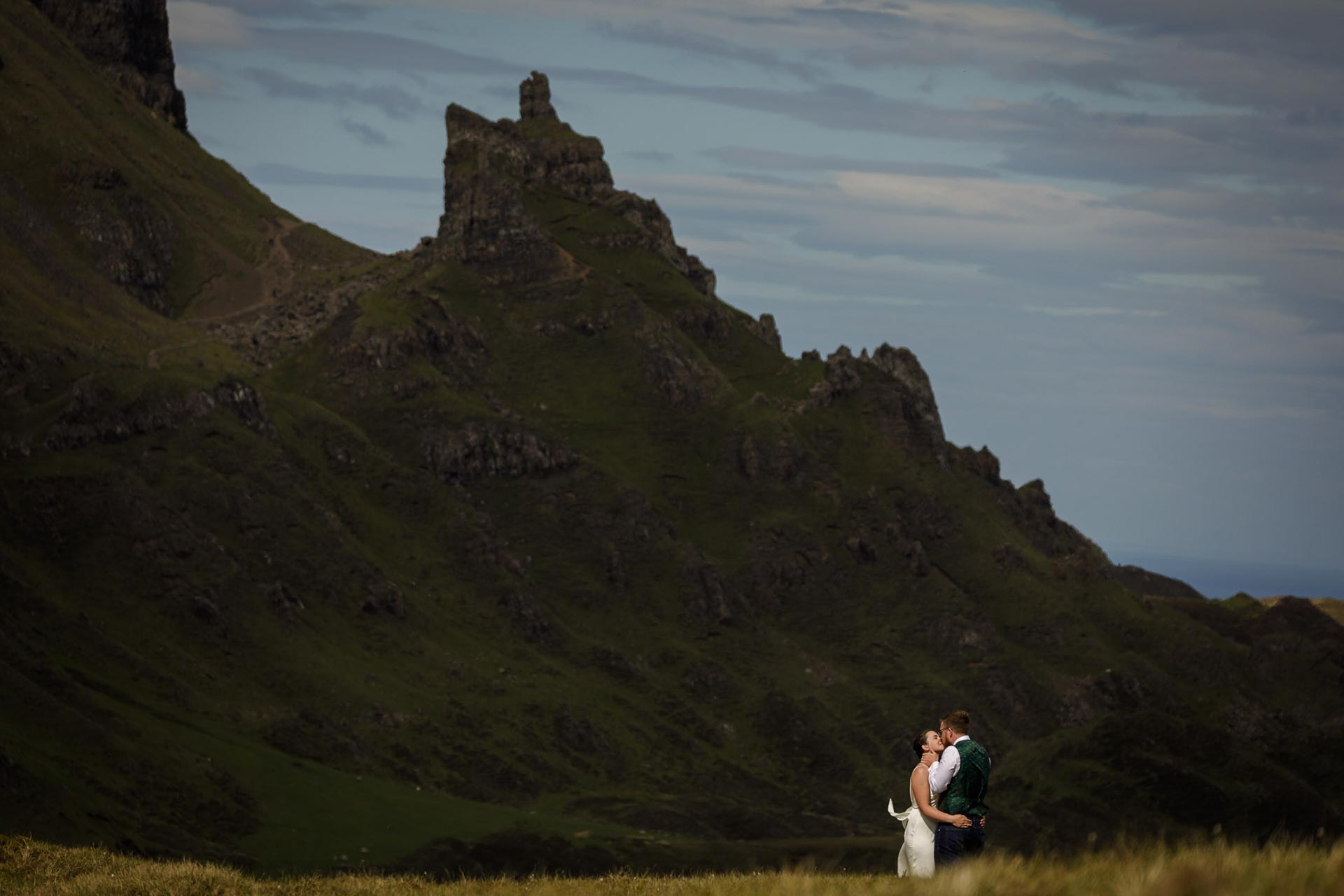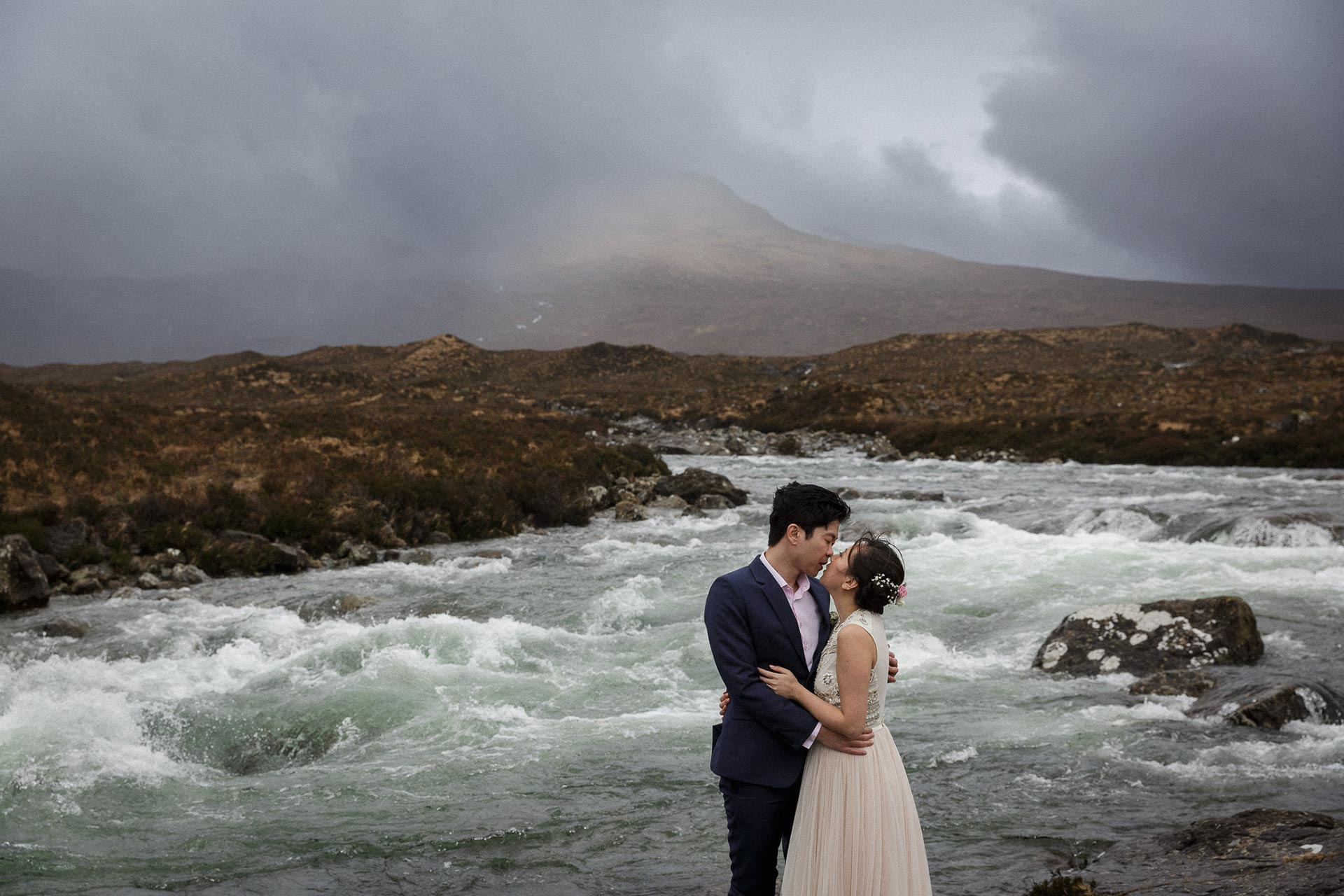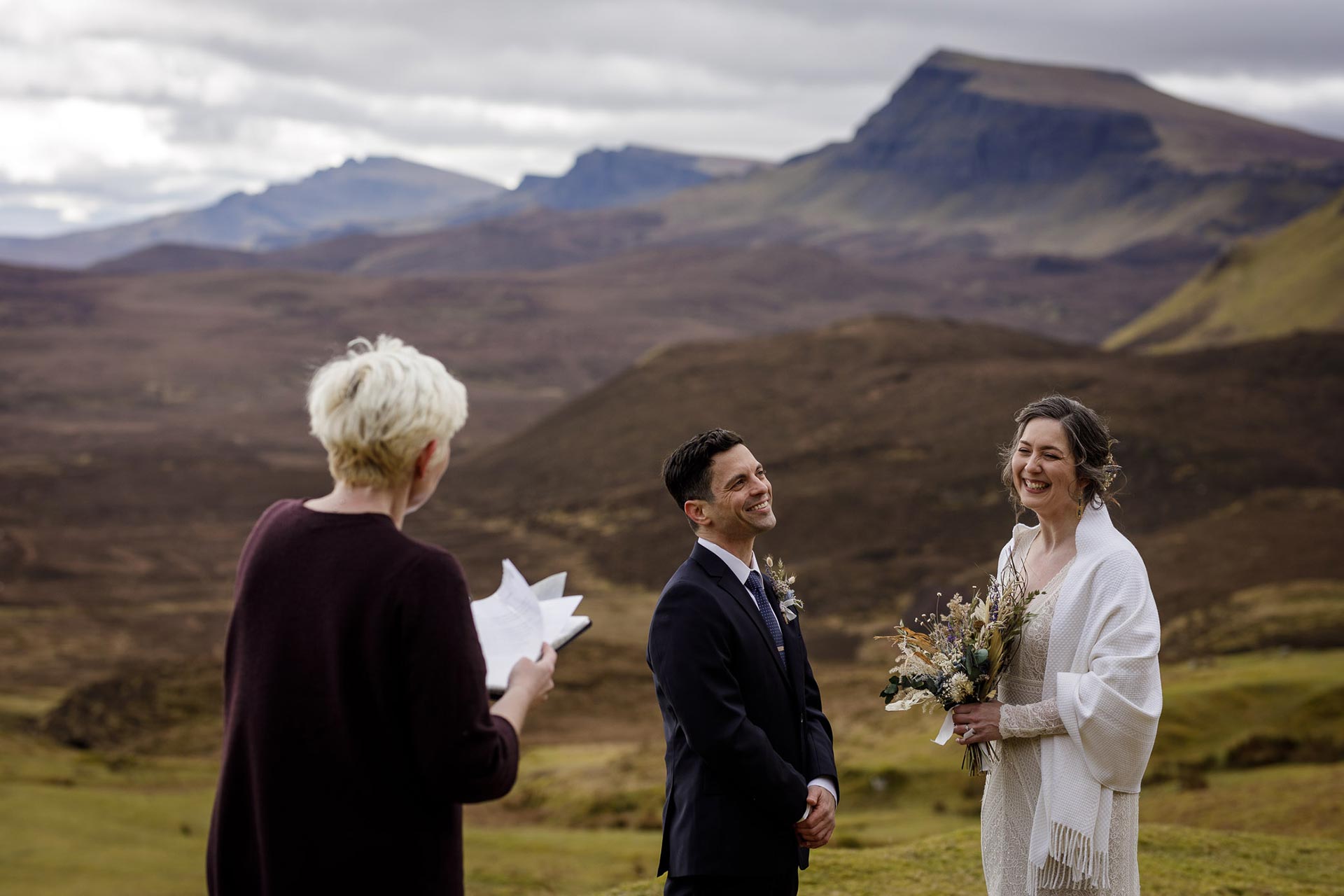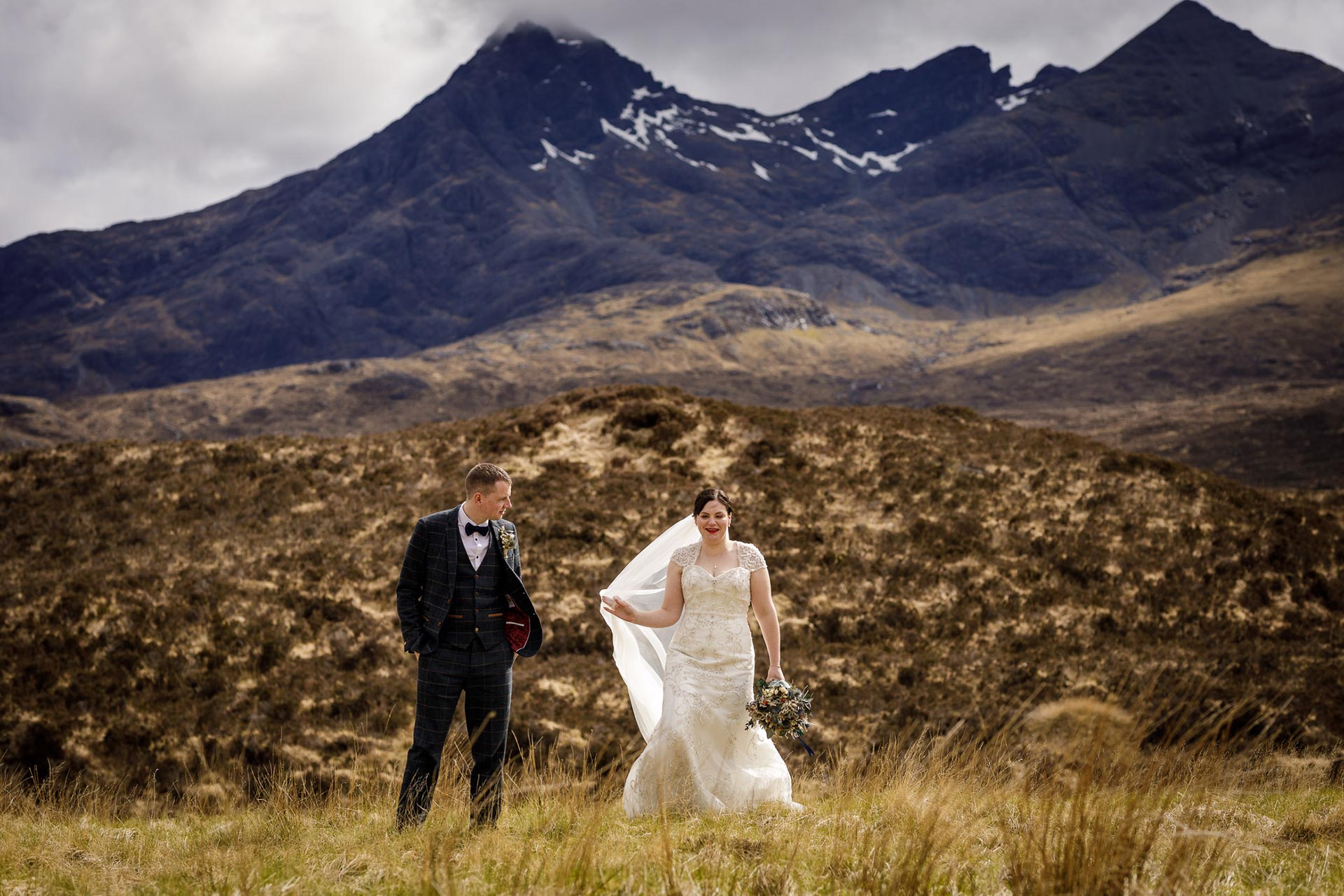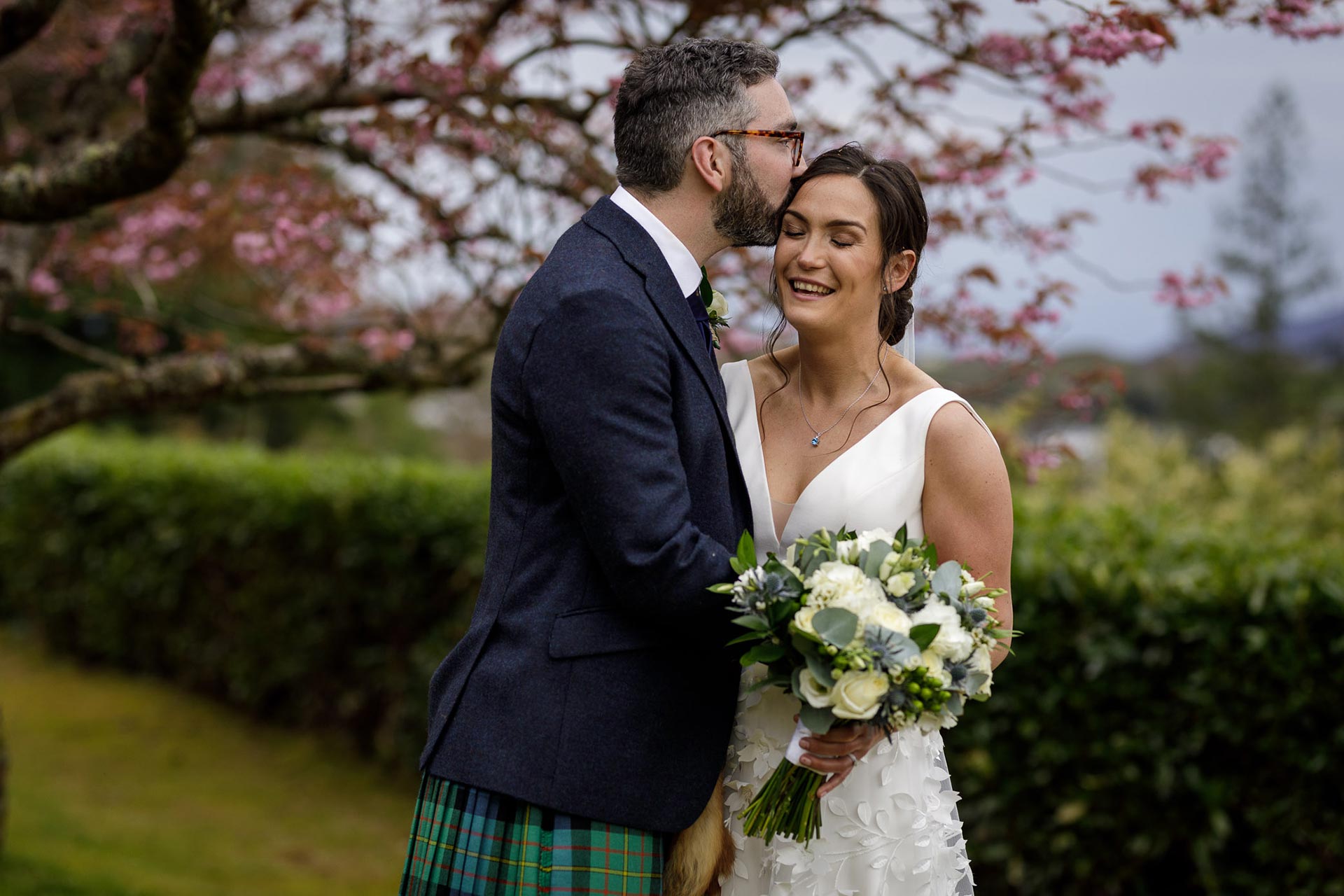 Summer elopements – June, July, August
Summer – the busiest season by far so if you want to come between June and August you really need to book your accommodation early because the good places book up sometimes a year in advance. The roads will be much busier which means it takes longer to get around the island and car parks are more full so, given that we have really long days in summer (sunrise can be as early as 3.30 am and sunset around 10.30 pm), with the sun high in the sky for much longer each day, it's sometimes a good idea to have your elopement very early in the morning or later in the day, around early evening. Everything is very green in summer and the purple heather starts to appear in July usually.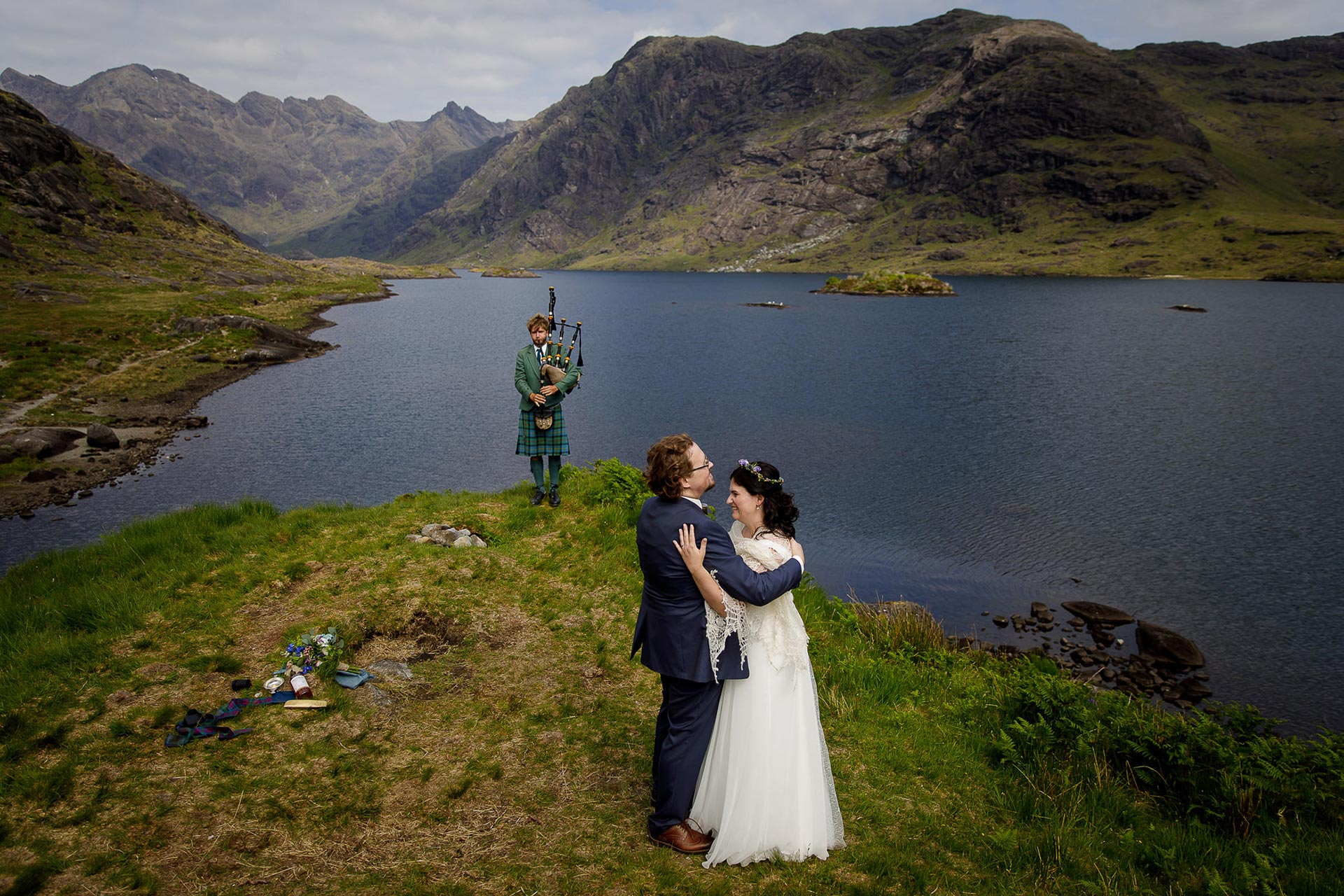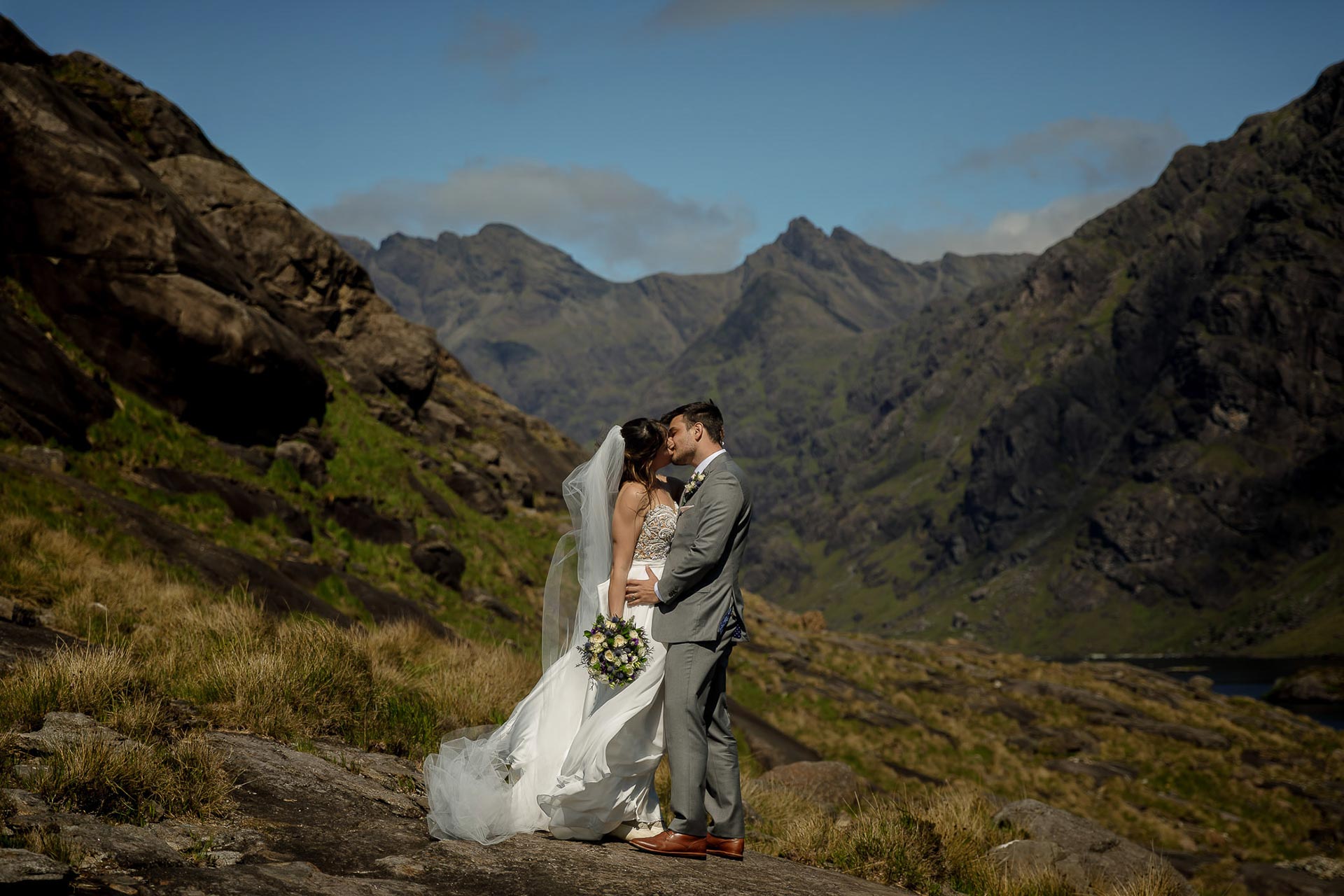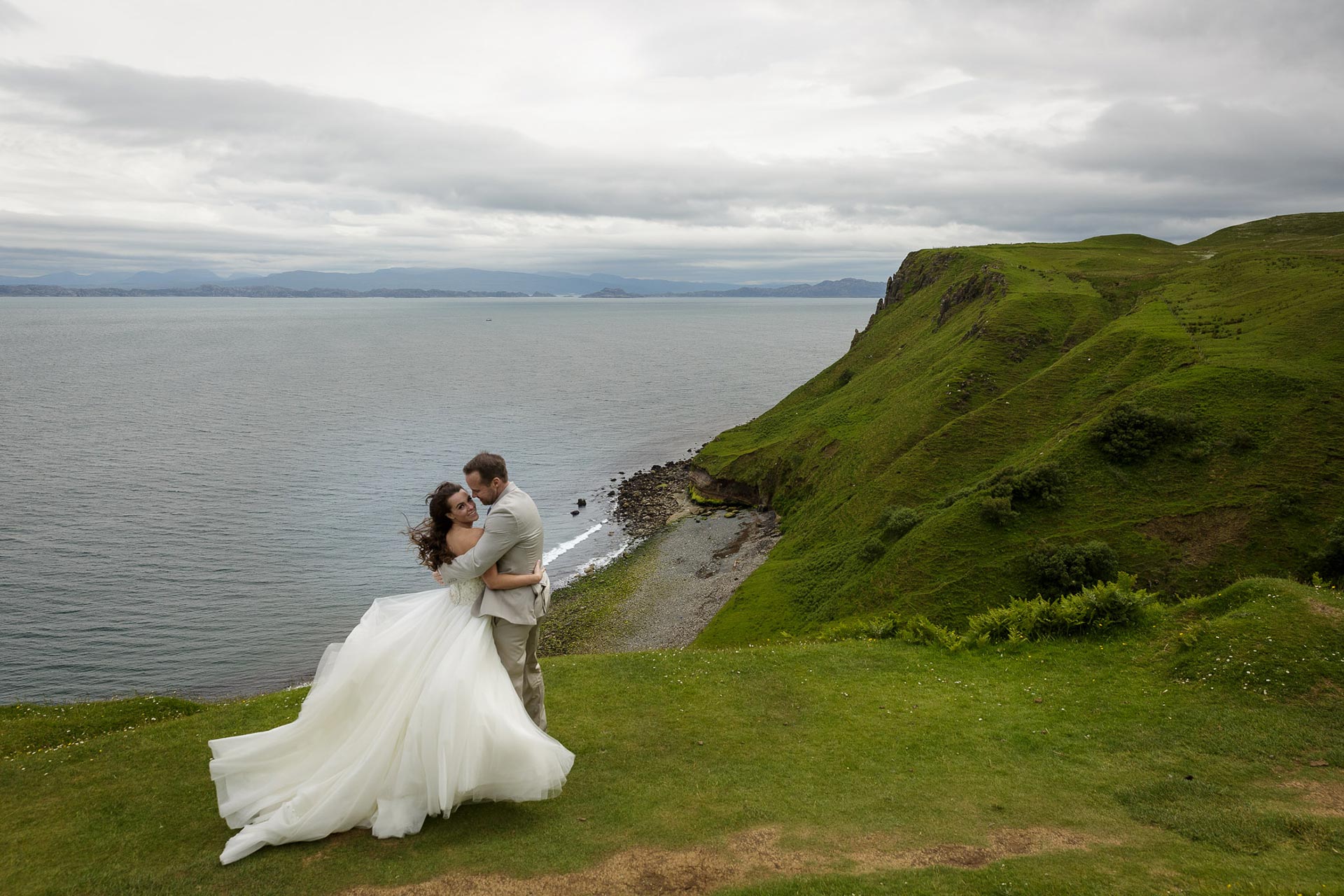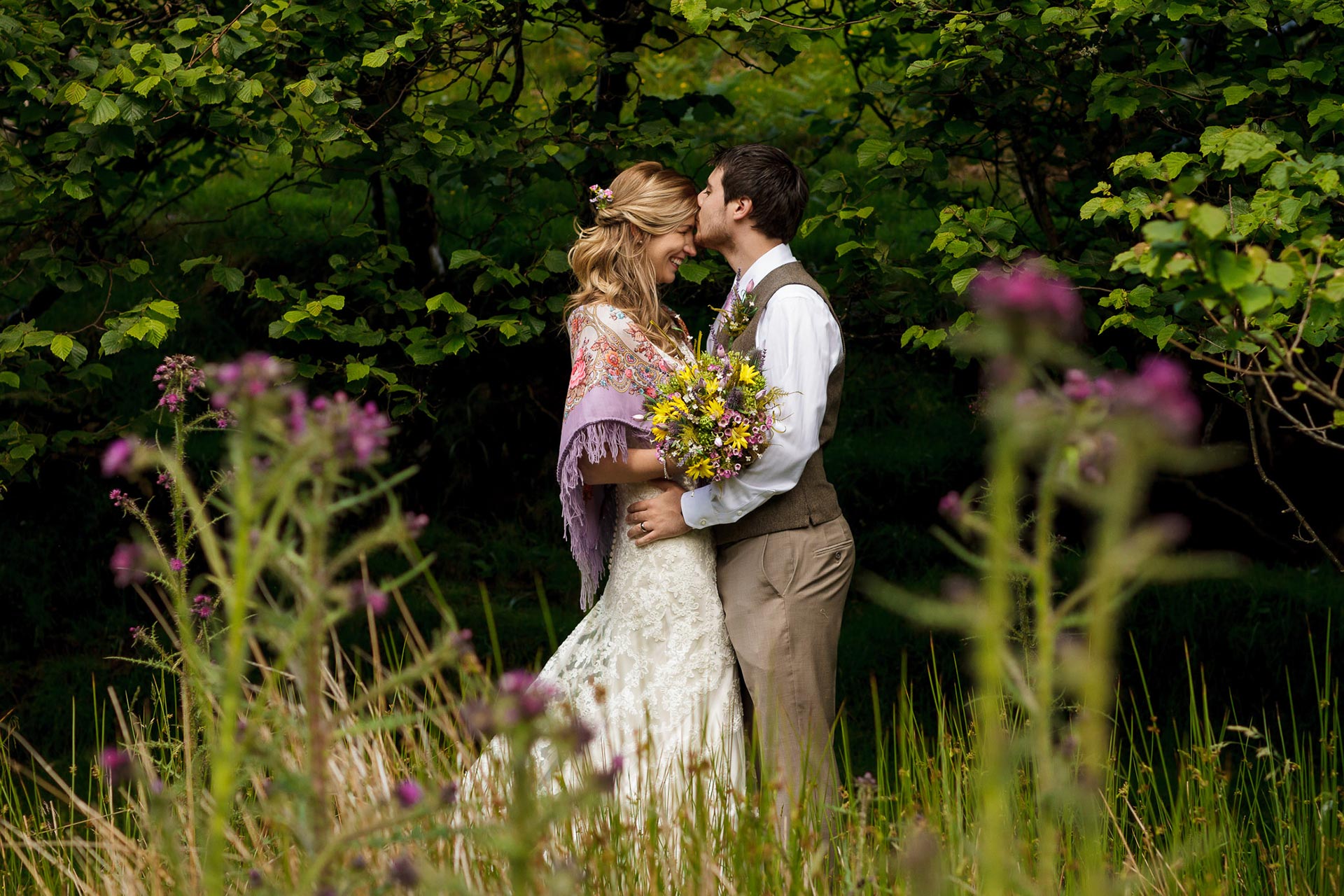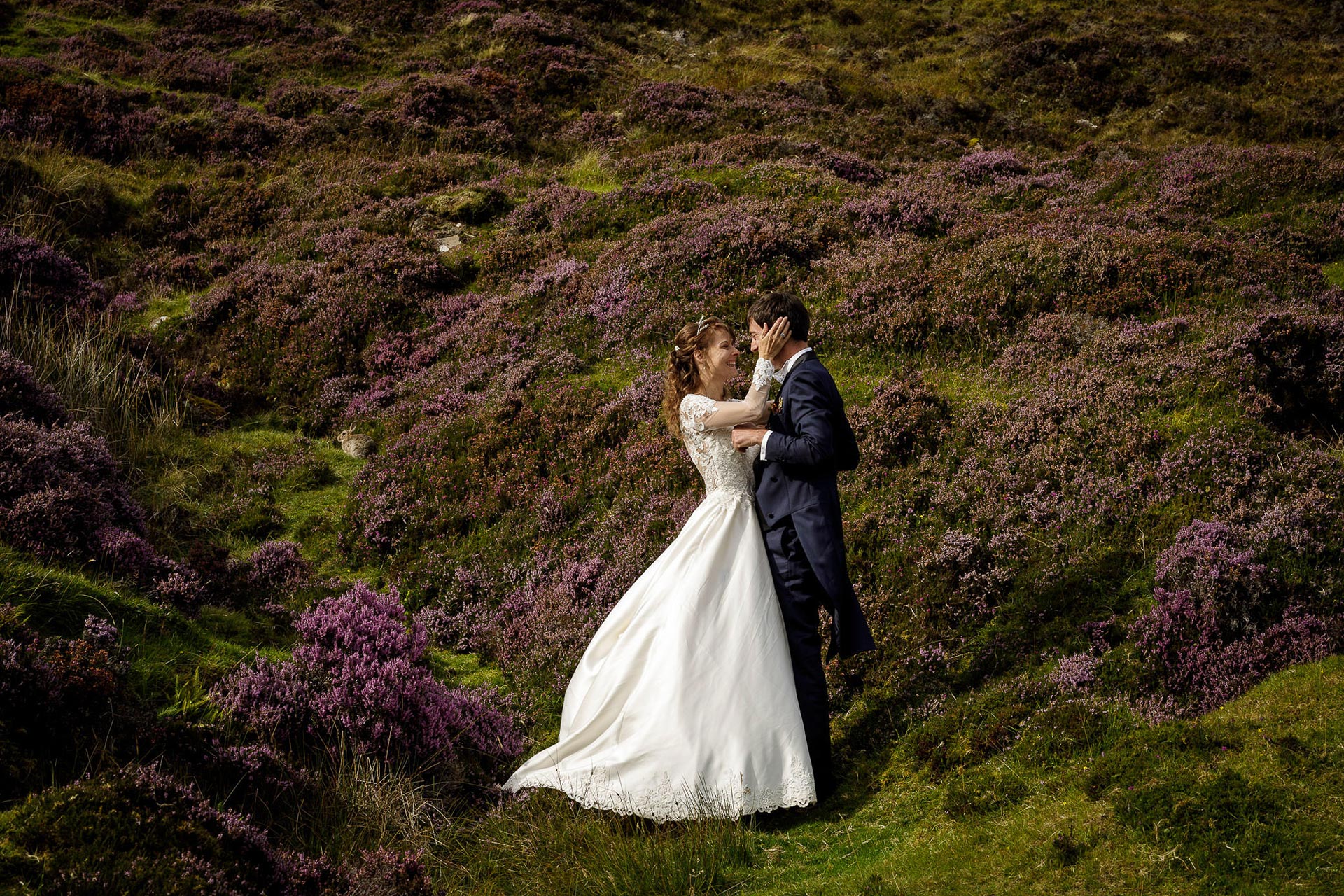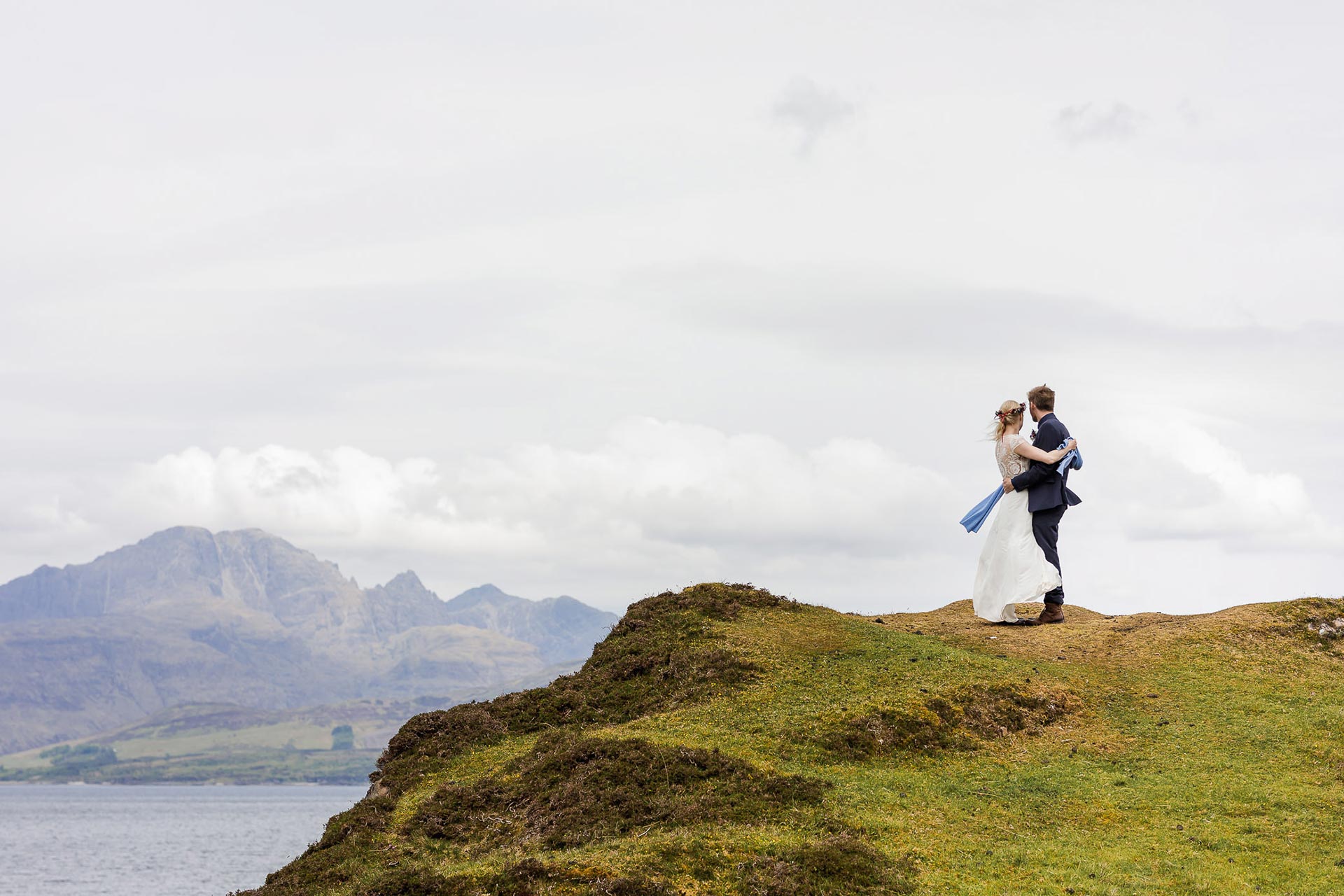 WHAT IF IT RAINS ON OUR WEDDING DAY?
I know this can be a big worry for couples but if you're planning to elope to Scotland you have to accept there is a high chance it might rain. Rain on your wedding day is considered to bring your marriage good luck though, and who knows, you could get to enjoy a beautiful rainbow (or two…double rainbows are not uncommon here).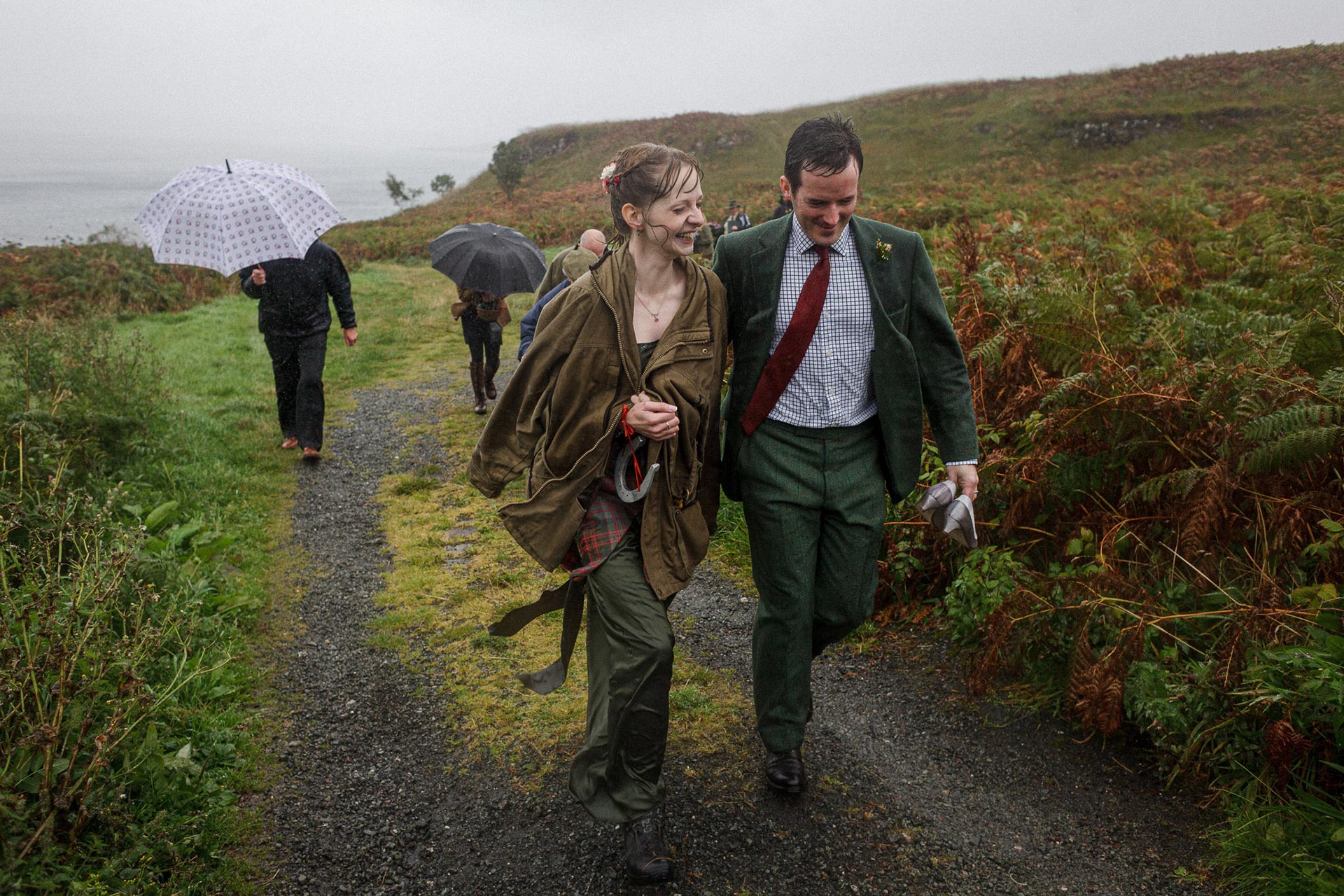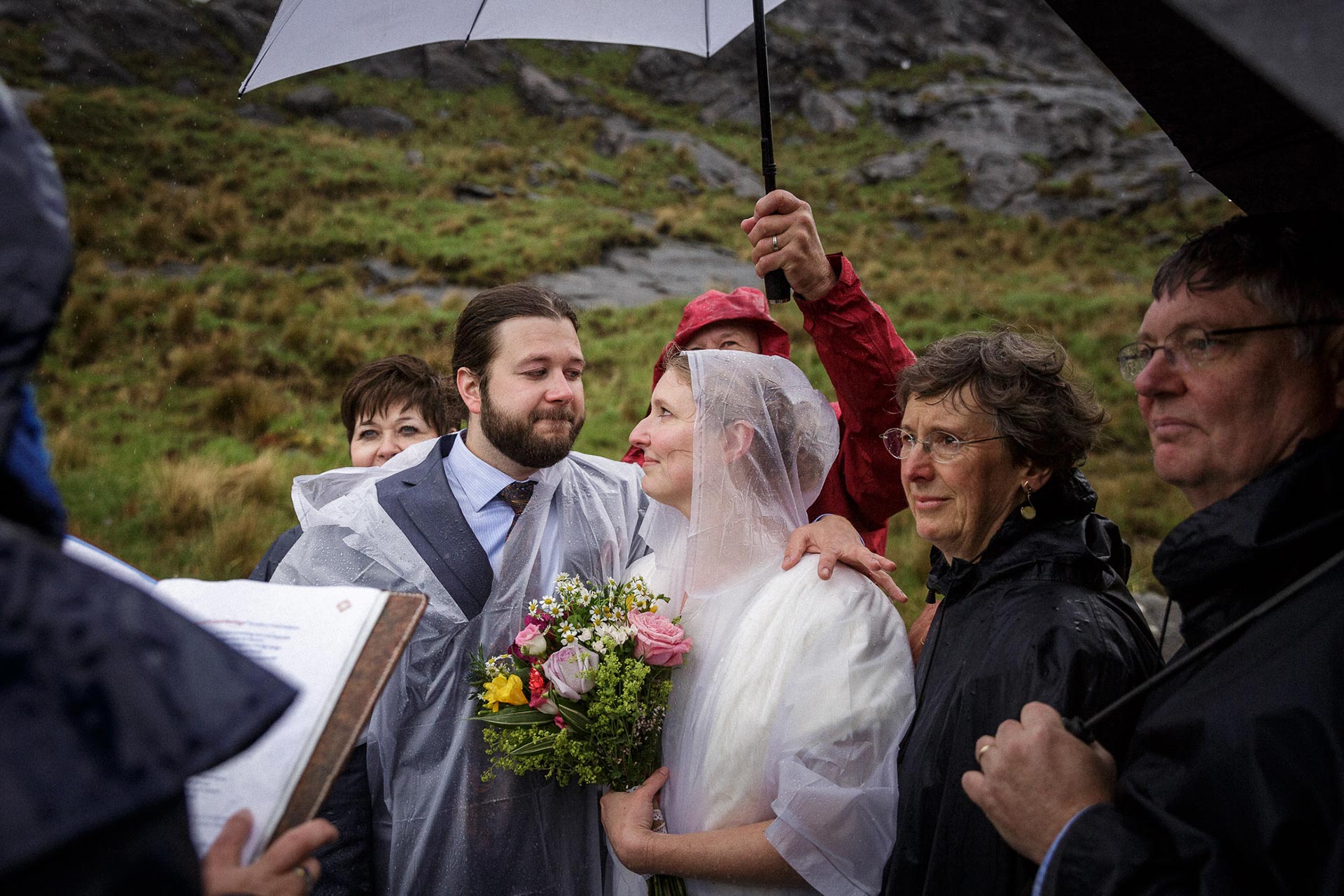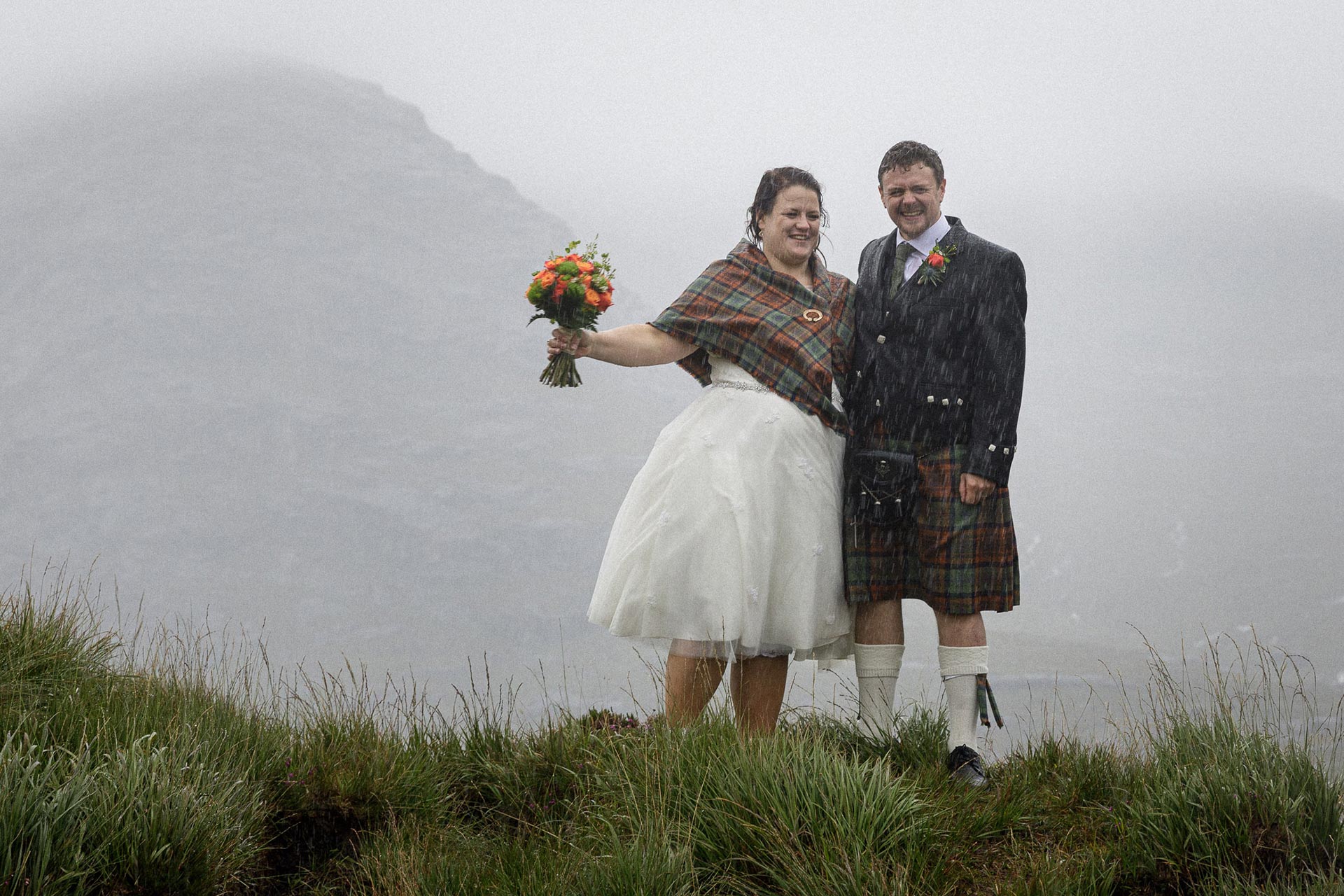 Planning for the Scottish Weather 
If it does rain a little on the day you elope, just embrace it because it can add drama to your photographs, in fact, the most popular photograph I've ever taken (below) was shot on a very, very wet wedding day. However, there is a chance that the elements might just throw everything they've got at you, and that can mean you can't get married outside so you should always have a Plan B option. Don't worry, it's only in case of extreme weather, and the chances are that you will still be able to be outdoors, but just in case, it's good to be prepared!
If you're staying in a hotel or guest house, then often there is a room that can be made available (usually there would be a fee for this). Alternatively, if you've hired a little cottage or a cool Airbnb, then we can do it there and go out for portraits later. The other thing you need to remember is to pack a waterproof jacket and decent footwear.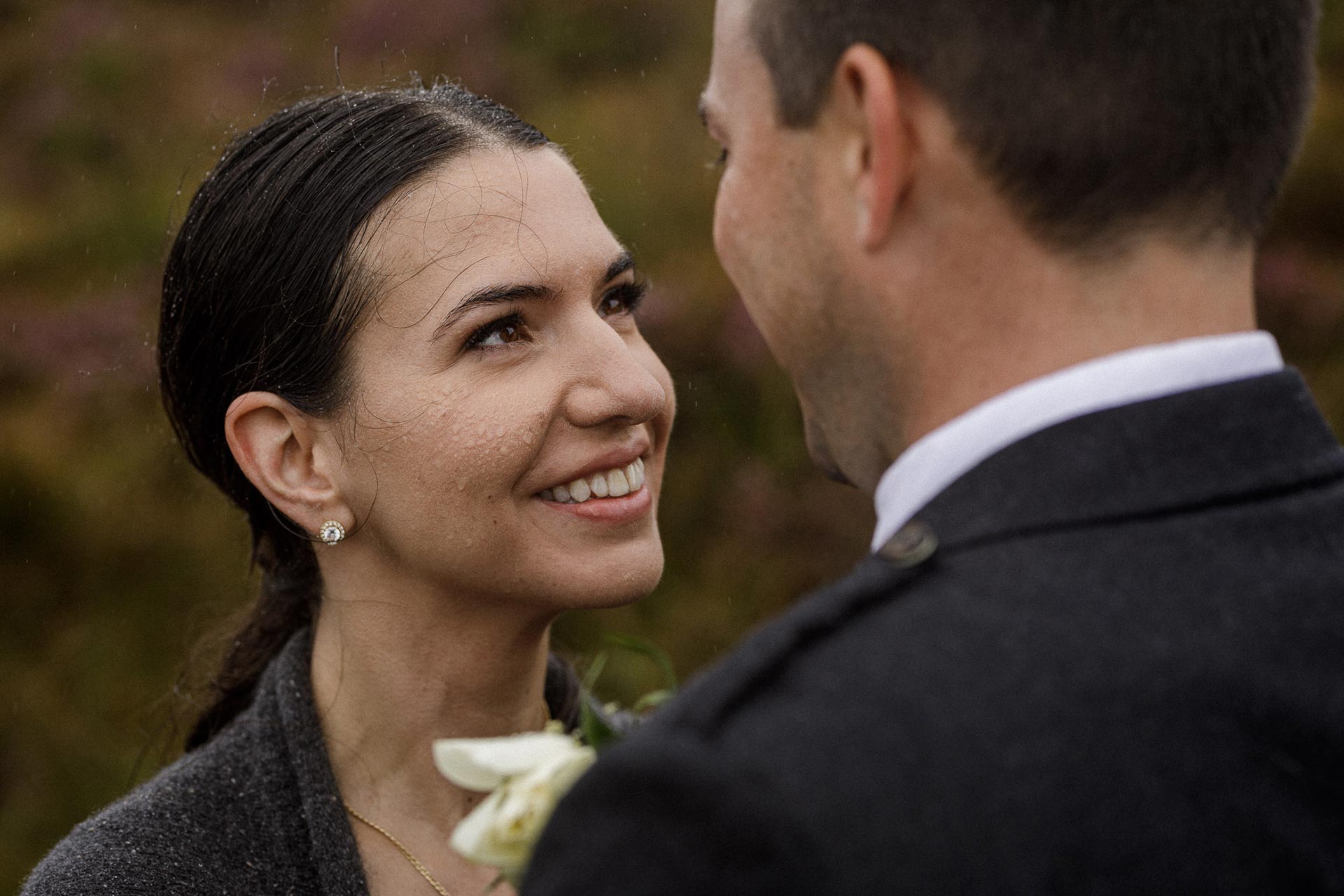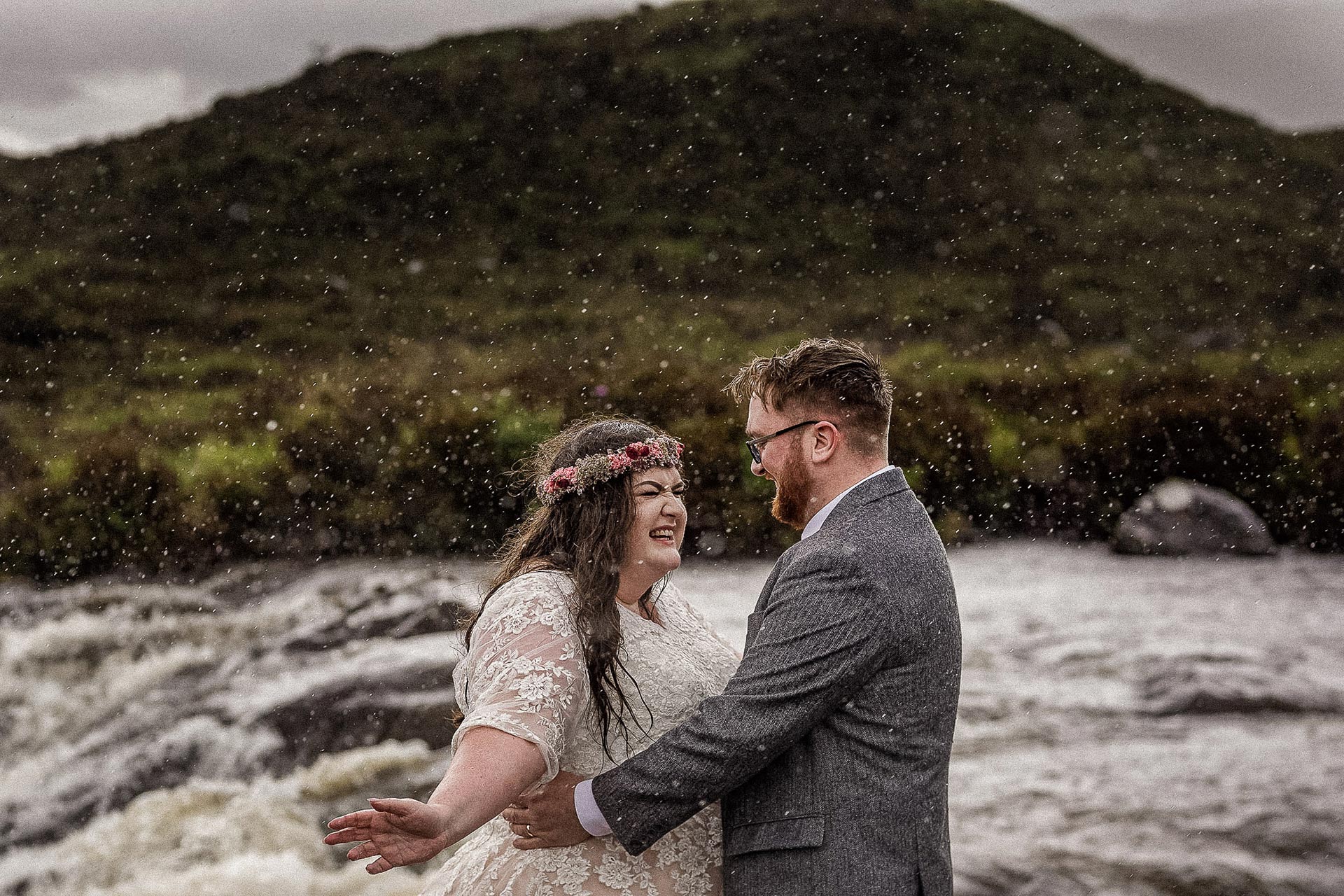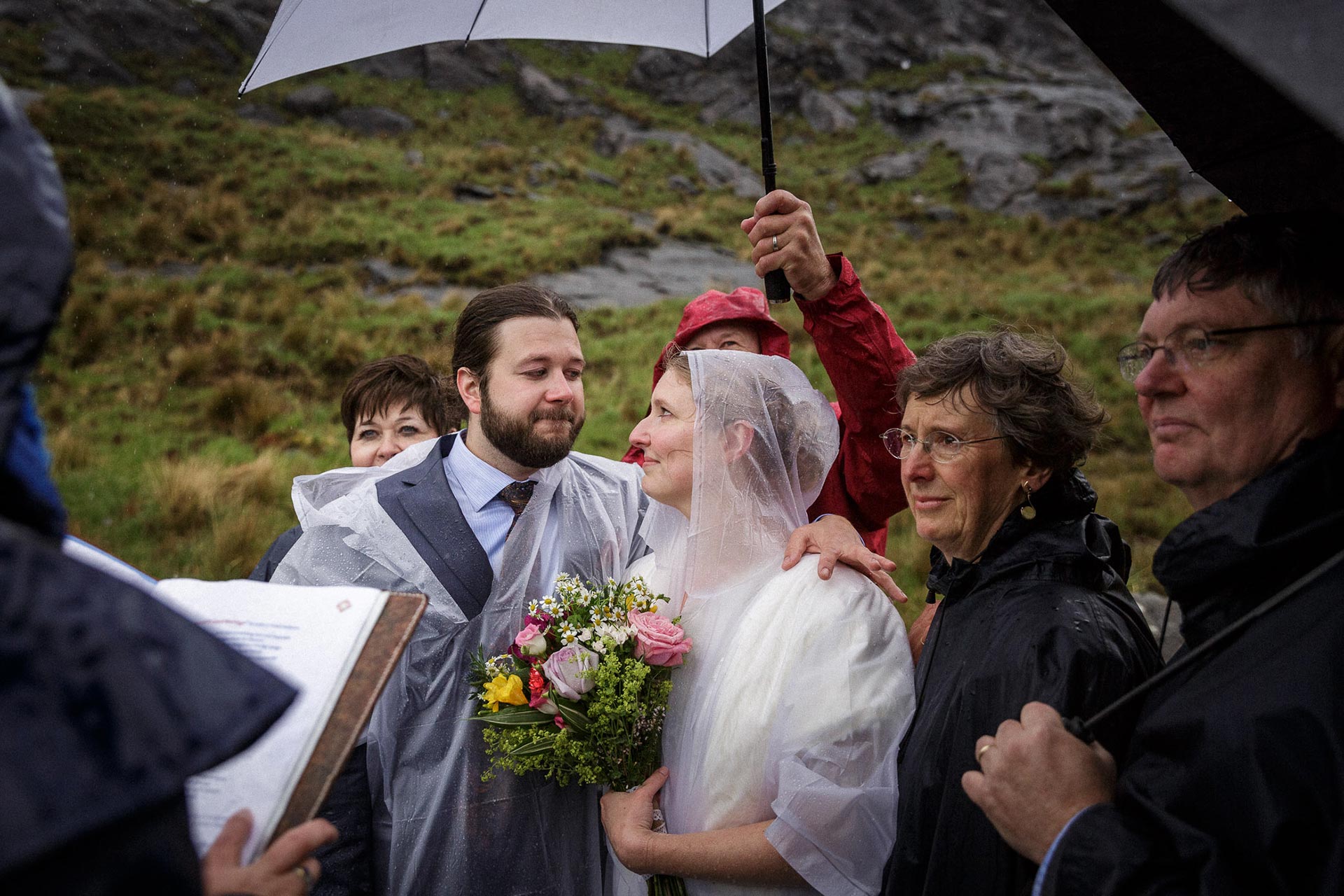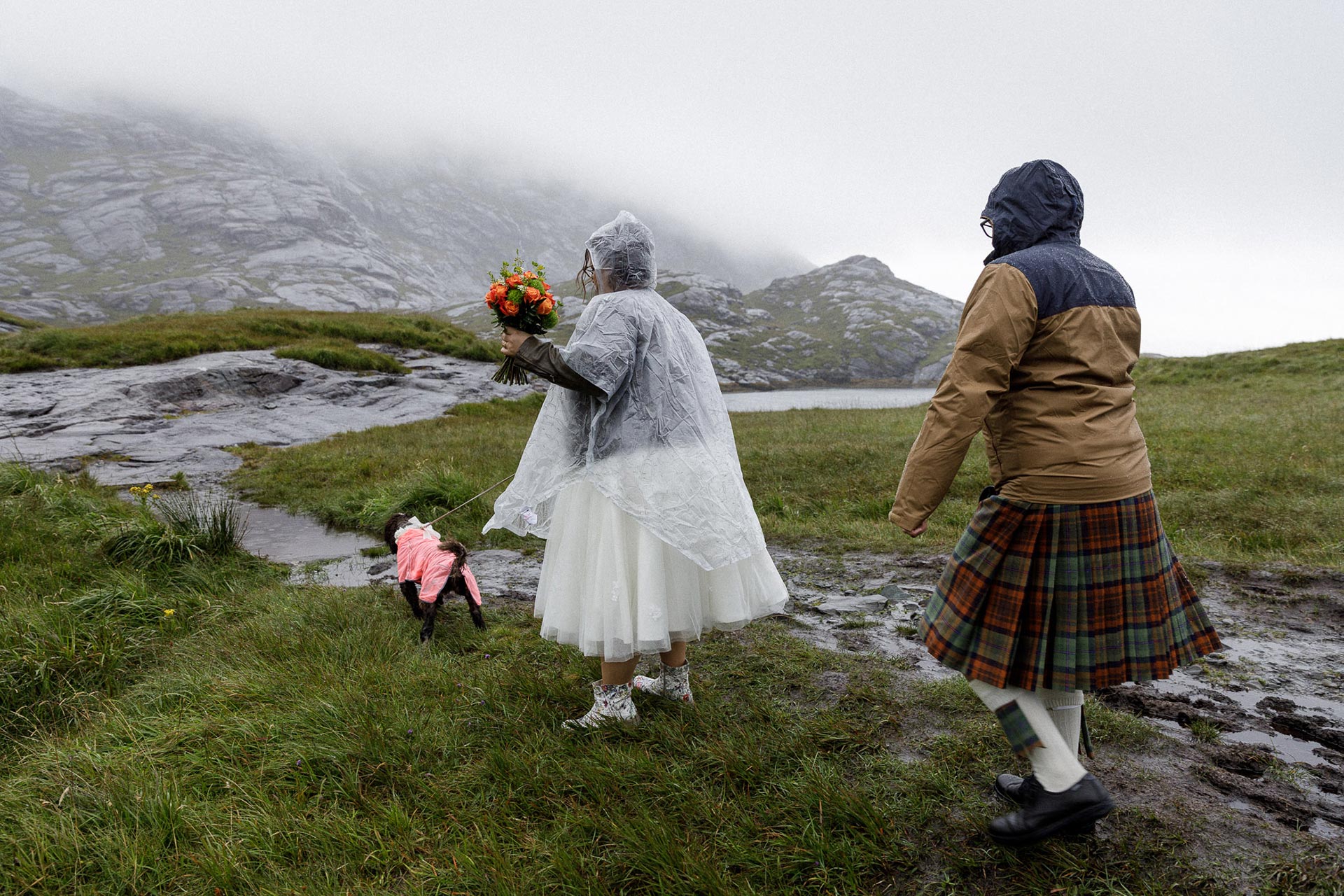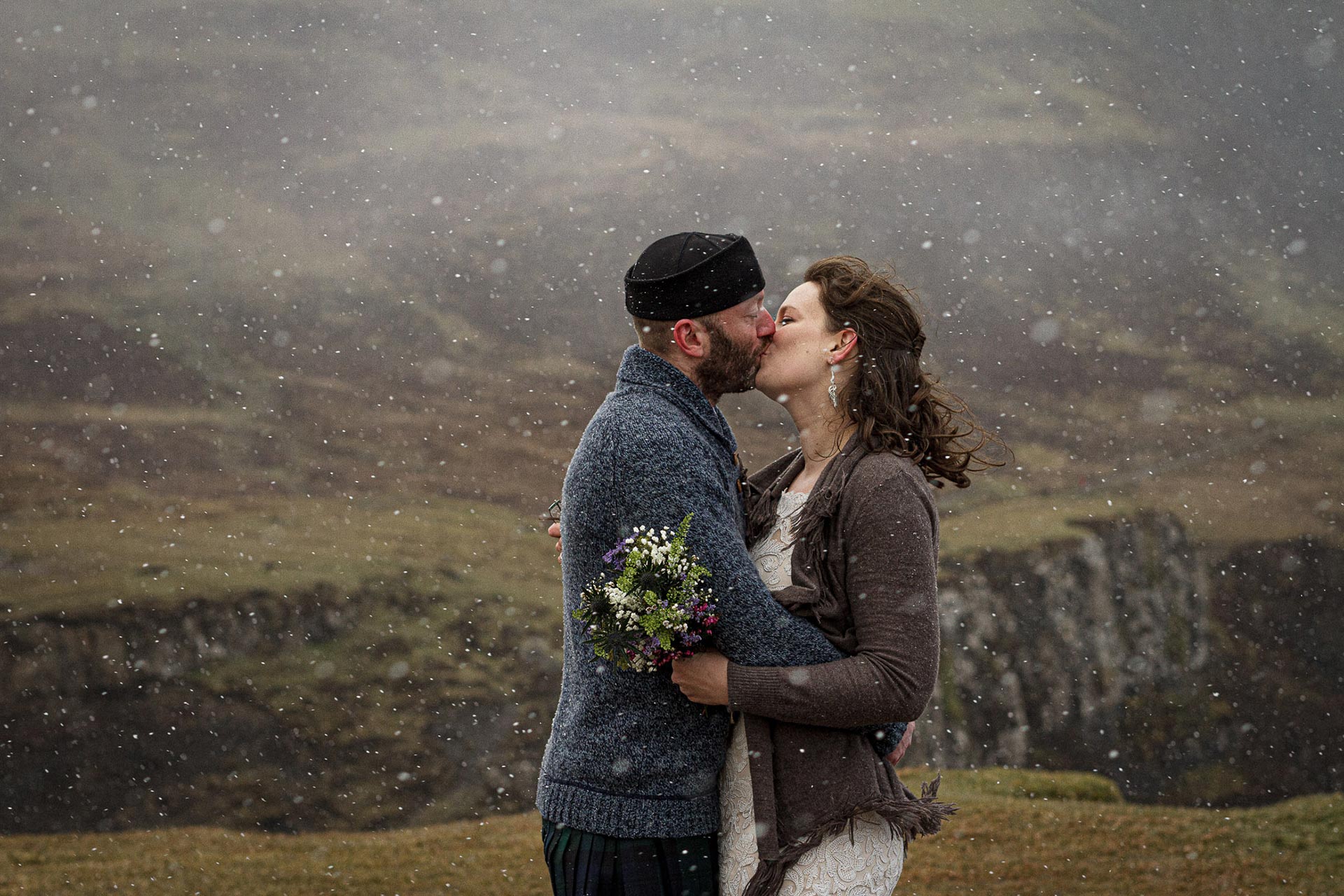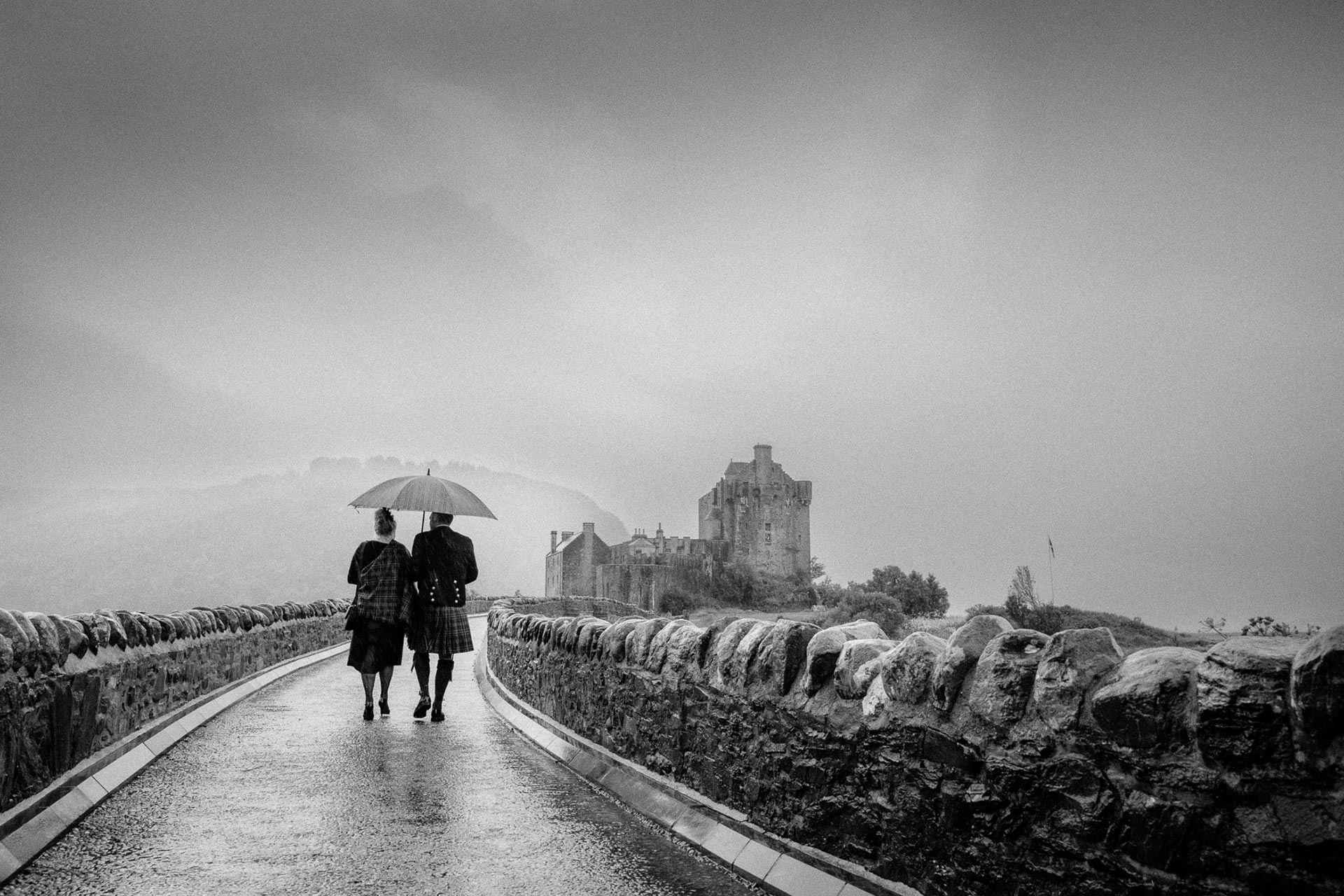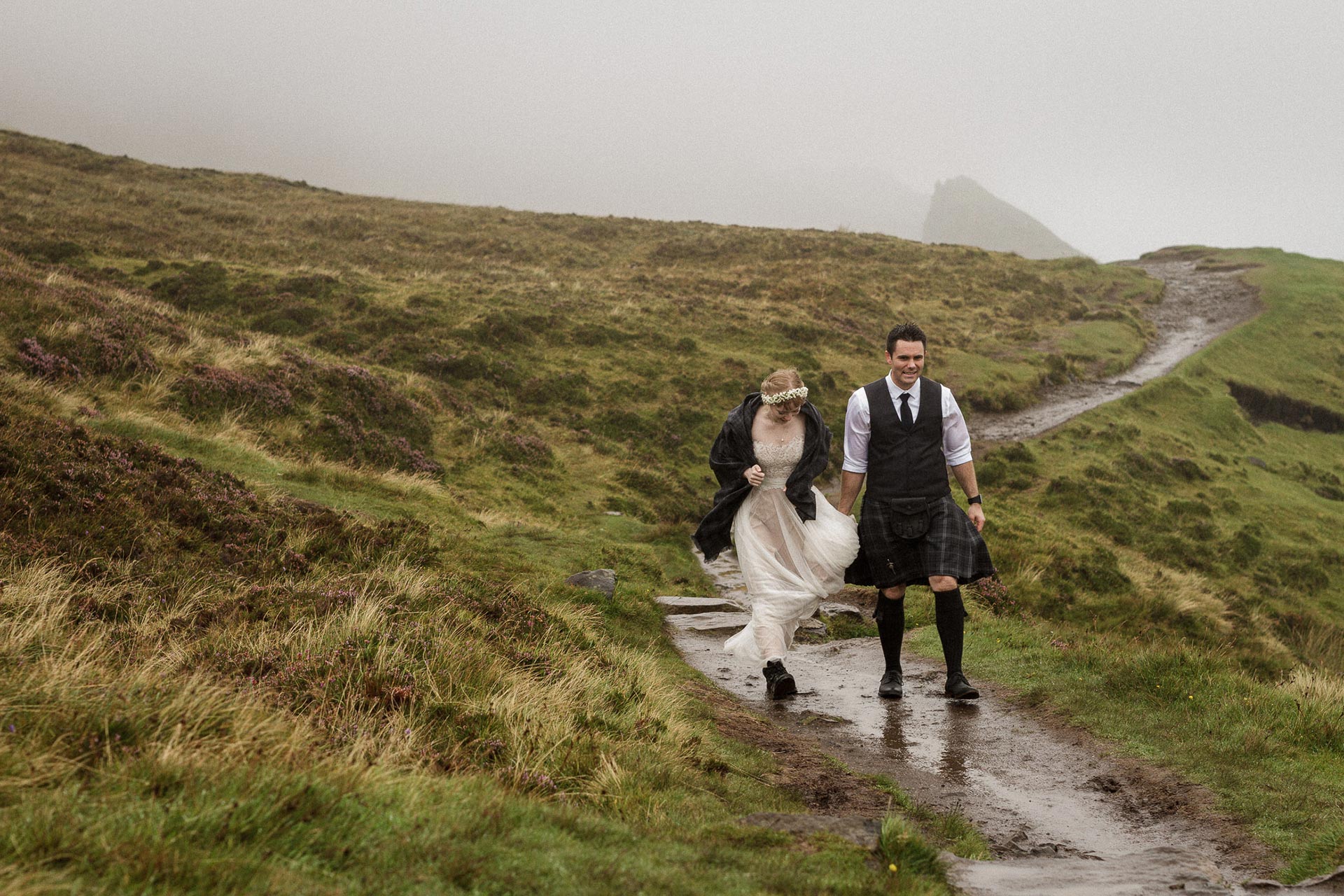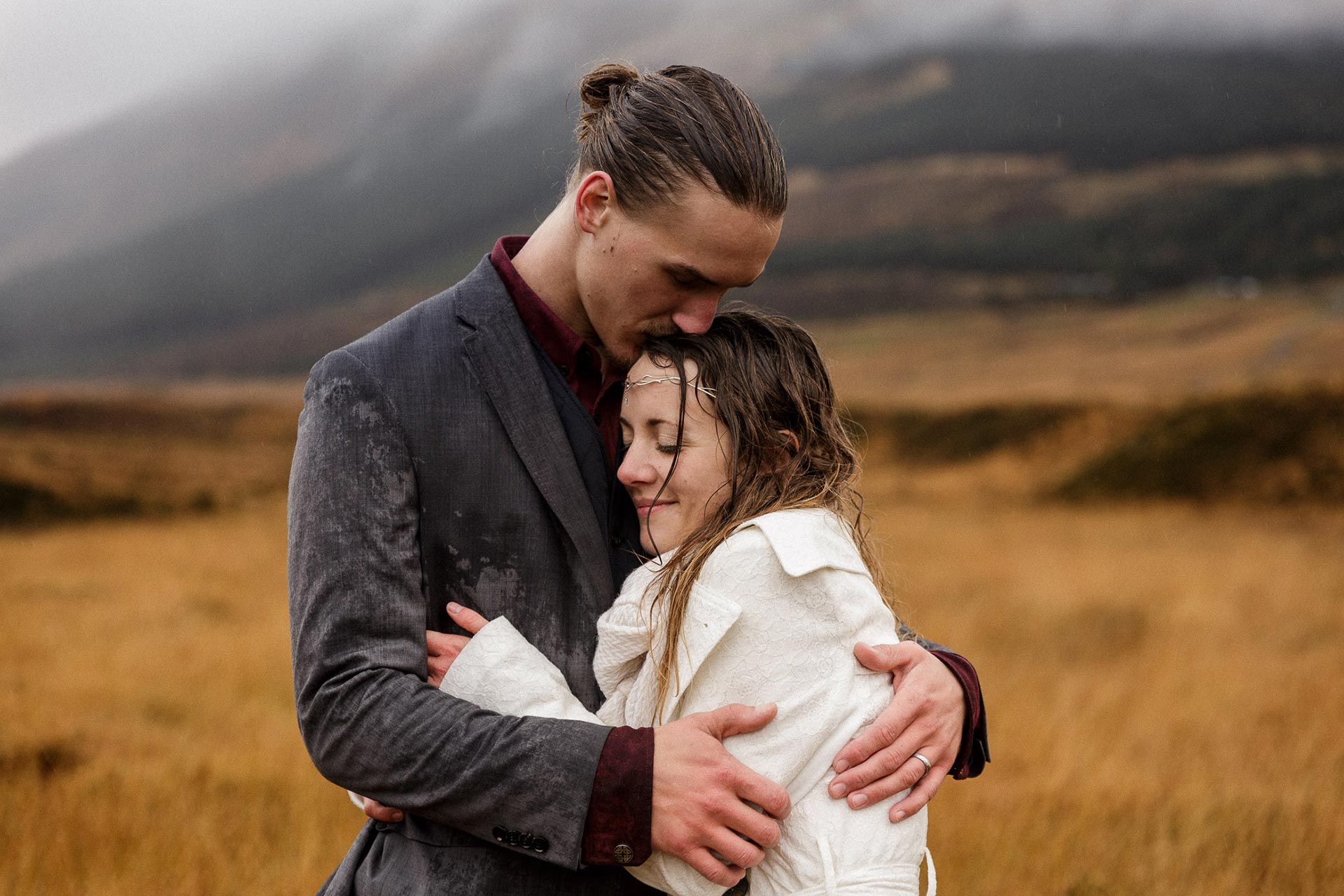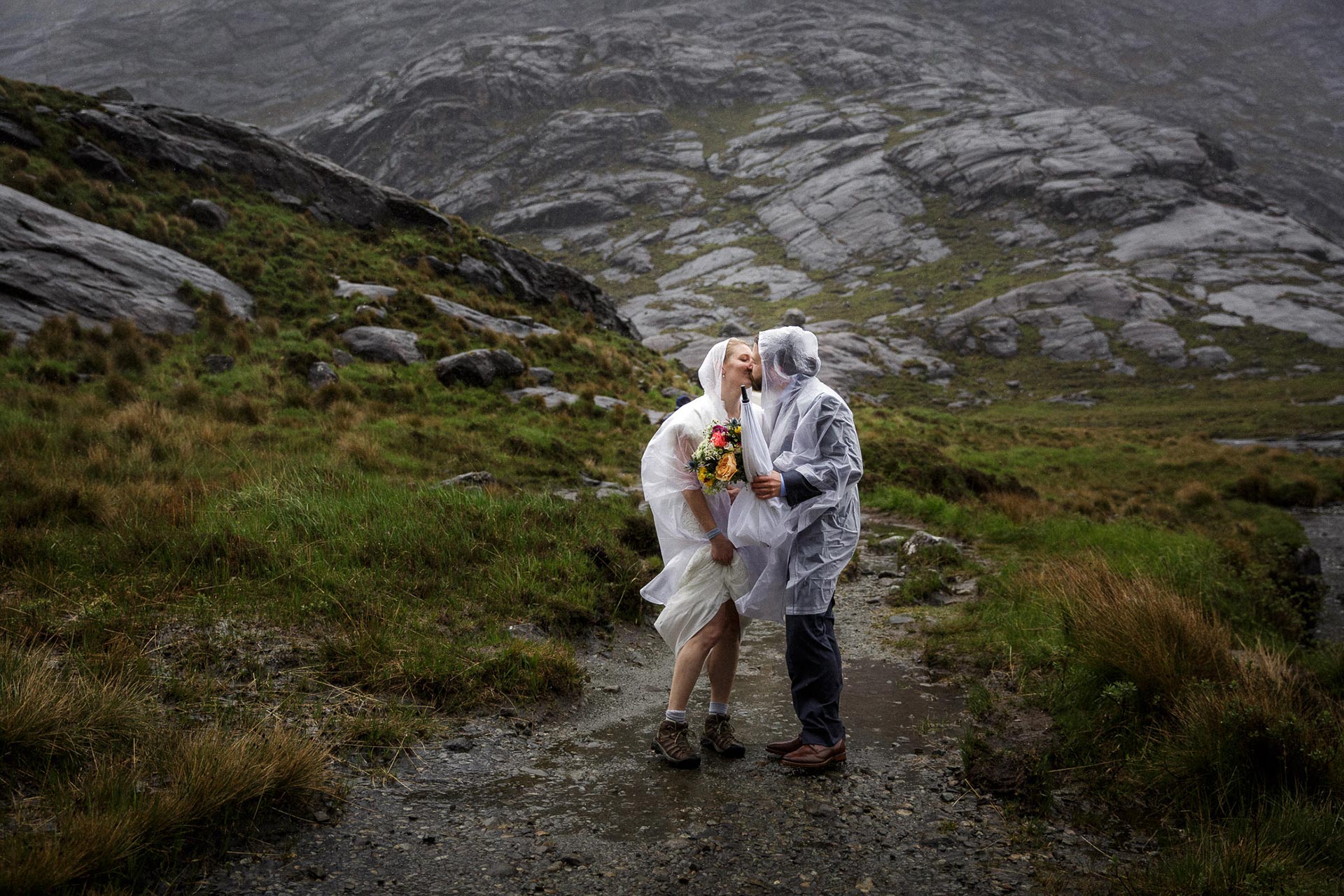 ISLE OF SKYE ACCOMMODATION
Skye has everything from backpacker hostels to luxury hotels so whatever type of accommodation your budget allows, there will be something for you. This is a small list of some of my favourite places.
Hotels on Skye
Hotels on the Isle of Skye where you could stay while you are here to get married:
Skeabost Hotel
A few miles outside of Portree and tucked in at the edge of Loch Snizort.
Three Chimneys
Pure luxury and a must if you are massive foodies. Multiple award-winning restaurant with rooms.
Cabins & Huts on Skye
If you prefer a little bothy or cabin or contemporary house somewhere, just the two of you, then these are some of my favourite places:
Lusa Bothy
A beautiful, old stone bothy right beside the sea, with Highland cows wandering past your windows while you gaze out, wrapped in a warm blanket, fire on, whisky in hand. The perfect place for an Isle of Skye elopement. Located in the south of the island, not far from Kinloch Lodge.
Near Byre
With a Michelin star restaurant ten minutes walk down the hill, and Edinbane Lodge and The Three Chimneys both within 20 minutes drive this stunning, contemporary renovated byre is the perfect place if you are real foodies. Live in luxury, dine out in style. Located on the Waternish peninsula, Portree is about 30-40 minutes drive and Dunvegan is about ten minutes away.
Skye Shepherd Huts
Two gorgeous little huts with a cosy kitchen/lounge to chill out. Located near Broadford and with a bonus of two pet donkeys!
Lusa Bothy
A beautiful, old stone bothy right beside the sea, with Highland cows wandering past your windows while you gaze out, wrapped in a warm blanket, fire on, whisky in hand. The perfect place for an Isle of Skye elopement. Located in the south of the island, not far from Kinloch Lodge.
Near Byre
With a Michelin star restaurant ten minutes walk down the hill, and Edinbane Lodge and The Three Chimneys both within 20 minutes drive this stunning, contemporary renovated byre is the perfect place if you are real foodies. Live in luxury, dine out in style. Located on the Waternish peninsula, Portree is about 30-40 minutes drive and Dunvegan is about ten minutes away.
Skye Shepherd Huts
Two gorgeous little huts with a cosy kitchen/lounge to chill out. Located near Broadford and with a bonus of two pet donkeys!
Trip Planning Resources For Your Visit To Skye
HOW TO GET MARRIED ON THE ISLE OF SKYE 
It's fairly straightforward to get married on the Isle of Skye and I'm going to give you all the information you need so here goes.
Firstly, as soon as you know you want to elope to Skye you should book someone to marry you. This could be a humanist or interfaith celebrant, or a church minister or someone from the local registry office (civil ceremony). You can book a celebrant whenever you want, six months, a year, two years in advance (depending on how they operate their diaries) but try and make that a priority. Then, nearer the time of the wedding (no earlier than three months and no later than 29 days from the day you want to be married) you need to give notice to the authorities – the local Registrar's Office in Portree on Skye. This is where you will submit your documents, where your marriage licence is issued from, and then after you're married, where you will collect your marriage certificate from.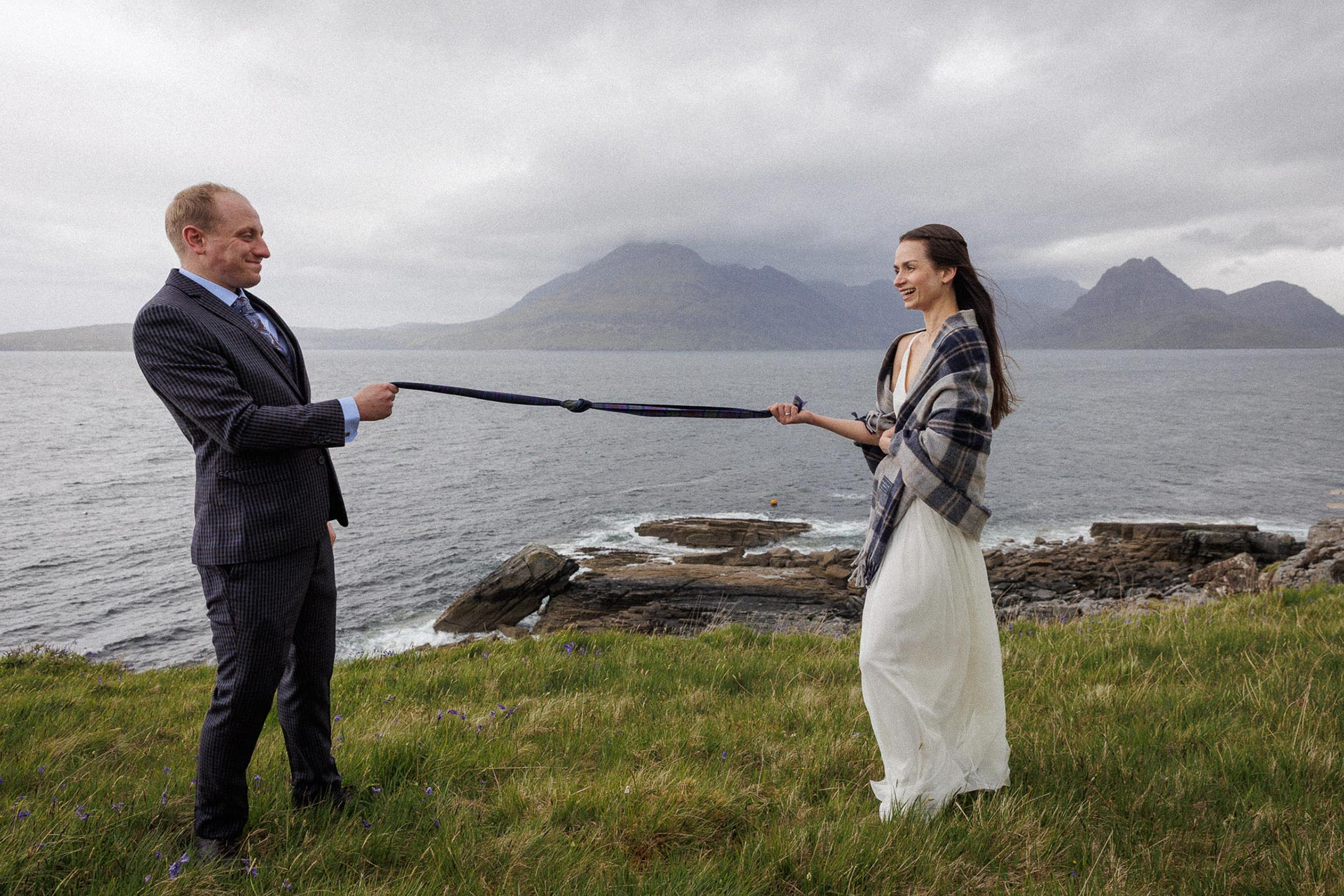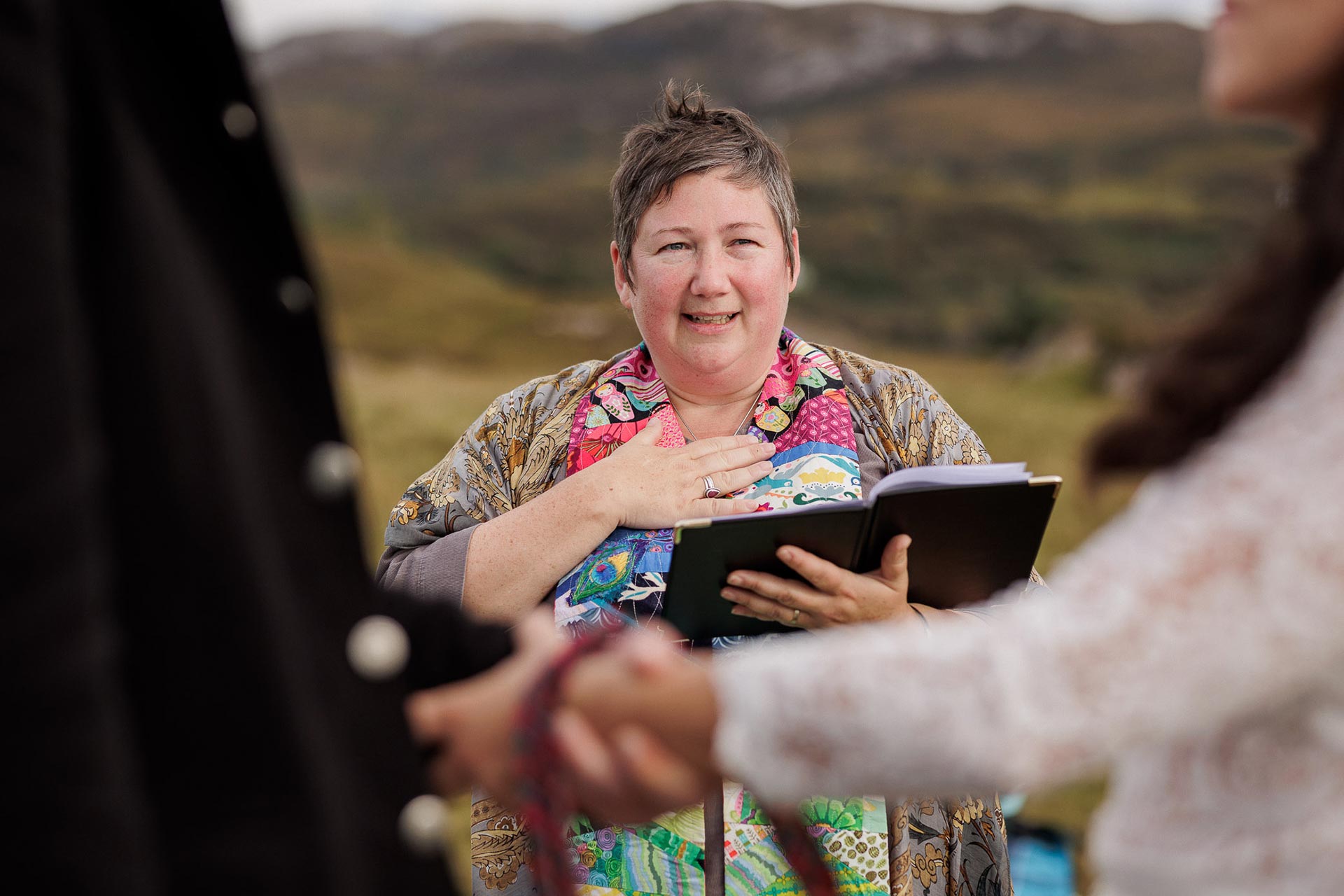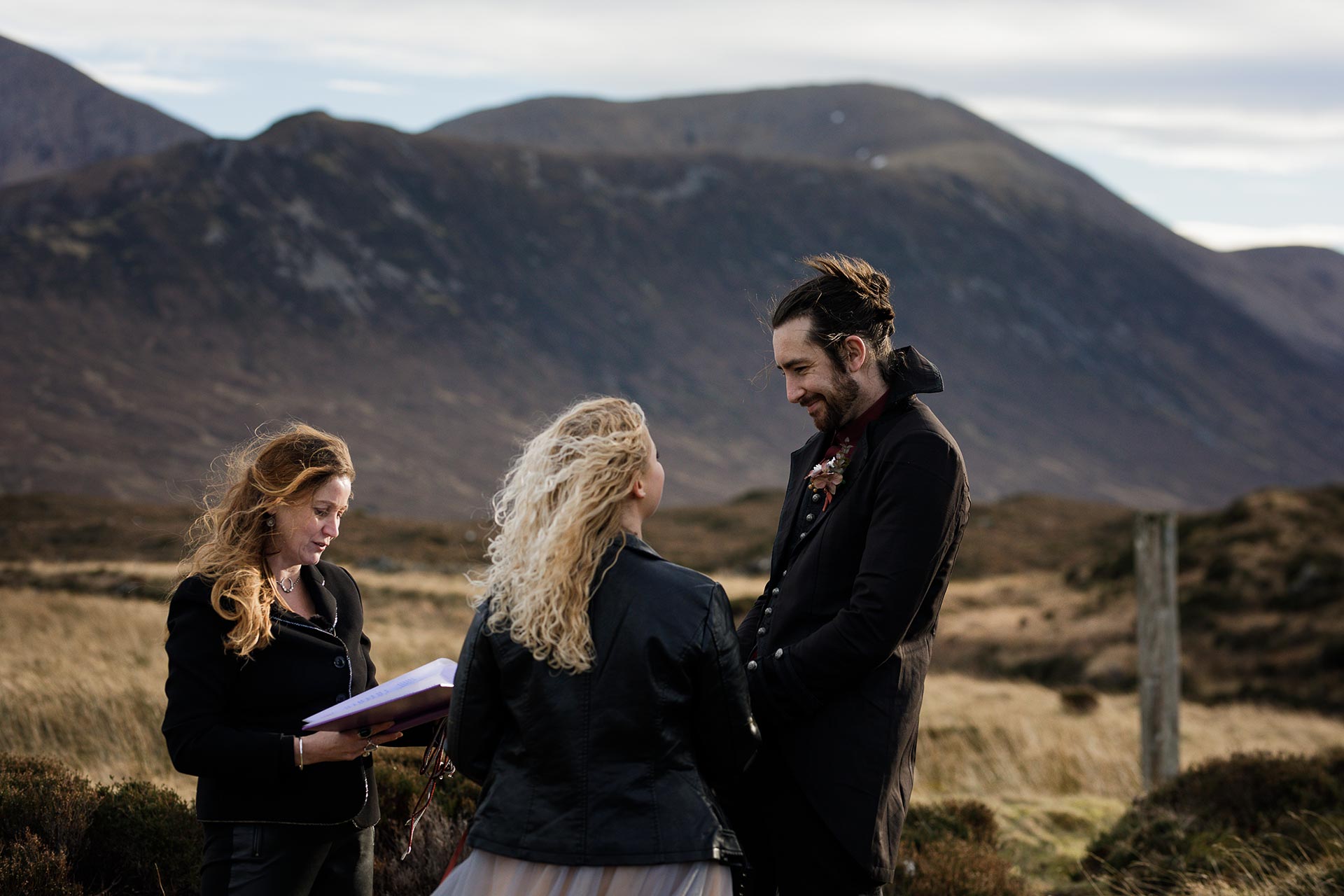 LEGAL MARRIAGE CEREMONIES IN SCOTLAND
What paperwork do you need?
Regardless of whether you have a civil, religious or humanist/interfaith ceremony, you will need to complete some forms. UK nationals will only have to fill in the Marriage Notice Form (M10) For non-UK nationals there is additional paperwork including a Declaration of Status by Non-UK Nationals form and also a marriage visa form. More information can be found HERE.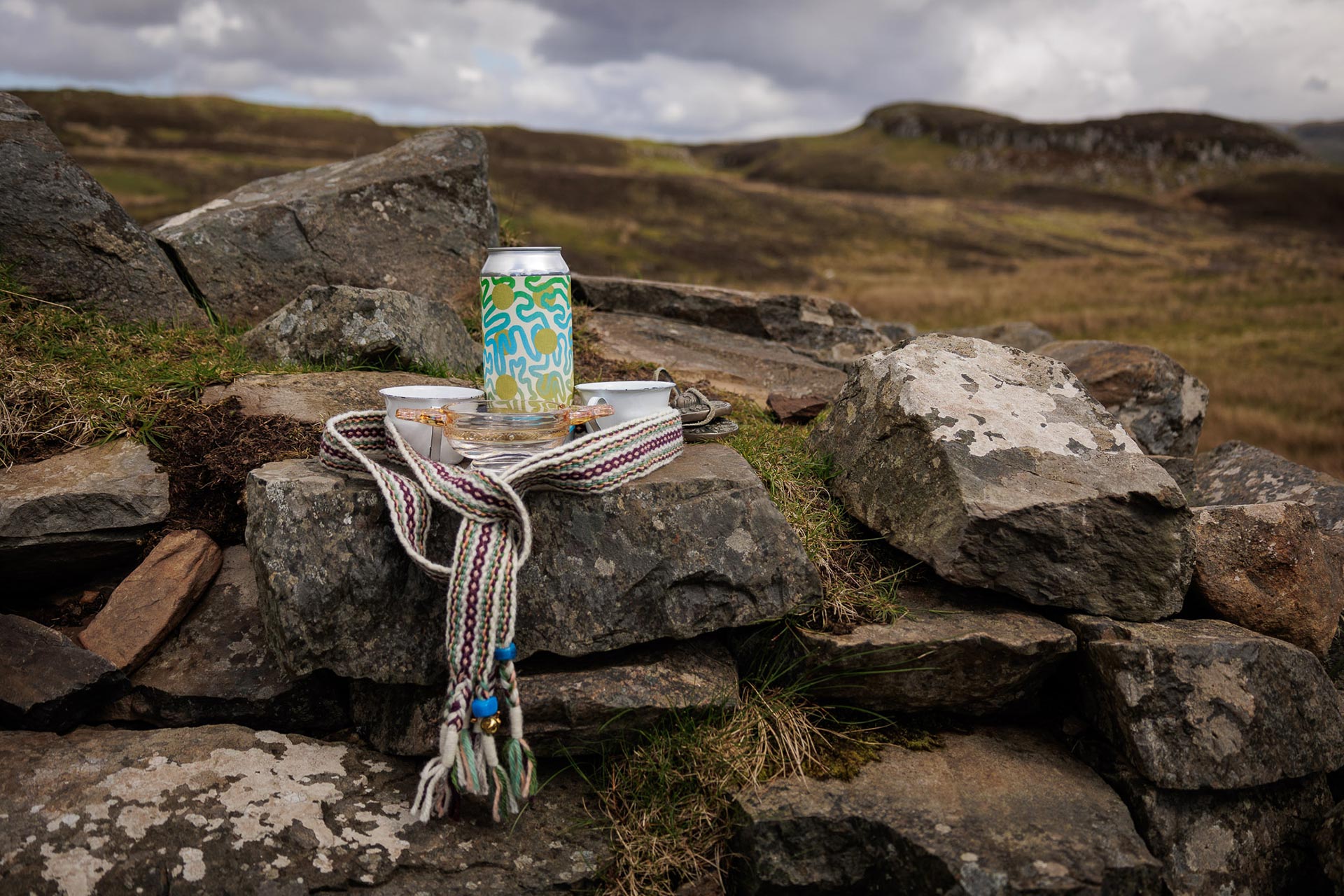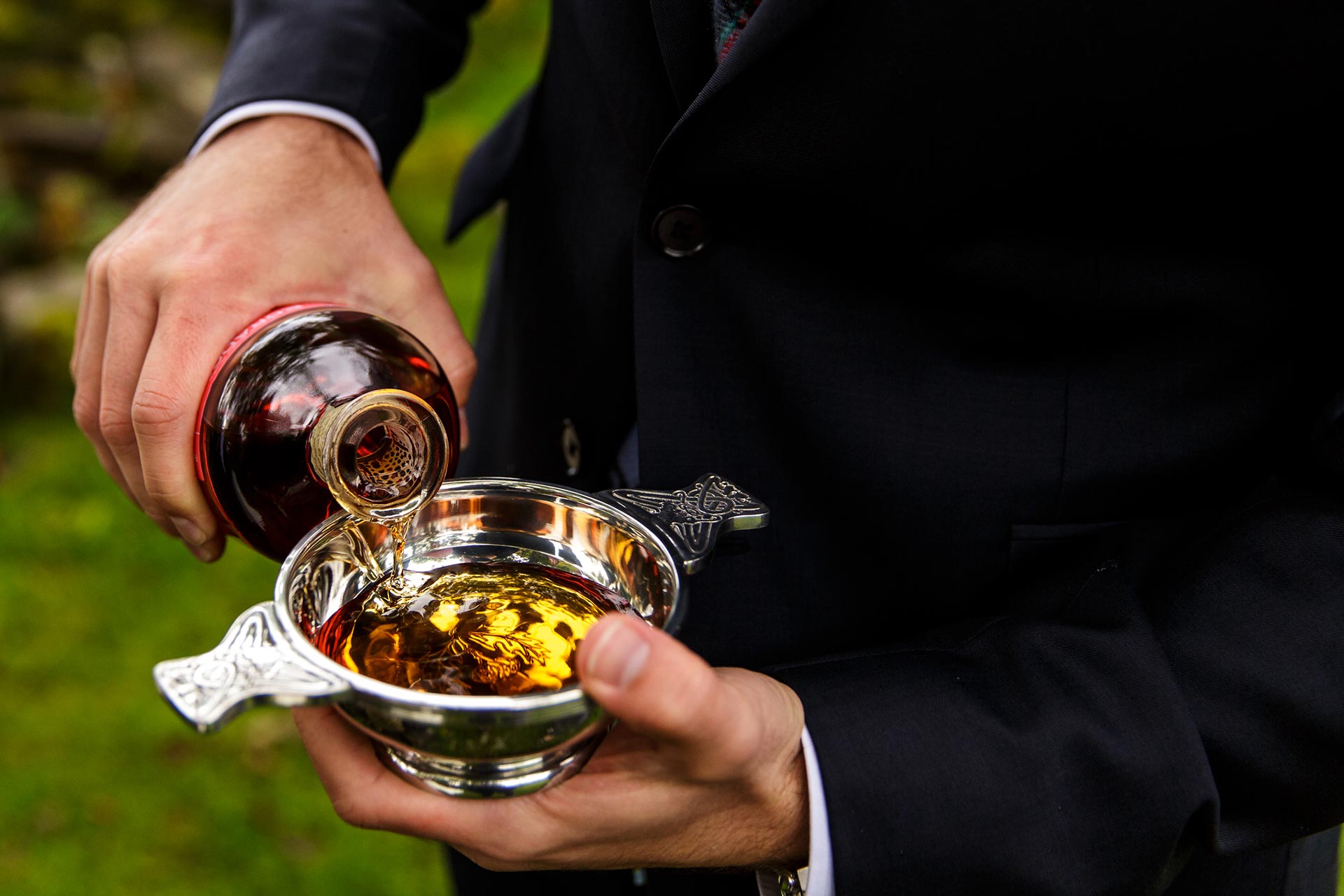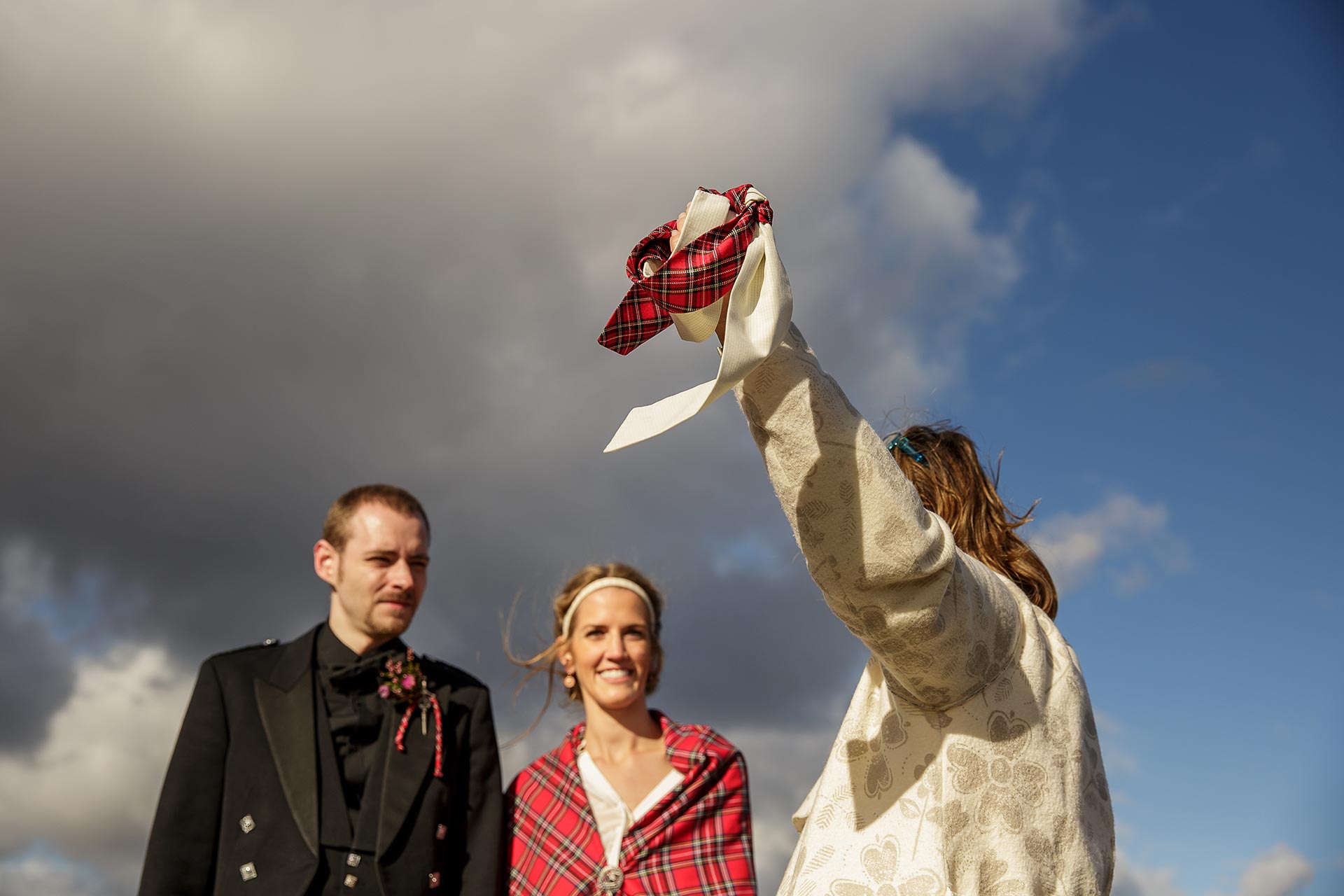 How far in advance do you need to submit notice?
You need to submit notice to the Registrar's Office in Portree no earlier than three months and no later than 29 days from your wedding day.
Do we need witnesses to get married on the Isle of Skye?
Yes is the short answer! If you want to be legally married in Scotland you need to have two people over the age of 18 to witness the ceremony. I am very happy to be one of your witnesses, and it's something I've done for most of my couples. The other witness could be a bagpiper or fiddle player if you're having one, as they will be there anyway. Or, if you are not having any music at your ceremony, then I can arrange a witness to attend. There is usually a small fee to cover time and travel expenses for a witness that is asked to attend (but not for me or the musician as we'll already be there).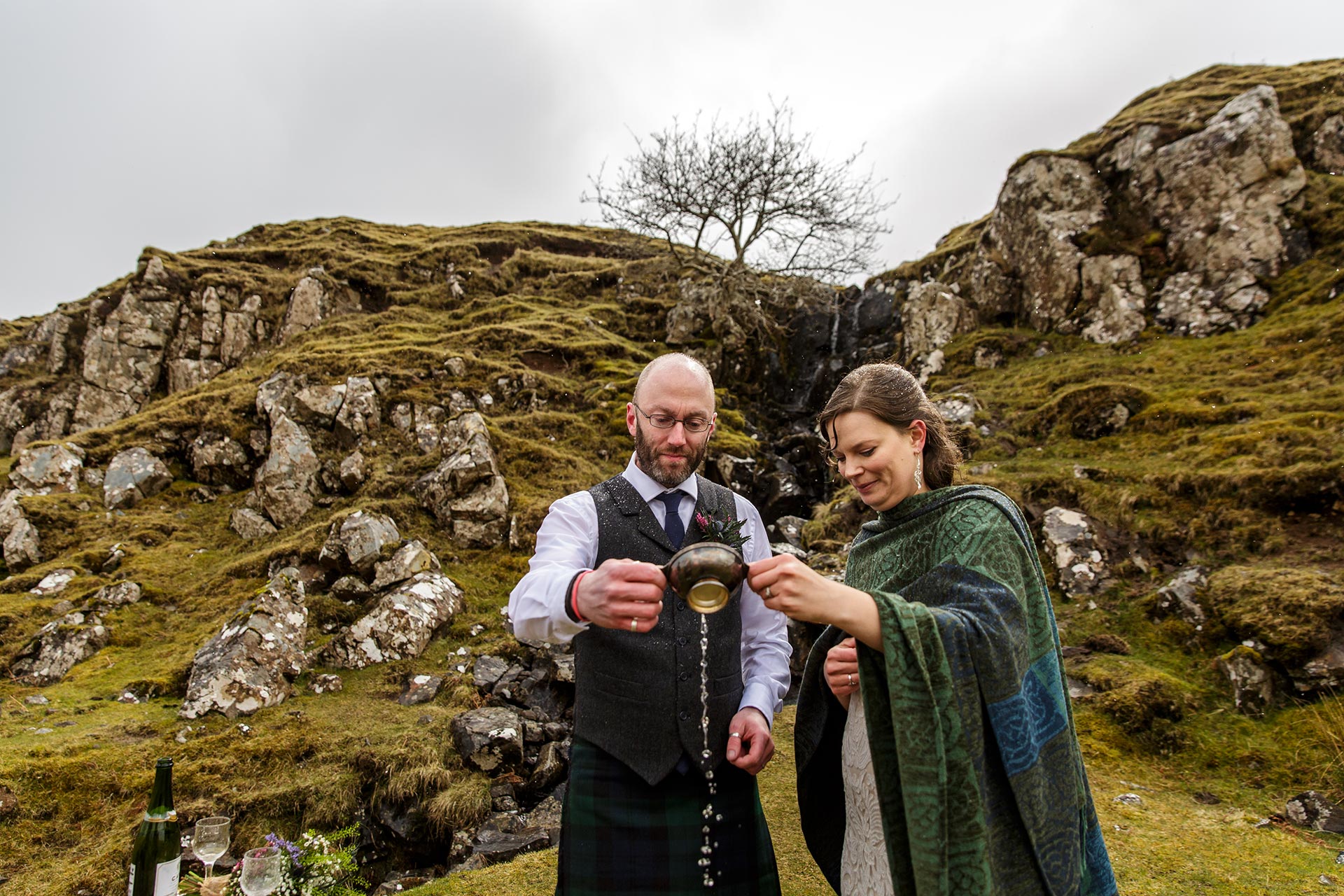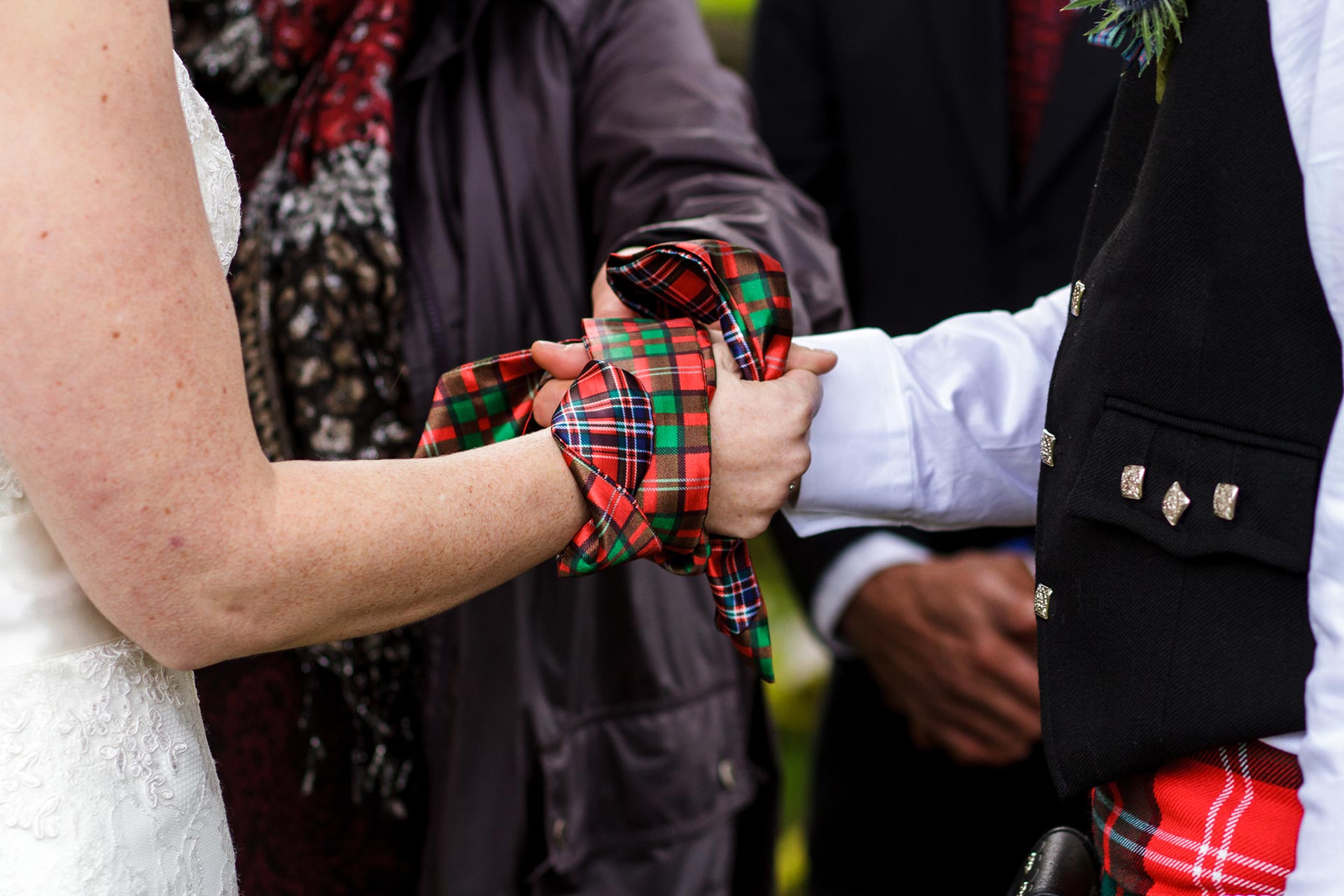 Isle of Skye Registry Office
The Registrar's Office in Portree on Skye is where you will need to submit any paperwork and it's also where you will go to collect your Marriage Schedule, before the ceremony. You can collect it up to seven days before but try not to leave it until the last minute! A day or two before the ceremony is a good idea as it means you're not having to rush about on the day of the wedding. After the ceremony, you'll have to take the form back to the Registrar's Office within three working days. They will then issue your Marriage Certificate that proves you're legally married!
How much does it cost for a marriage licence in Scotland?
The cost is £70 which is made up of two applications at £30 each and £10 for the entry onto the Register of Marriages. There will be an additional fee on top to cover the cost of the ceremony itself. For a civil ceremony, the price starts at £55 depending on whether you marry in the registry office or at a different location on Skye. Humanist celebrant fees are from around £450 which includes membership of the Humanist Society – this is a requirement if you are having a Humanist ceremony. For Interfaith celebrants – which are very similar to Humanist celebrants, except they are also able to conduct religious ceremonies if you wanted a religious element, then the fees are.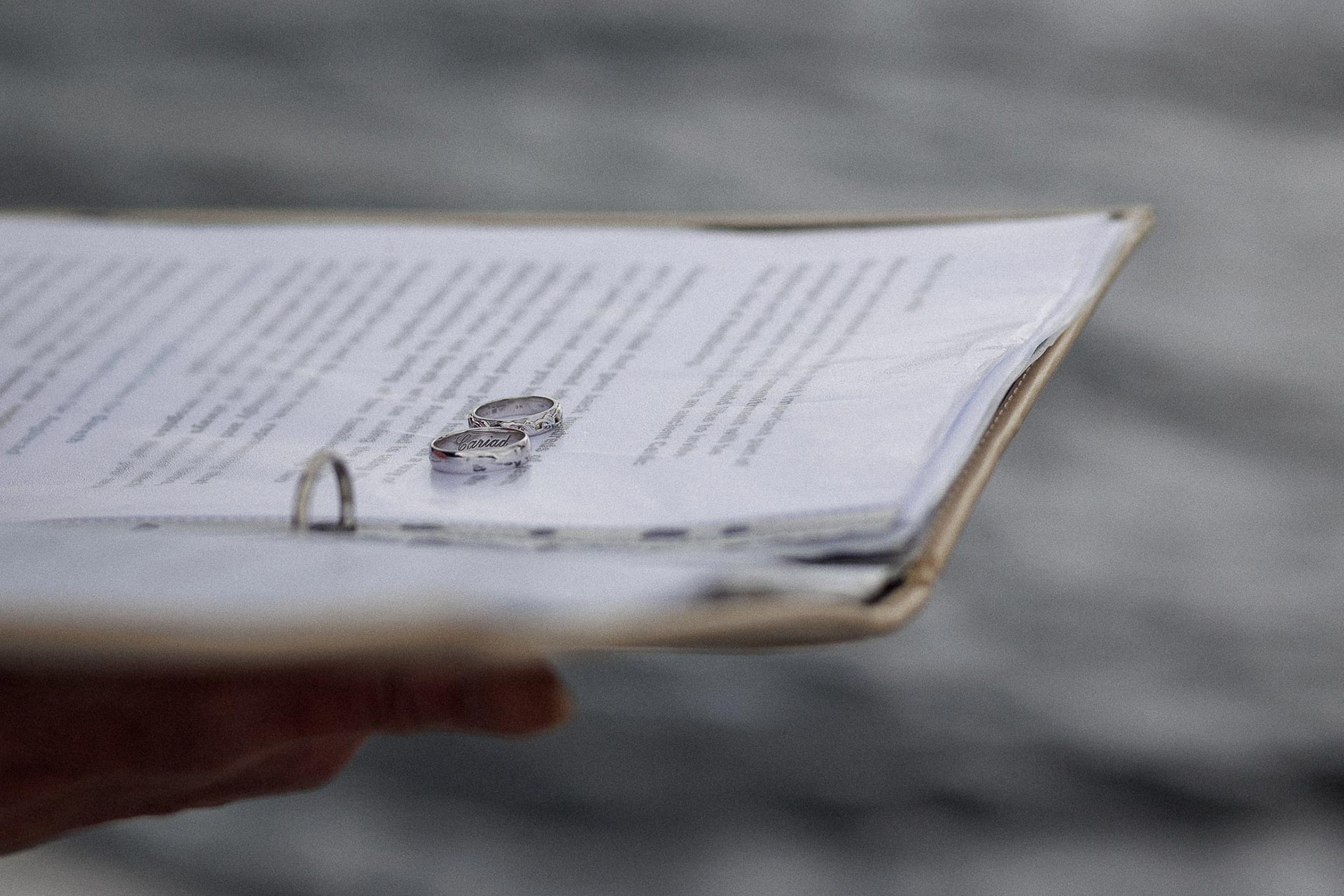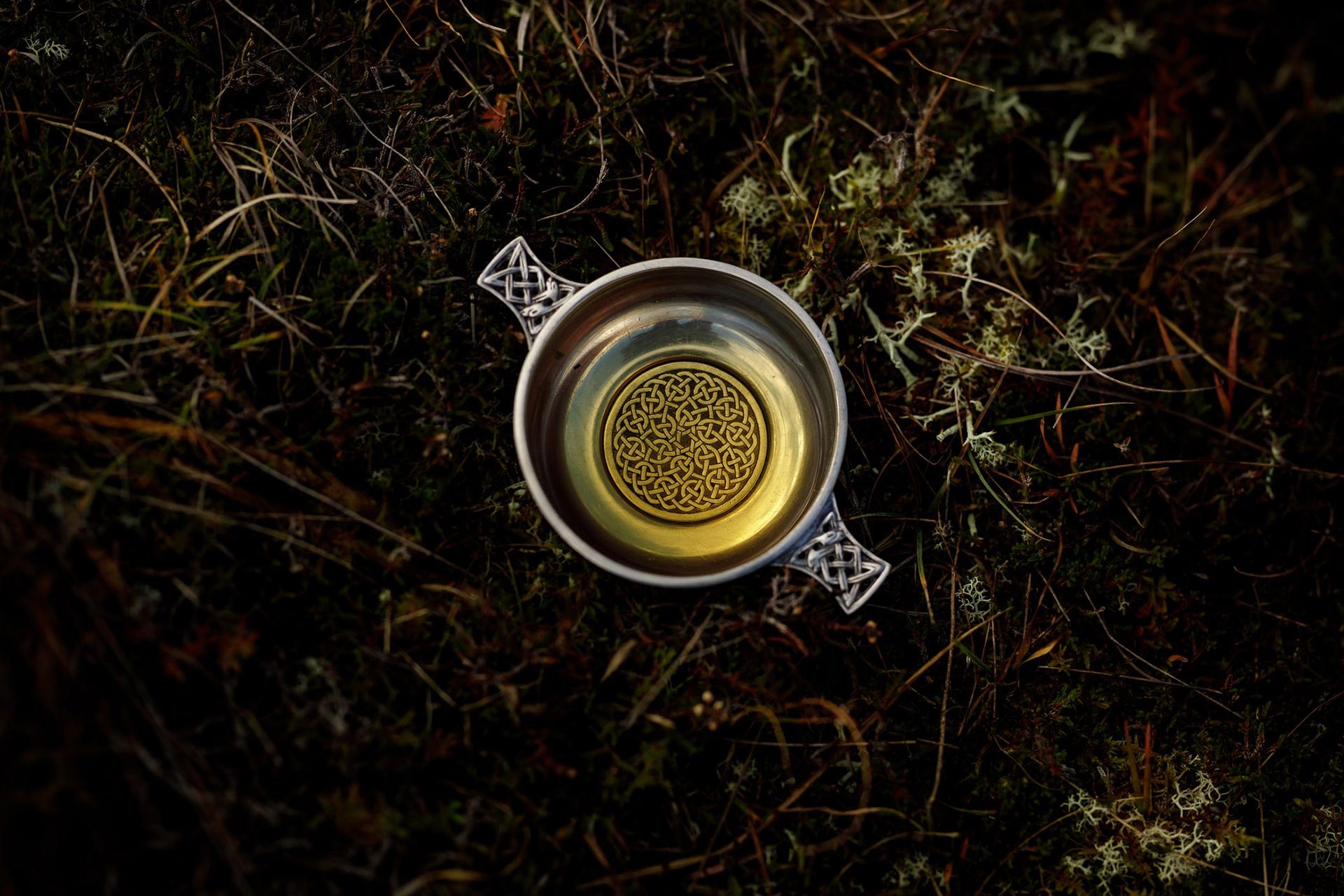 Humanist & Interfaith Celebrants in Scotland
Celebrants from the Humanist Society Scotland and the Interfaith Foundation are able to personalise ceremonies specifically for each couple. Want to read your own vows to each other? No problem. Fancy some symbolic Scottish traditions such as handfasting (tying the knot) or drinking from a quaich? You can add that in too. Your celebrant will work with you to create a beautiful, intimate, meaningful ceremony that reflects you as a couple.
What's the difference between a humanist celebrant and an interfaith celebrant?
Humanist celebrants are not able to make any reference to religion or spiritual beliefs during a wedding ceremony whereas Interfaith celebrants are. So, for example, if one of you has religious beliefs and the other does not, or if you are both from different religious or cultural backgrounds, or if you are spiritual in any way, an interfaith celebrant can create a ceremony that incorporates those beliefs.
Religious Wedding Ceremony On Skye
If you would like to have a religious ceremony, you can either speak to one of the local Isle of Skye ministers or an interfaith minister could marry you. Some ministers will be happy to conduct the wedding outside.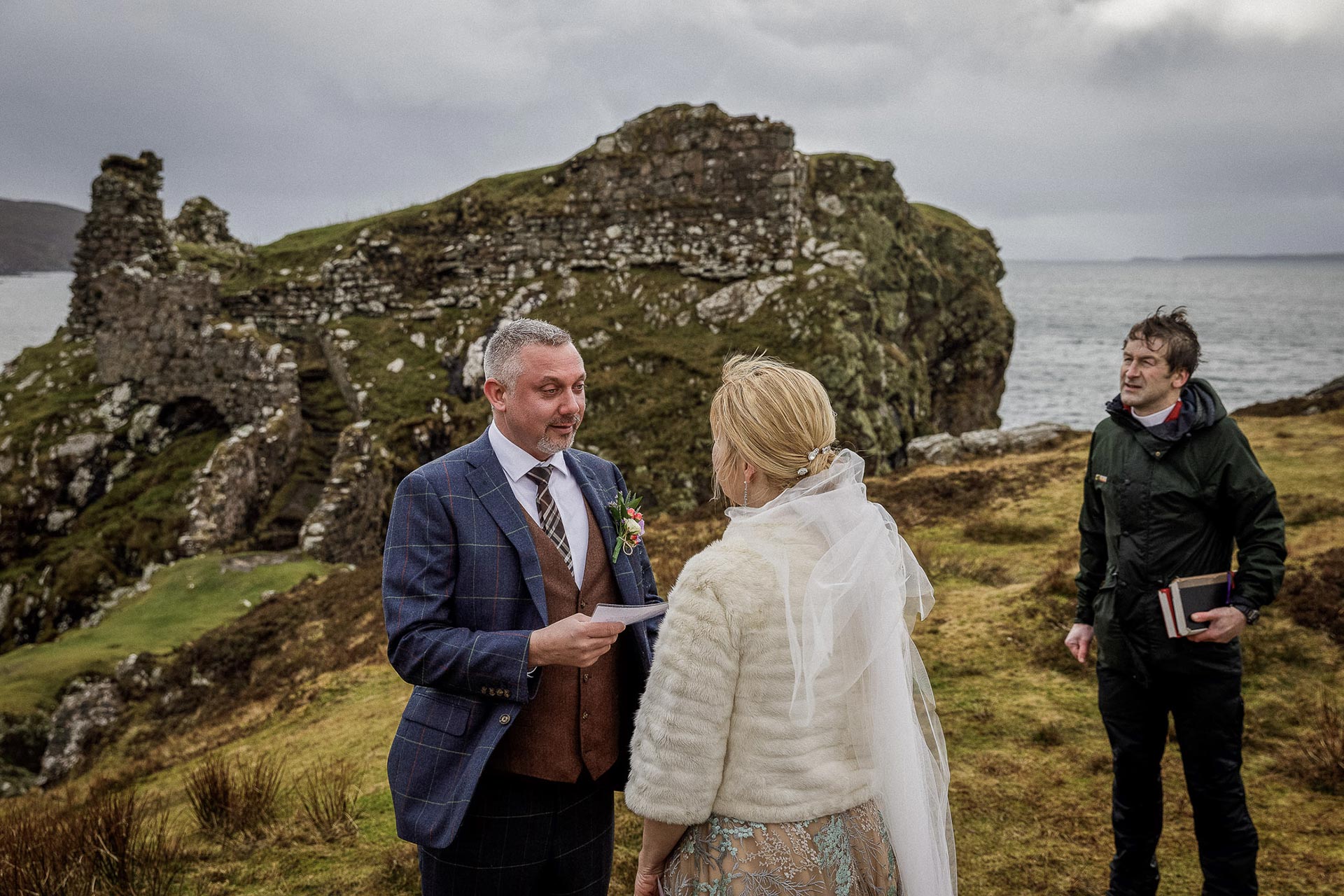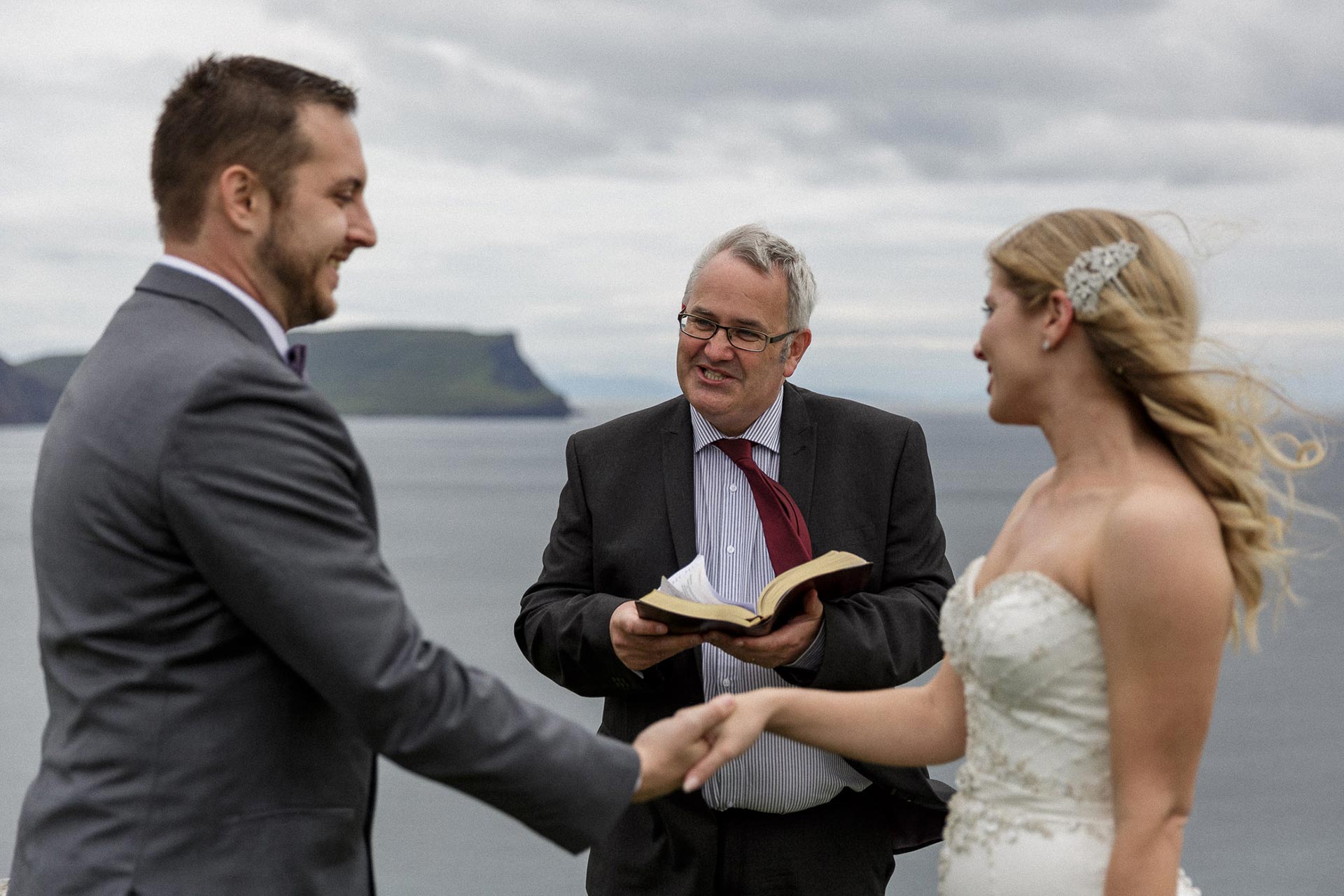 LGBTQ+ Marriages in Scotland
Scotland was the first country in the UK to legalise same-sex marriage in 2014 and is one of the most progressive countries on LGBTQIA+ rights in Europe. Same-sex couples from anywhere in the world can get legally married in Scotland.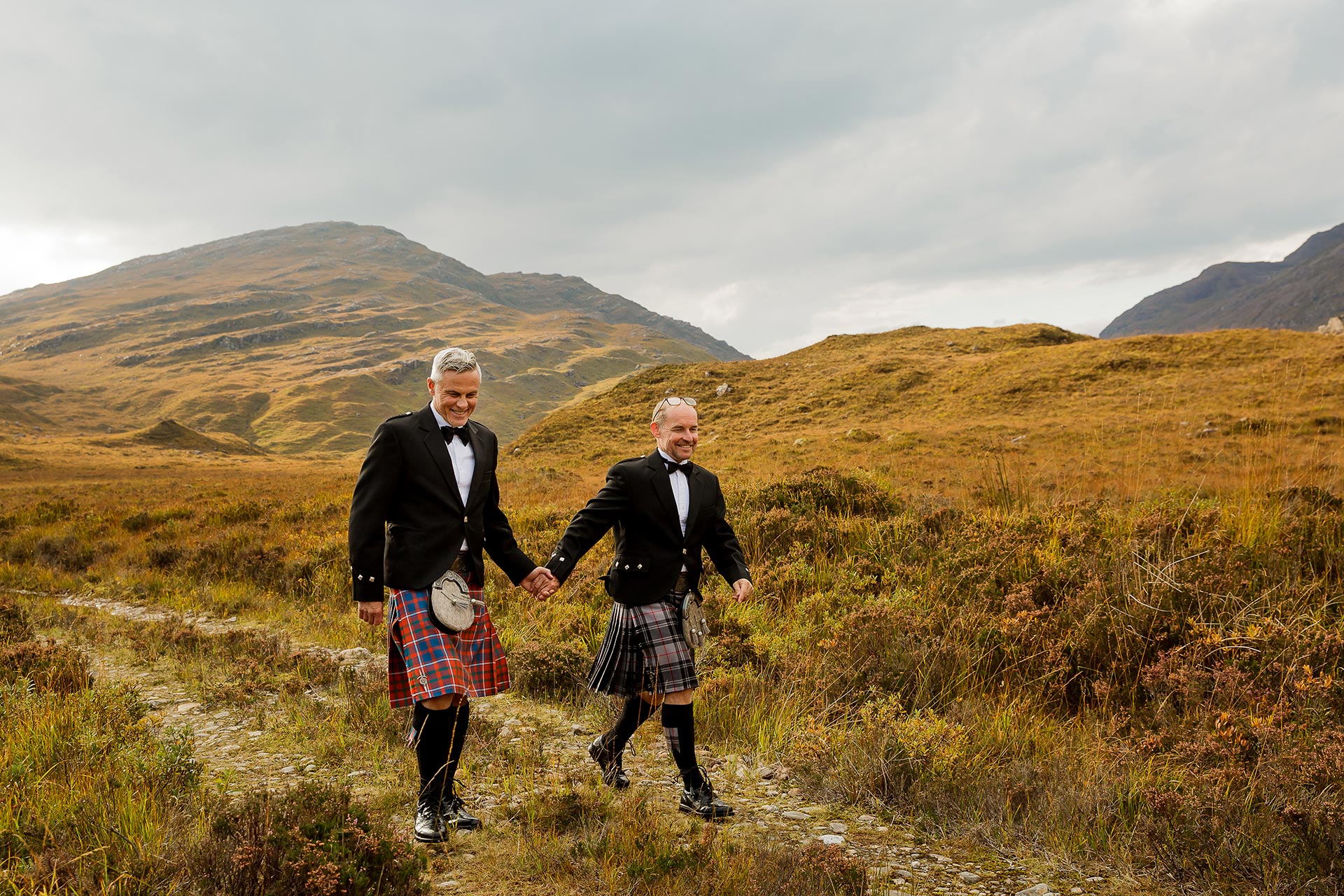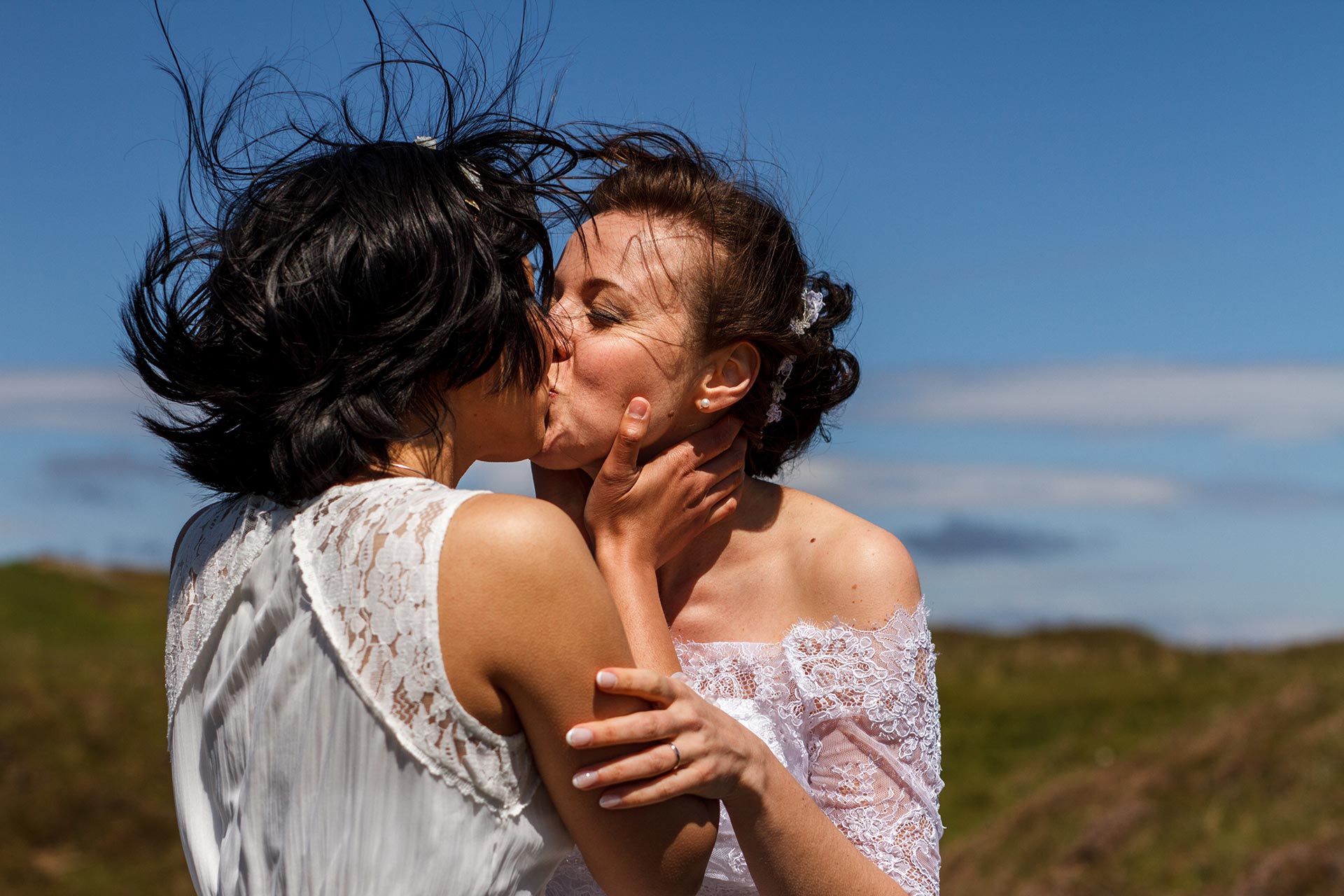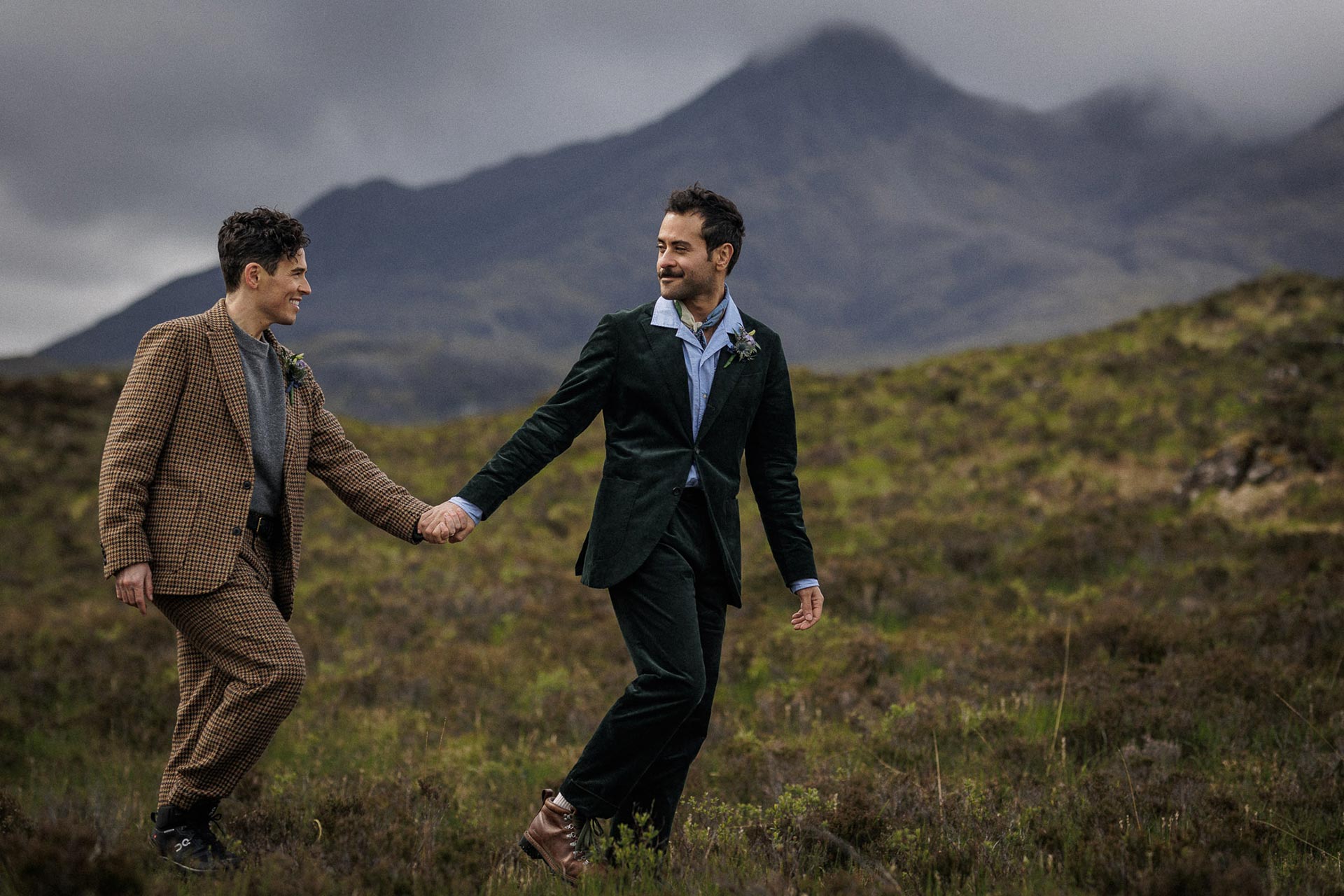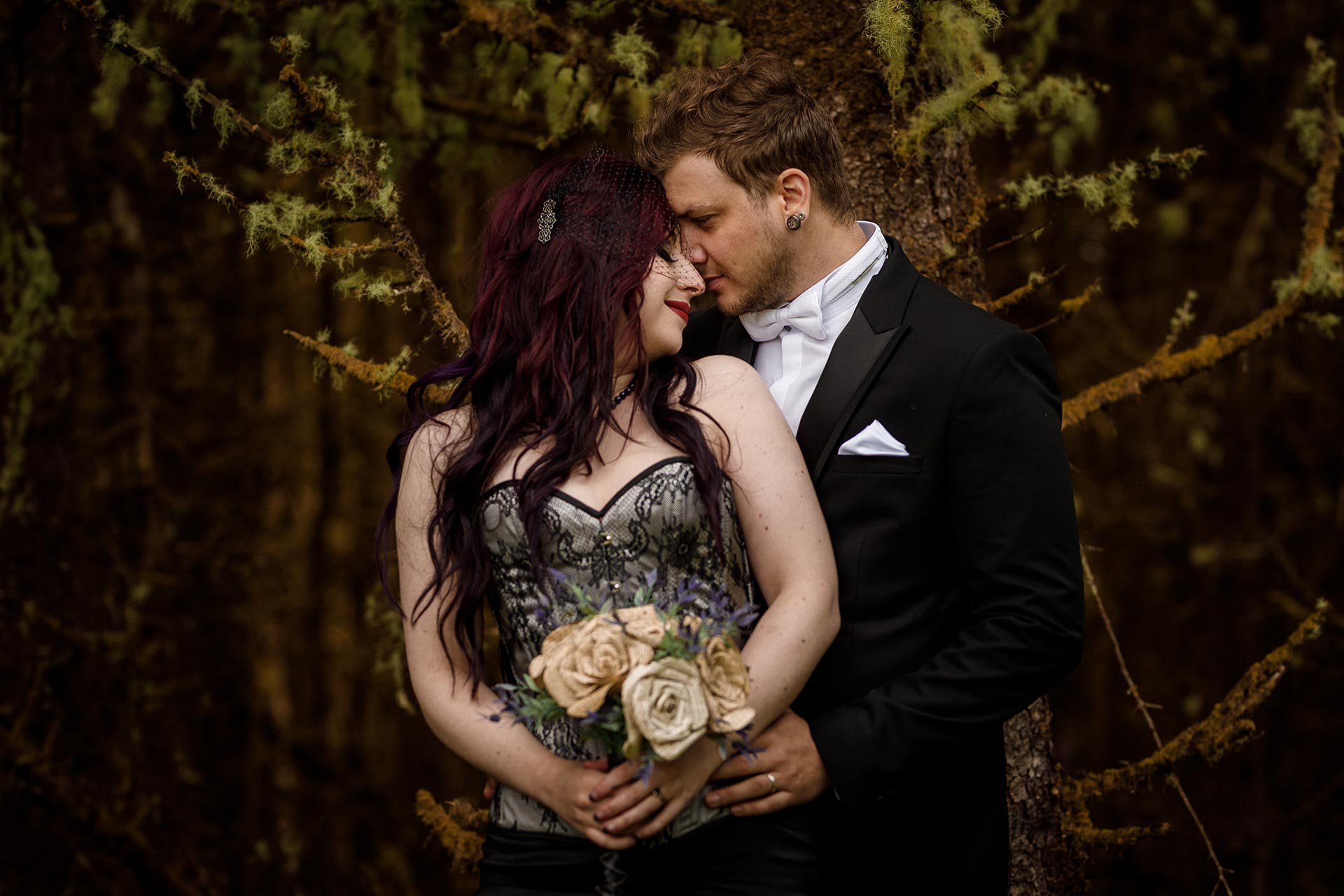 ISLE OF SKYE ELOPEMENT & WEDDING LOCATIONS
CHOOSING THE PERFECT LOCATION FOR YOUR ELOPEMENT
There is no shortage of beautiful backdrops on Skye so if you are finding it all a bit overwhelming, let me guide you and devise a plan of where to marry. We can talk through the type of ceremony you are envisaging and find the perfect spot for you. Often, the best spots for your ceremony are not the famous five listed below, but somewhere out of the way and less well known.
How To Avoid The Crowds on the Isle of Skye
Choosing when to come is your first step to avoiding the crowds but if you have to come in one of the busier months, don't worry, we can either go out very early, or we can visit less well-known spots where you might still be able to feel quite alone in the landscape.
Top 5 Isle of Skye Elopement Locations
There are some locations on the Isle of Skye that are very popular with couples so here are a few photographs to show you in more detail. Just because these are the most famous locations though, don't forget there are lots of nooks and crannies all over the island that can provide spectacular backdrops. You can see some of them in the next section.
The Quairang
You'll find the Quiraing on the Trotternish peninsula, about 40 minutes drive north of Portree. It's quite a large area, so although the main plateau is often very busy with people, there are little spots here and there that are often deserted so we could have the ceremony at one of those and then head up to the main part of the Quiraing for some other photographs. Or we can get up there really early before all the tourists arrive!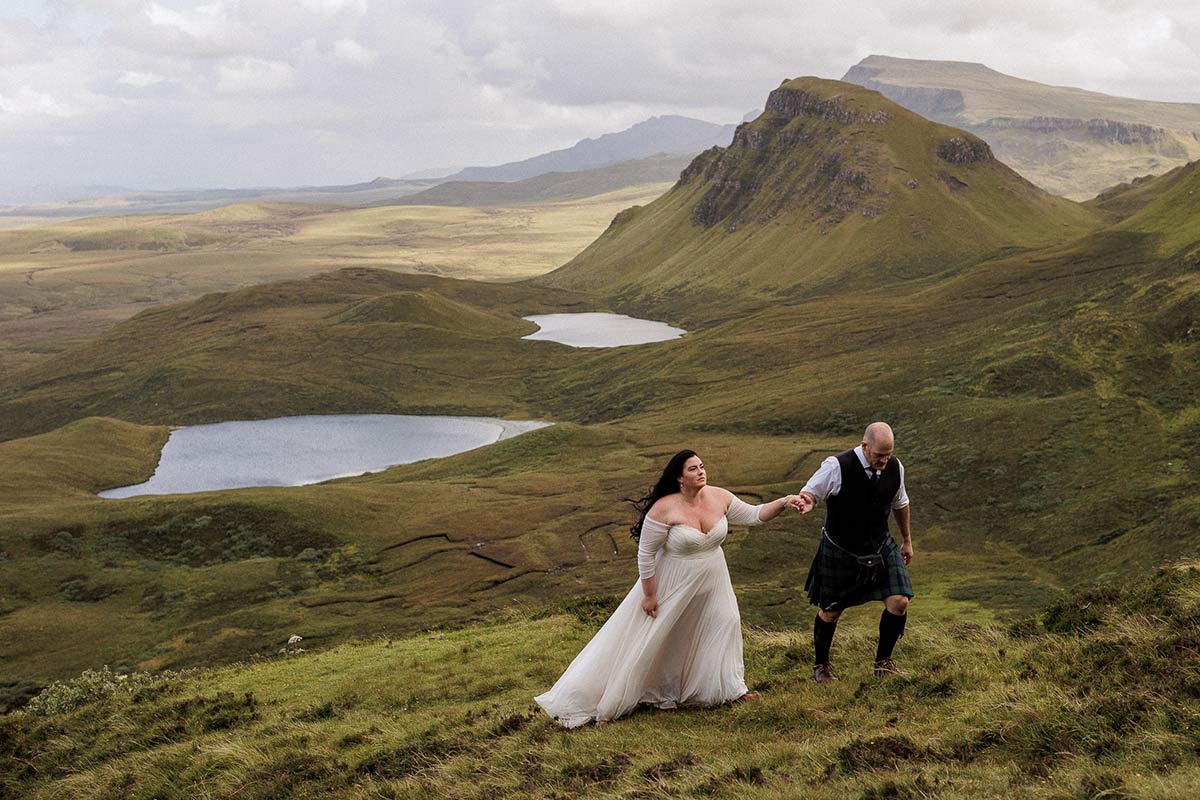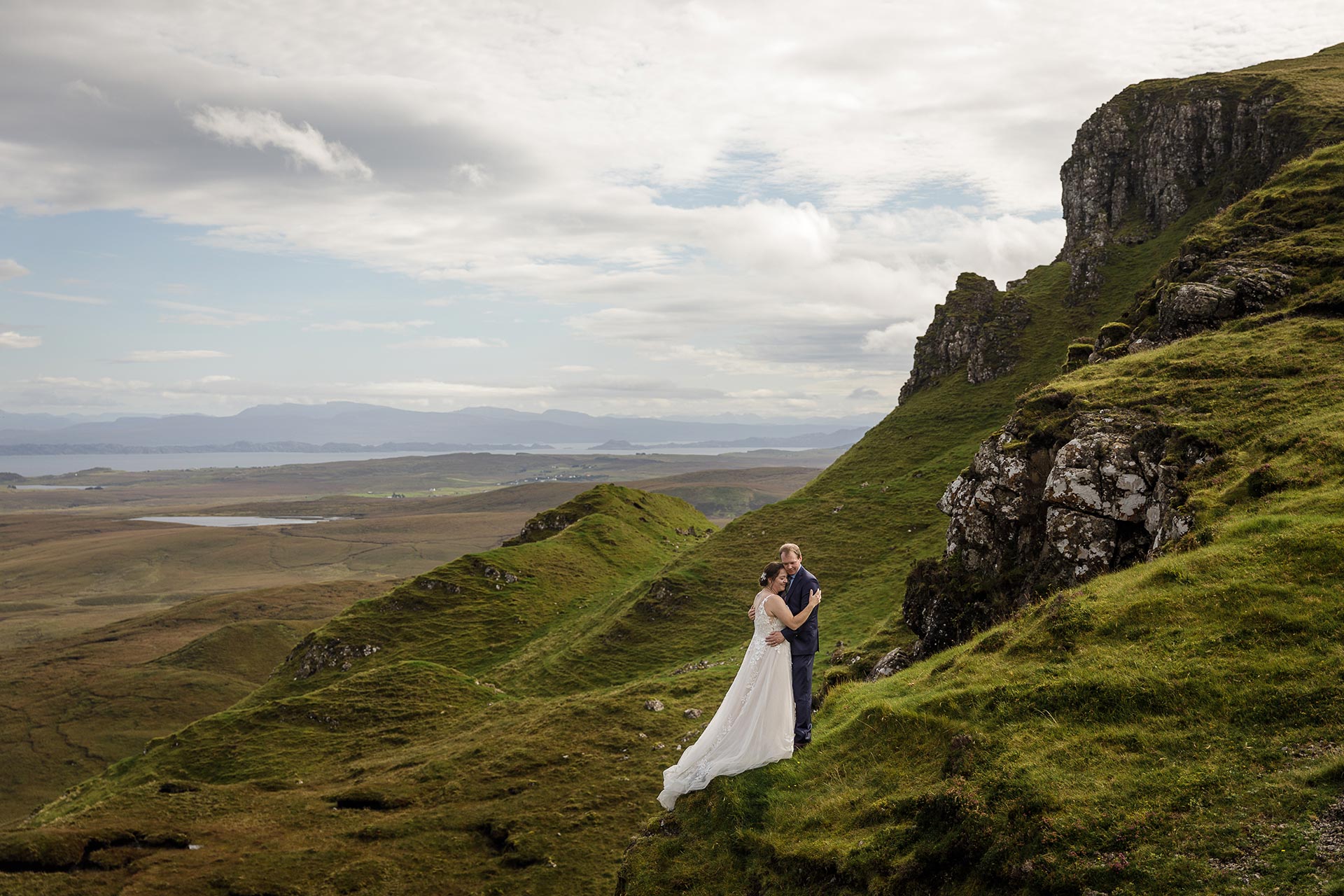 Fairy Pools
Along with the Quiraing and the Old Man of Storr, the Fairy Pools is one of the busiest parts of the island so the best time to be here is end of October, winter and early spring. It is very dramatic and there are lots of different areas for photographs. It's also near Glenbrittle beach which is a great spot to visit afterwards and not too far from Talisker Bay.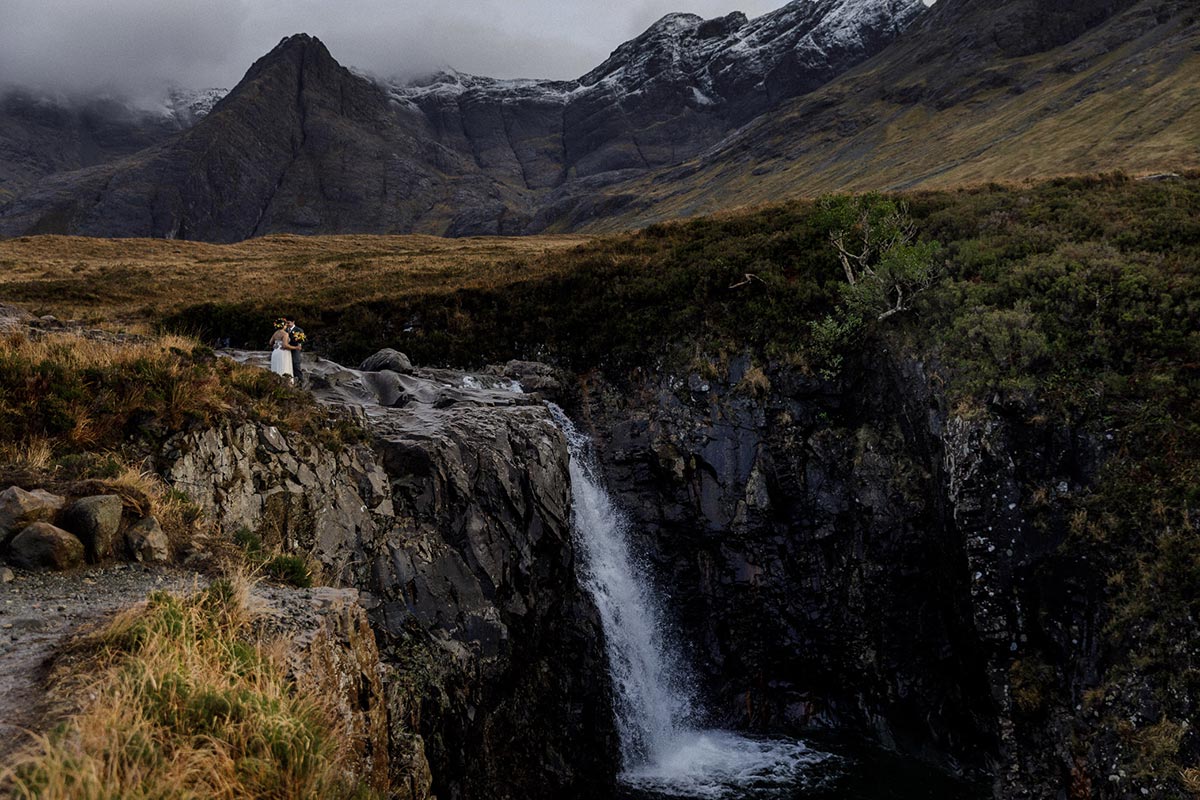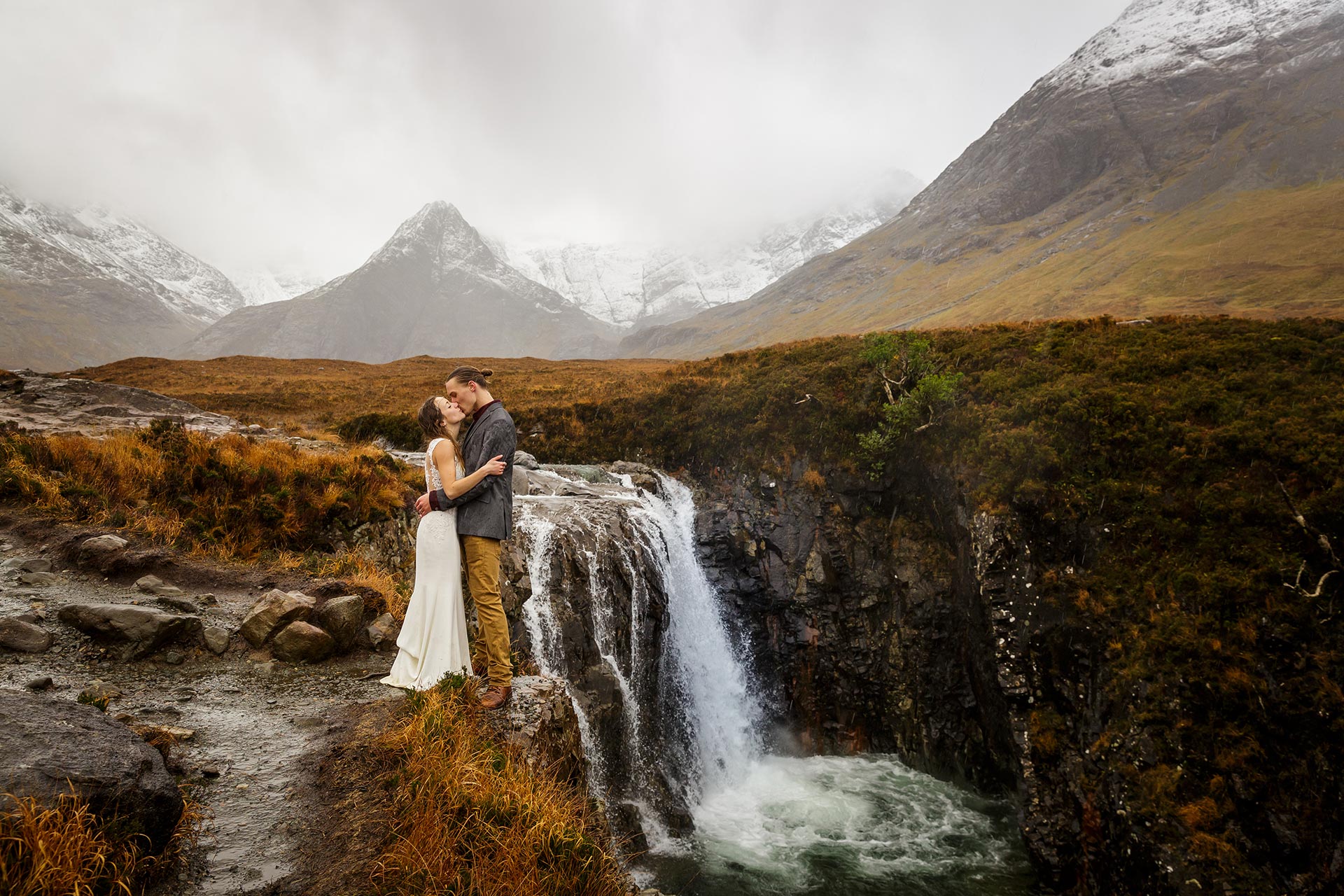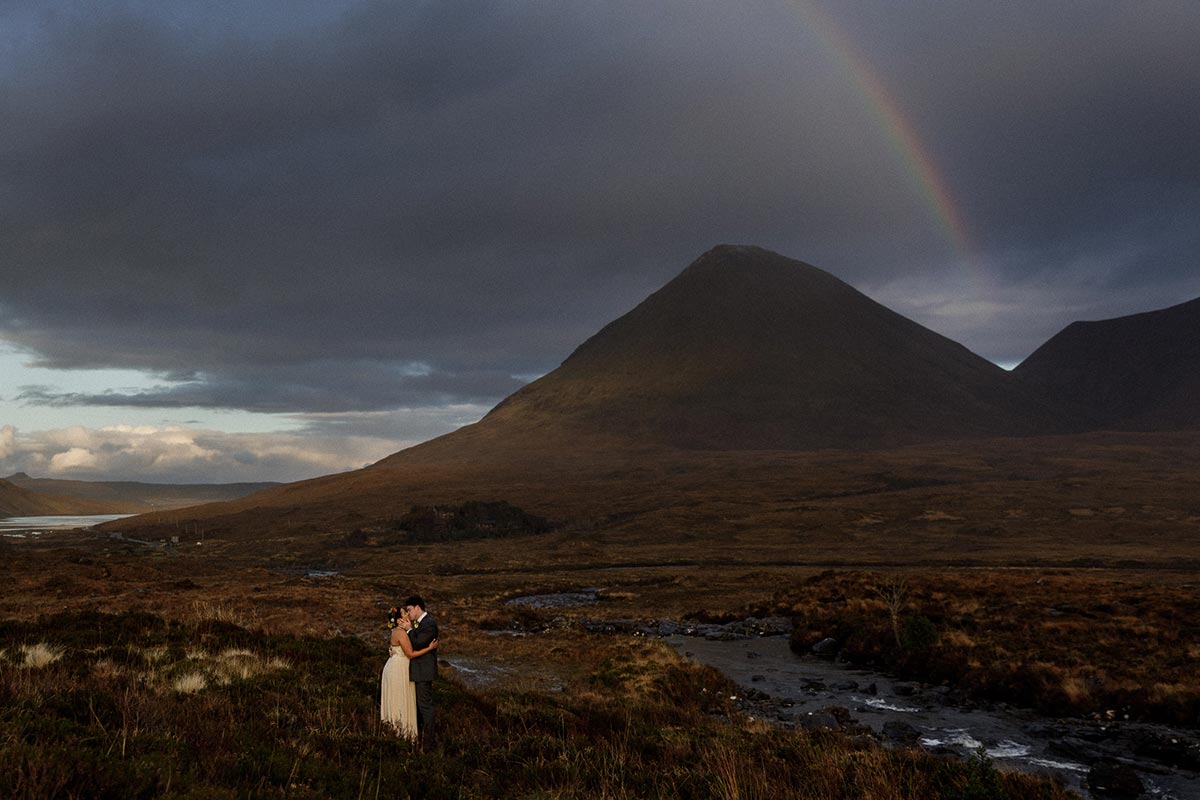 Sligachan
Perhaps one of my most favourite spots on the island. The old bridge next to the hotel is always very busy most of the year, however, fifteen minutes walk away there are a number of other much quieter spots. You really feel like you're in the mountains when you're here. I never tire of photographing in this area and especially when the river is crashing madly over the rocks and down towards the sea. There are pleny of waterfalls around this area too.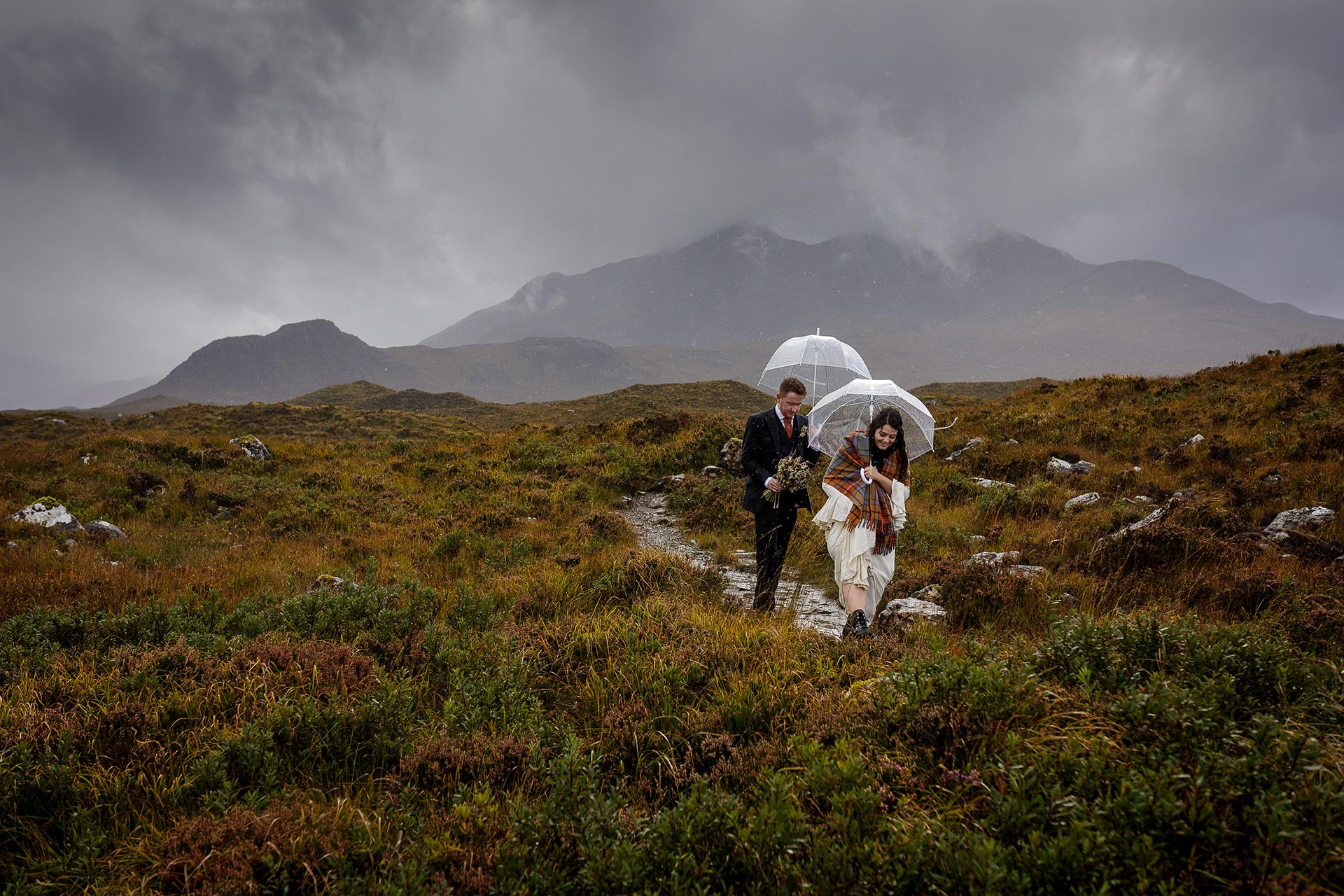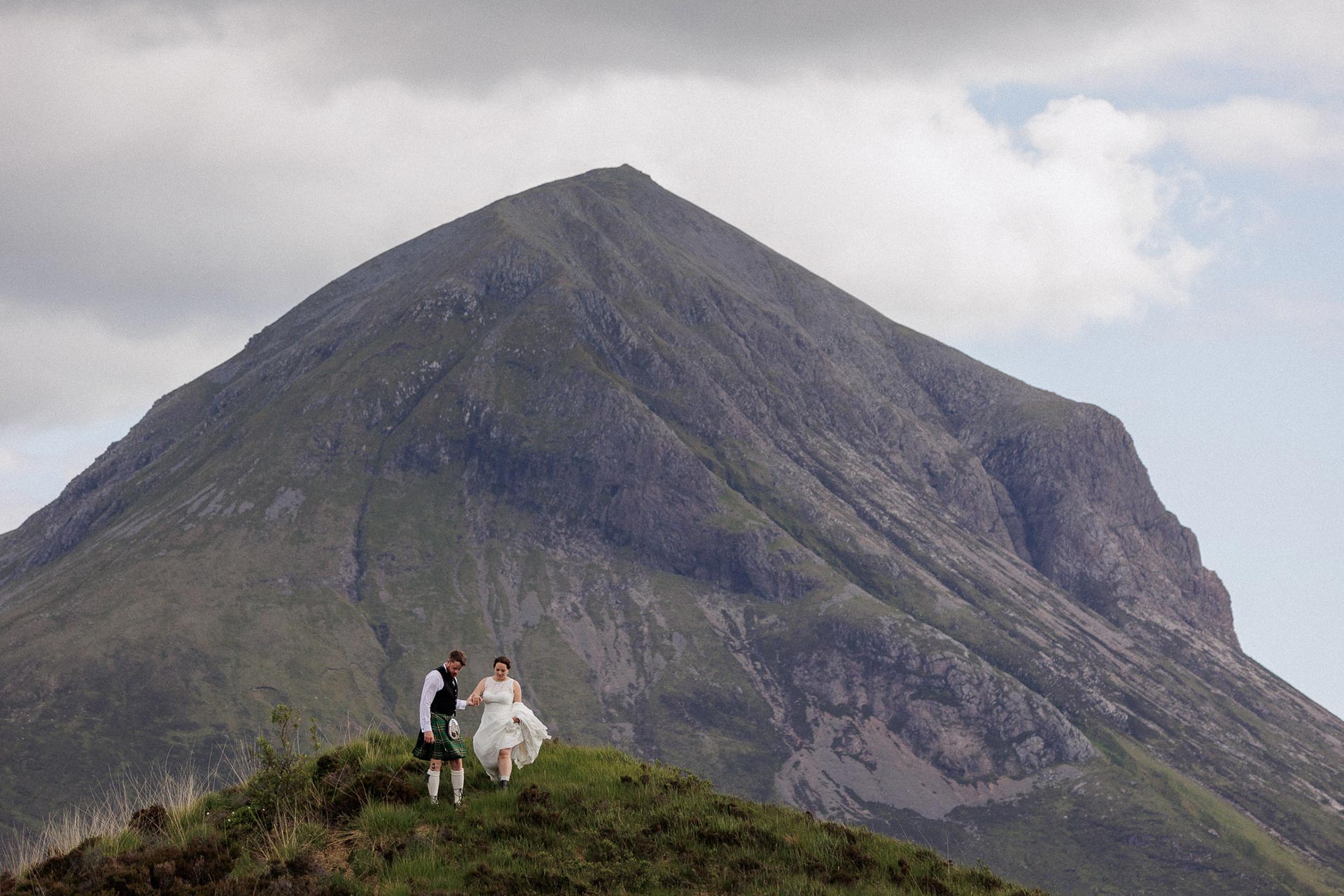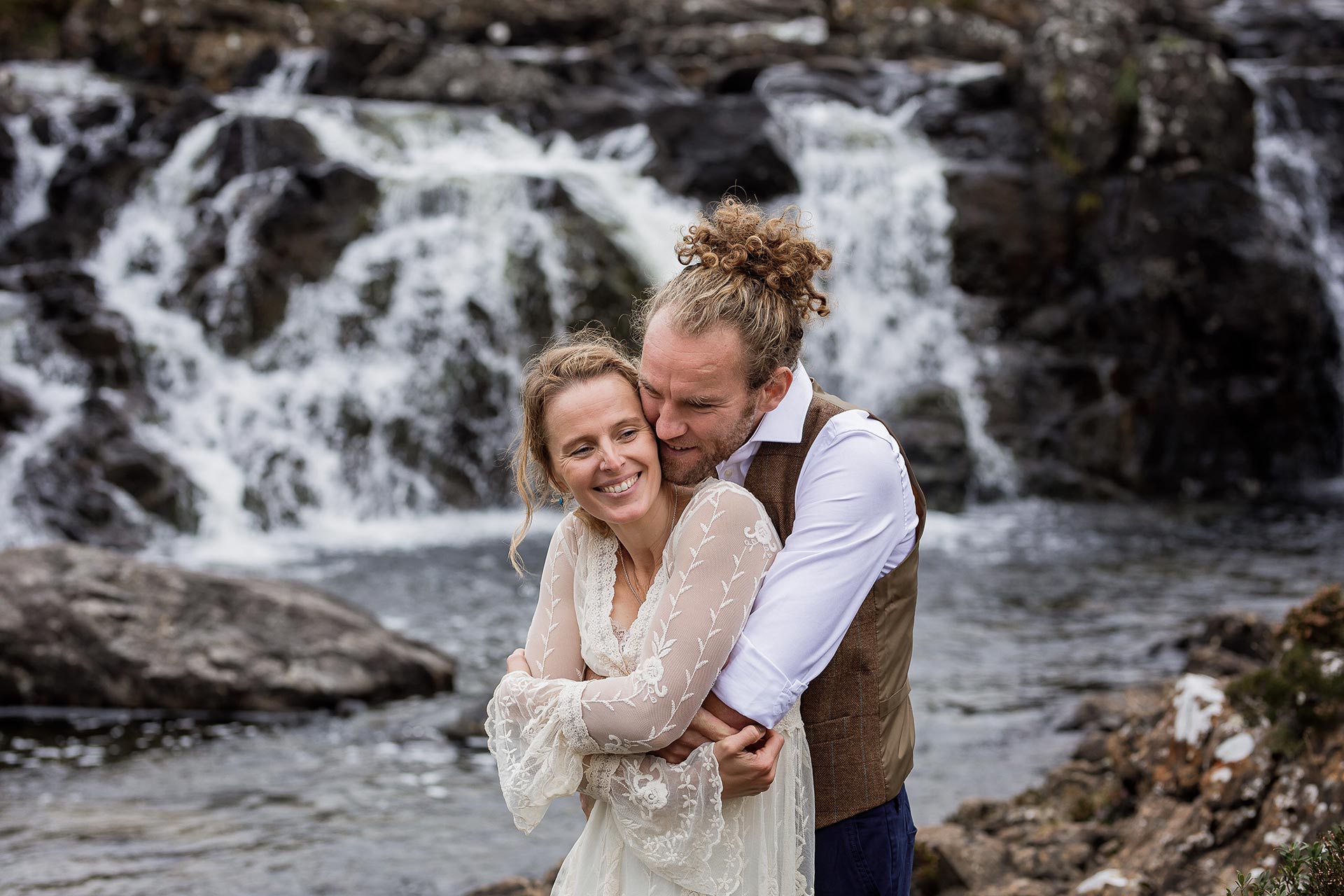 Loch Coruisk
I've lost count of the number of times I've been to this tranquil, stunning location. You never know what you are going to get weather-wise and I've had a lot of rainy trips here but it's so incredibly beautiful that almost doesn't matter. An added bonus of seeing seals and possibly dolphins on the 30-minute boat ride too.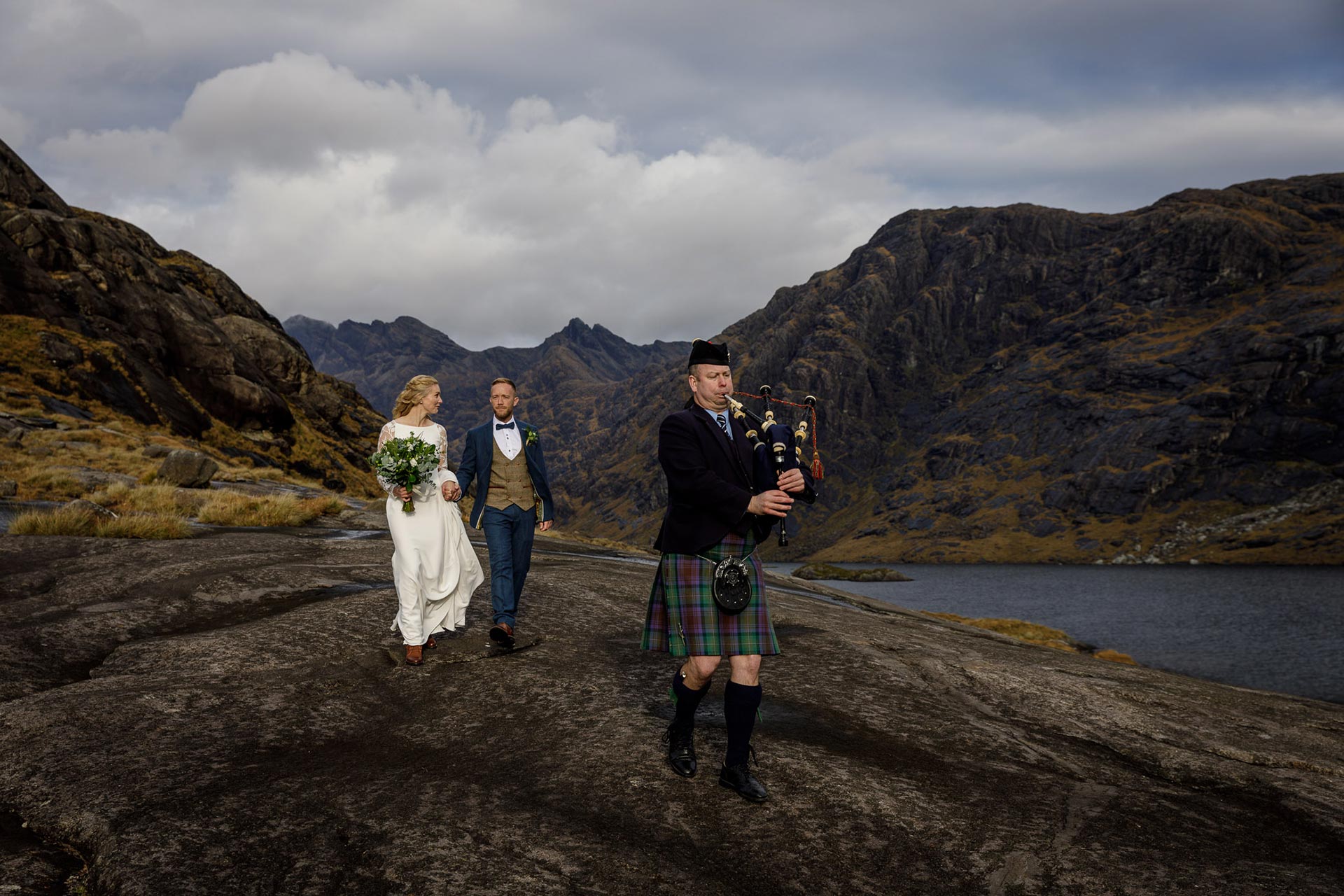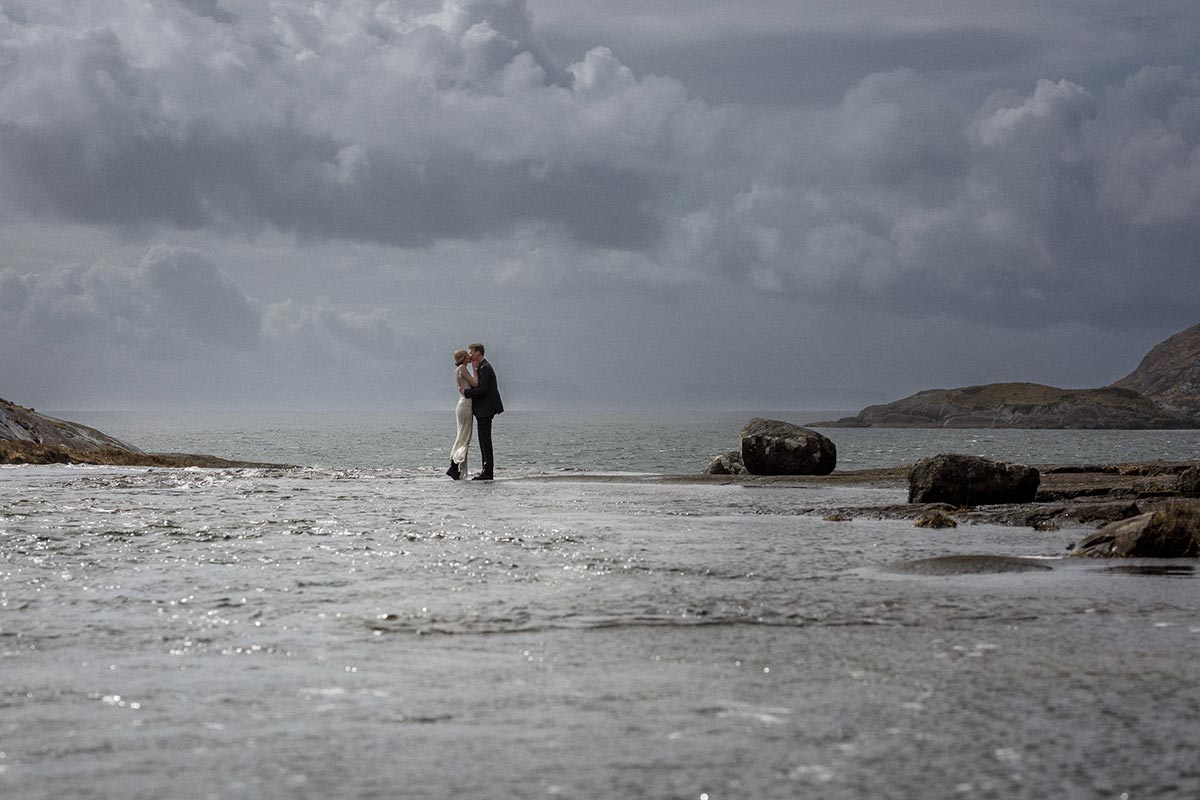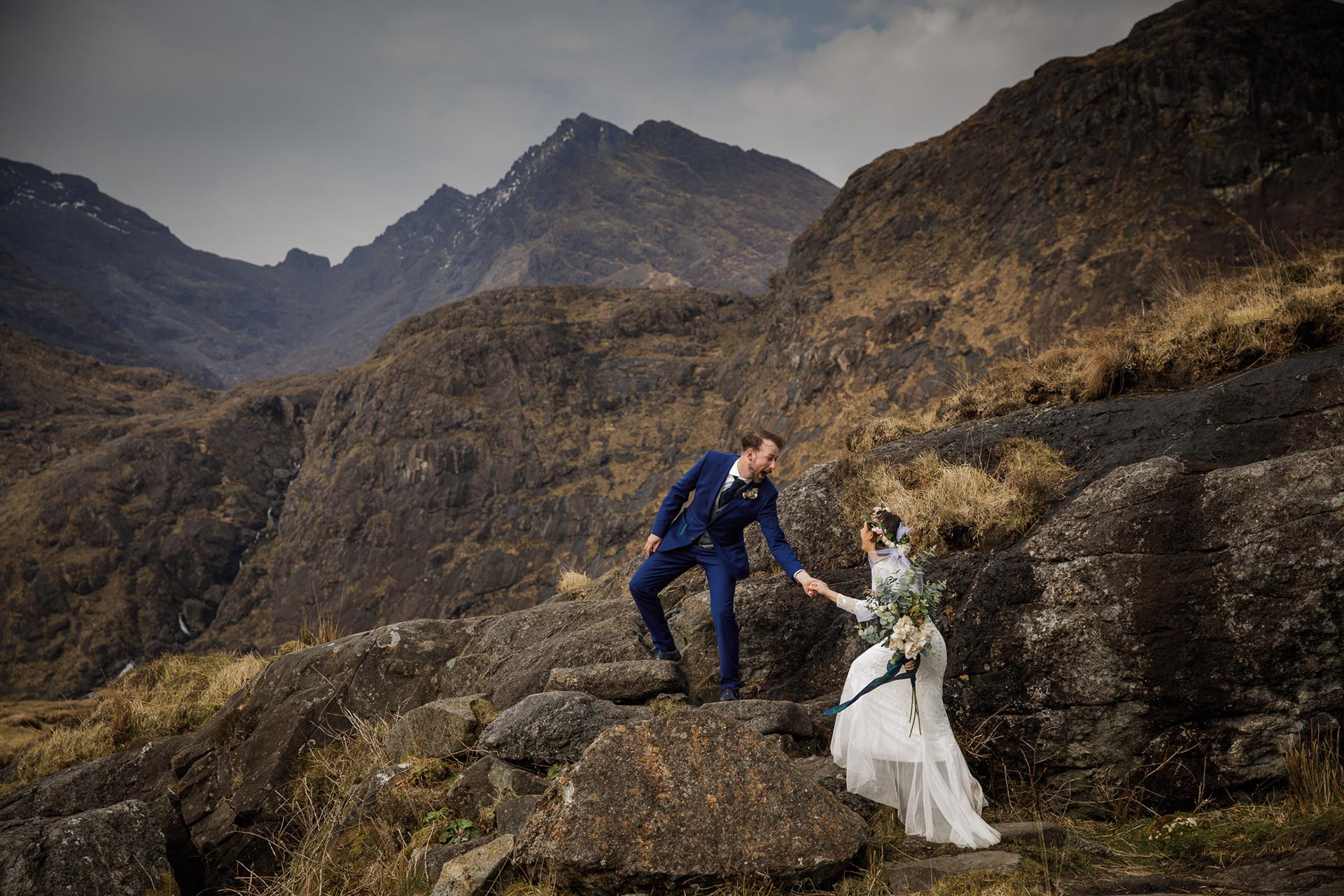 Old Man of Storr
This is one of Skye's most famous locations and requires a hike of about 45 minutes to an hour so it's not for the fainthearted as it's straight up. However, look what you're blessed with! Because of its popularity, this place is busy for most of the day, so I'd suggest a very early morning or evening visit if you want to have your ceremony here.
Fairy Glen
A tiny secluded wonderland that has become very popular on Skye but it's just so beautiful. You can almost imagine little fairies flitting around in the trees. Away from the main centre spot, there are some beautiful little tucked away areas that are perfect for a ceremony. It's very green here most of the year but in autumn when the bracken starts to turn rusty brown, and the leaves change colour, it's very beautiful.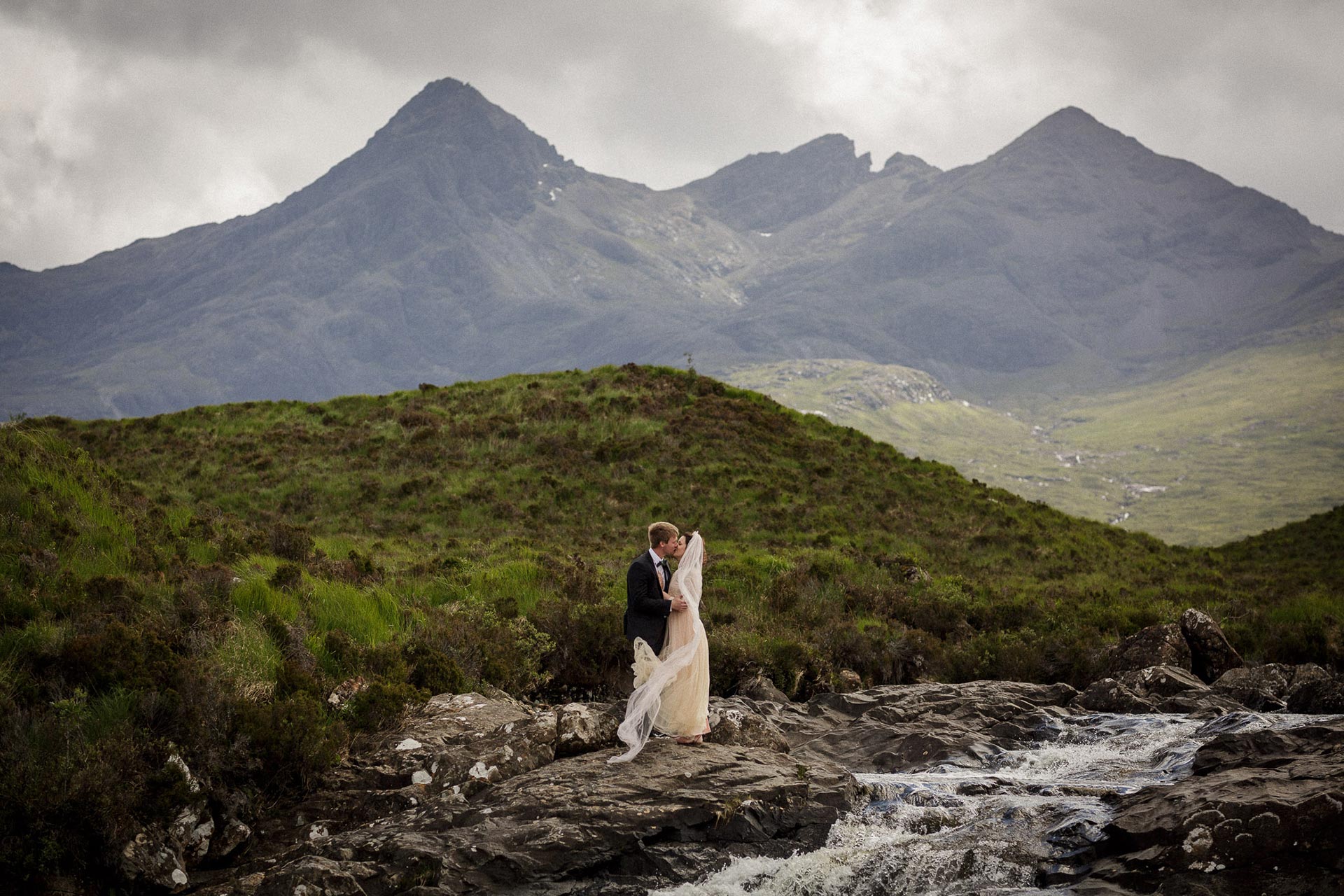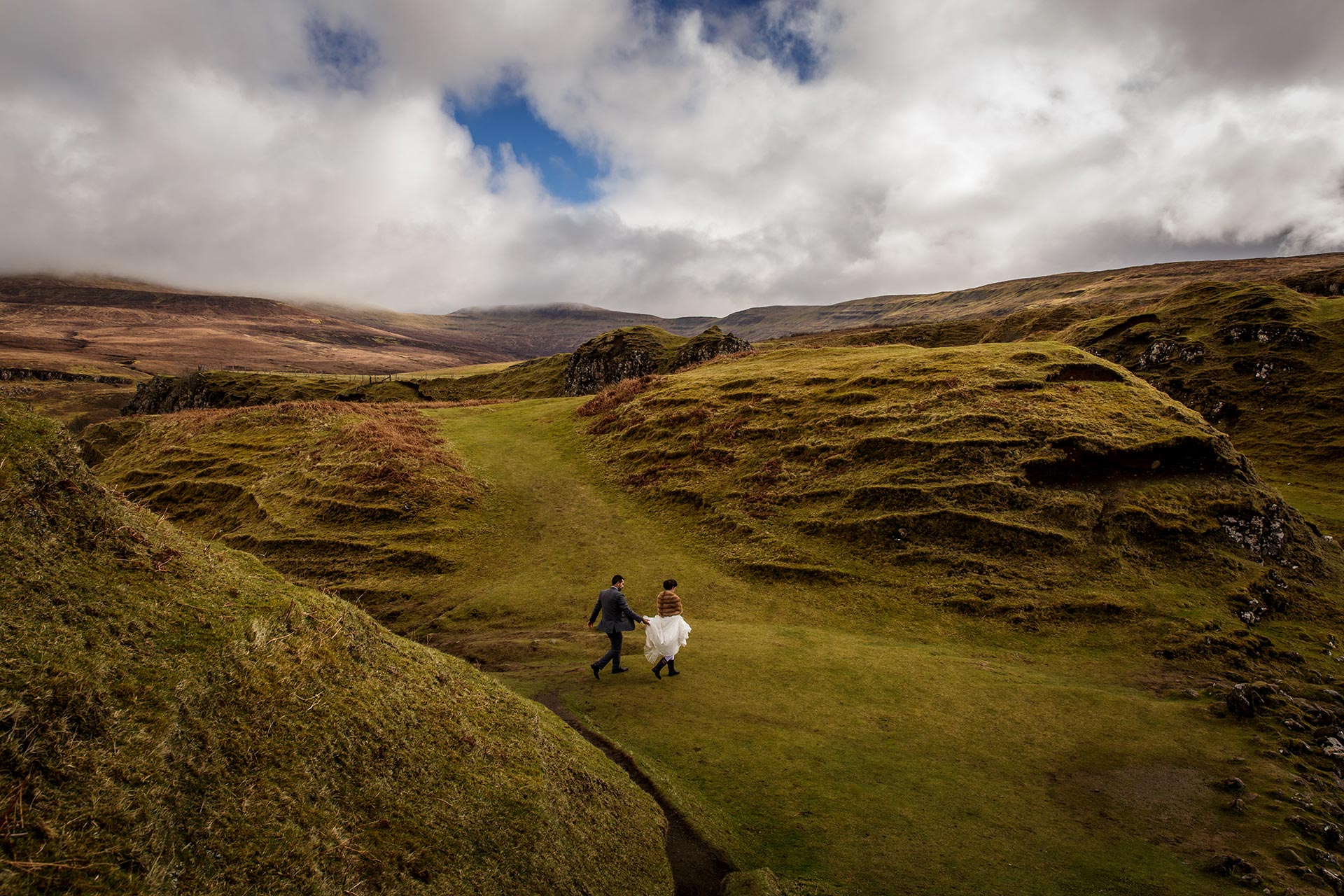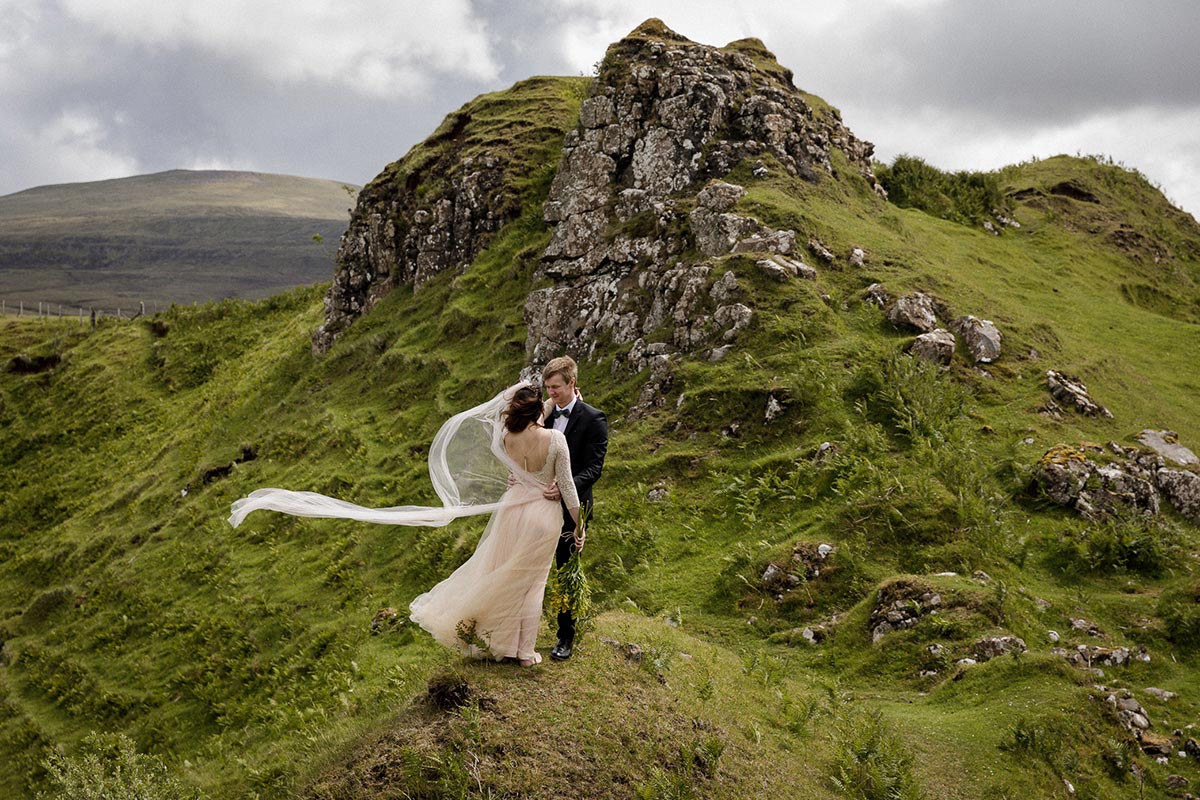 OTHER WEDDING LOCATIONS ON THE ISLE OF SKYE
Being a Skye local, I know so many amazing locations that I'd love to show you too. I keep some of my favourite locations a secret and only share them with my couples. That way, they stay quiet and uncrowded so that you get to have the intimate elopement experience that you want without having to worry about sharing your location with lots of other people. You might have to share it with some local sheep though!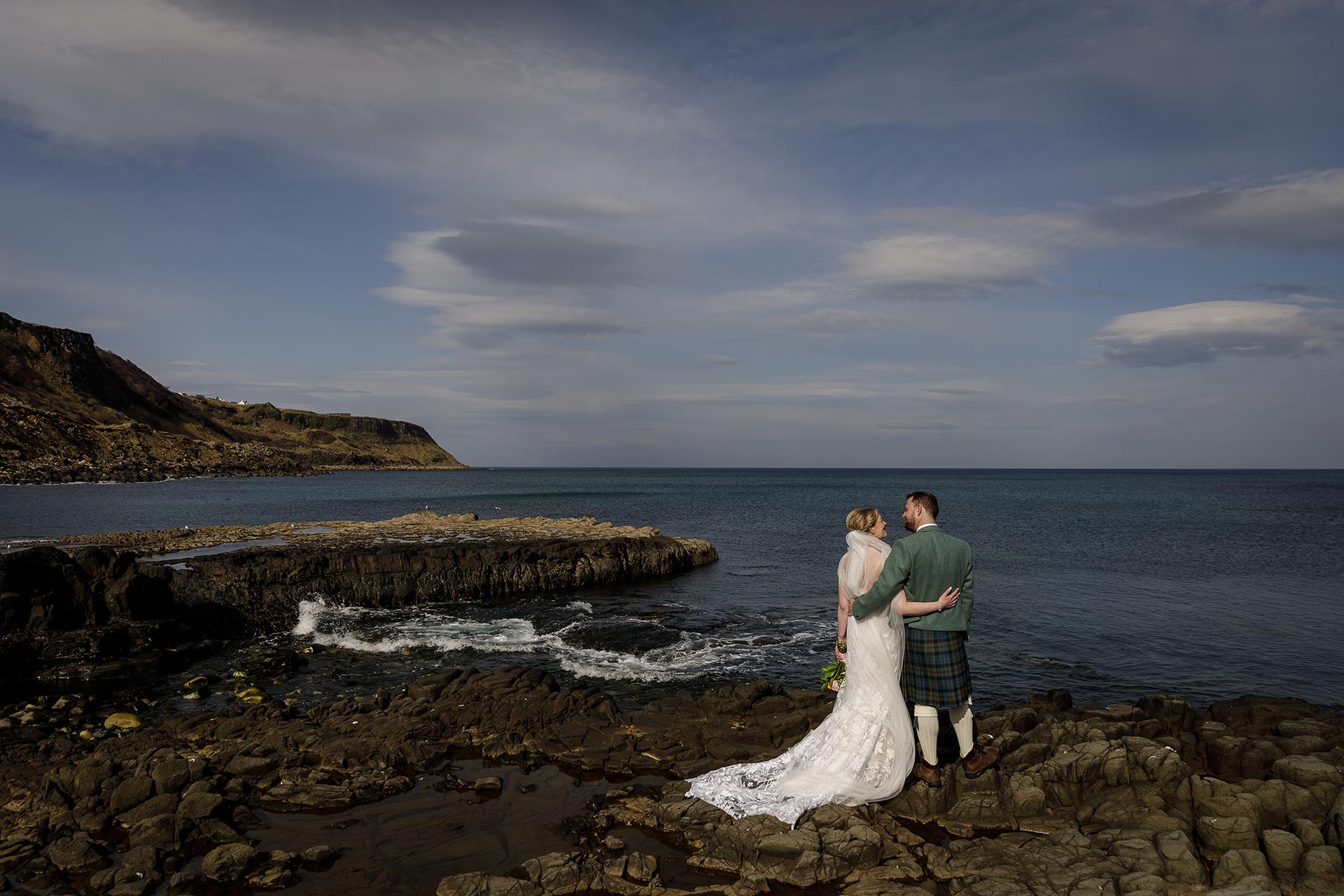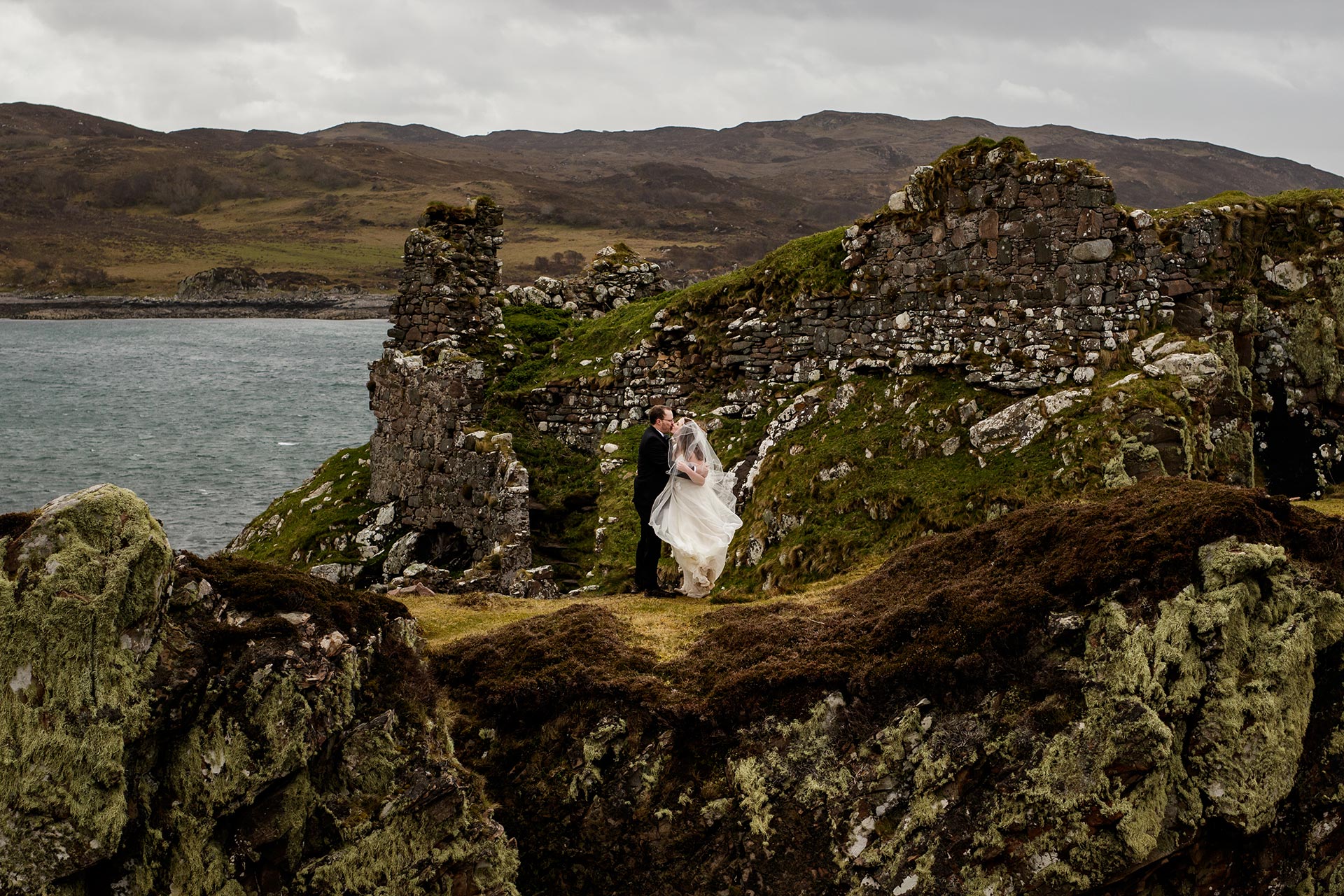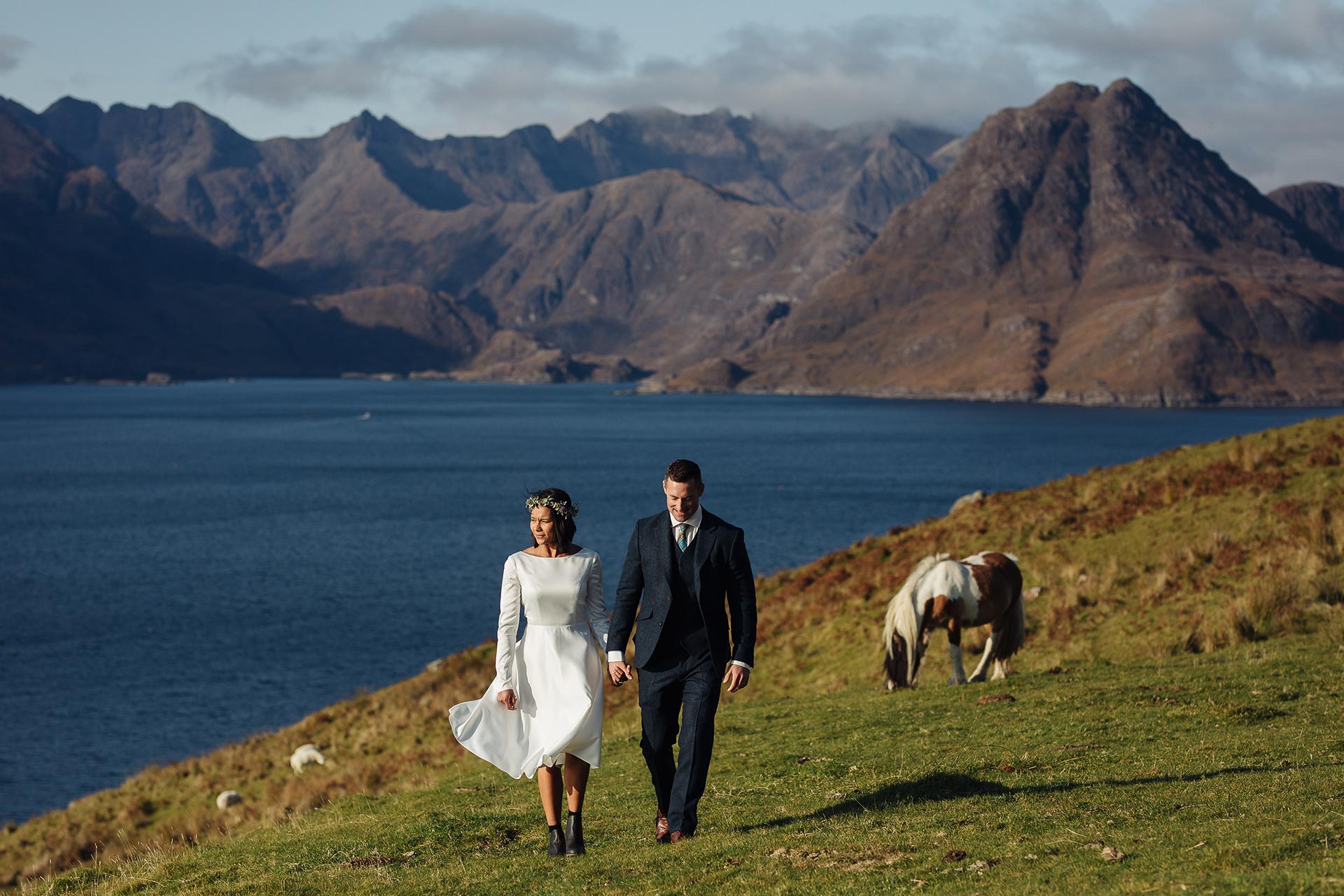 Ready to start planning your elopement on the Isle of Skye?
As one of Skye's most established elopement photographers, capturing intimate weddings and elopements in the area for over 15 years, I'd love to help you make your elopement dreams a reality.
Click here to contact me today and we can get the ball rolling.