THE BARLEY HOUSE EXPERIENCE
YOUR WILD SCOTTISH ELOPEMENT RETREAT
– BE NURTURED BY NATURE
Escape the noise, breathe in the salty breeze of the sea and let the quiet envelop you, as you soak up everything the Scottish Highlands has to offer – vast, open spaces; incredible mountains; waterfalls, mystical woodland and more…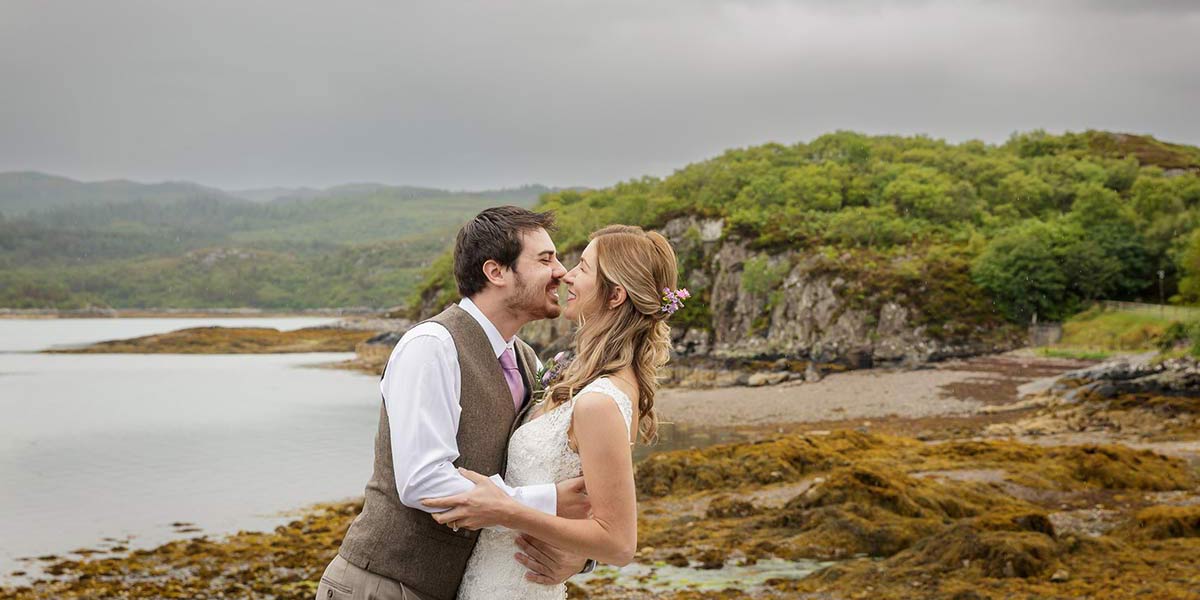 Lynne was simply amazing
She was a great wedding planner and photographer and offered an all-inclusive package, collaborating with great people that made our wedding day perfect. We stayed in her bed and breakfast which offered a calm and relaxing setting surrounded by nature and animals. She had so many great suggestions. We are so happy Lynne was by our side every step of the way
Marie-Helene and Stephanie, Canada
You can feel the freedom of Eloping to the Isle of Skye
Surrounded by majestic mountains, beautiful glens and rugged coastlines – being at one with the landscape and each other.
But right now, you are spending hours online, trying to work out all the details of getting married in the Isle of Skye. What paperwork and visas you need, where to stay and of course a list of all the best places to eat. There is so much information out there, but you just don't have the time to sift through it all.
You dream about swimming in the ocean
And cosy fireplace moments with your forever person – preferably with a delicious glass of wine or perhaps even a smoky, peaty malt whisky. You want somewhere to stay with great views, and a photographer by your side who can capture all the emotion, romance, and intimacy of your elopement. Someone who can give you space and room to breathe, as you exchange vows, and devote your love to one another through a symbolic handfasting.
But the thought of planning everything feels daunting and overwhelming.  You're starting to realise you need help to plan all the details of your elopement so you can dedicate your time to the things that matter most to you.
You are searching for an uninterrupted elopement experience, that extends beyond your ceremony, to find refuge in the wild open Scottish landscape. To experience the nature that surrounds you, savour the local cuisine and fully immerse yourself in the culture.
PACK YOUR BAGS FOR THE BARLEY HOUSE EXPERIENCE
My signature package, for couples who love nature and want to be close to the sea.
Switch off and recharge before your elopement as you enjoy the daily rhythms and routines of life, here on the west coast of Scotland.
Come and stay in my beautiful home, away from the tourist hustle. Unwind in our glorious armchairs, feed our animals, eat delicious food and totally and utterly relax.
CAN YOU IMAGINE HOW LOVELY IT'S GOING TO FEEL, KNOWING THAT ALL YOU HAVE TO DO IS GET HERE, WHILE ALL THE DETAILS ARE BEING TAKEN CARE OF?
Sink into a chair under a cosy hand-woven blanket, with your drink of choice. You'll lose yourselves, gazing onto the sea, watching the changing light over the hills and the water. Perhaps you might see the otters playing in the bay, or a curious seal. In the evening sit wrapped up in blankets, in front of a firepit, watching the stars and, if you're lucky, the Aurora Borealis or if it's wet, curl up in front of the fire where our two rescue dogs will happily snuggle up beside you.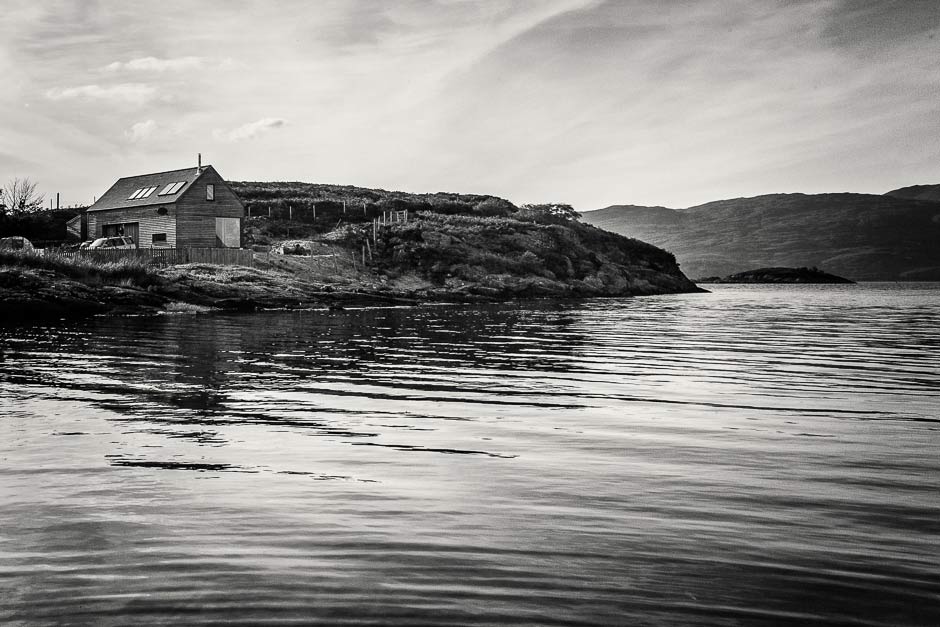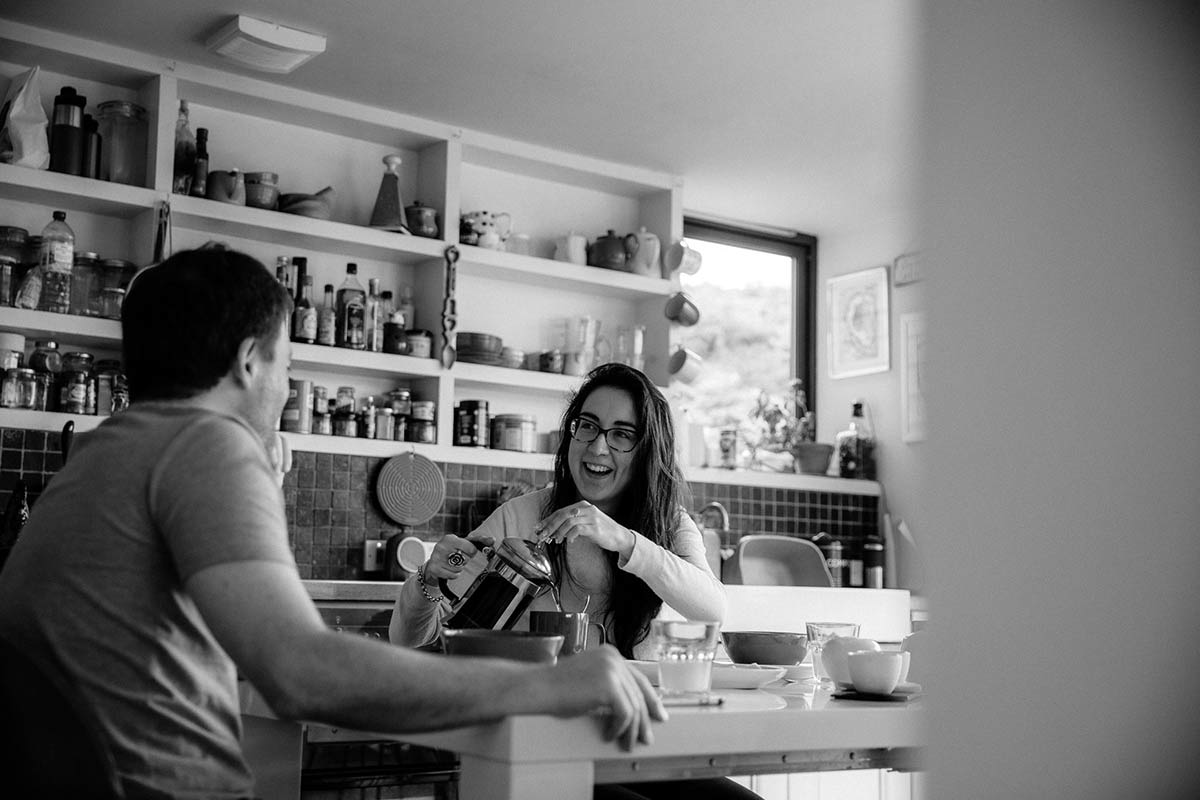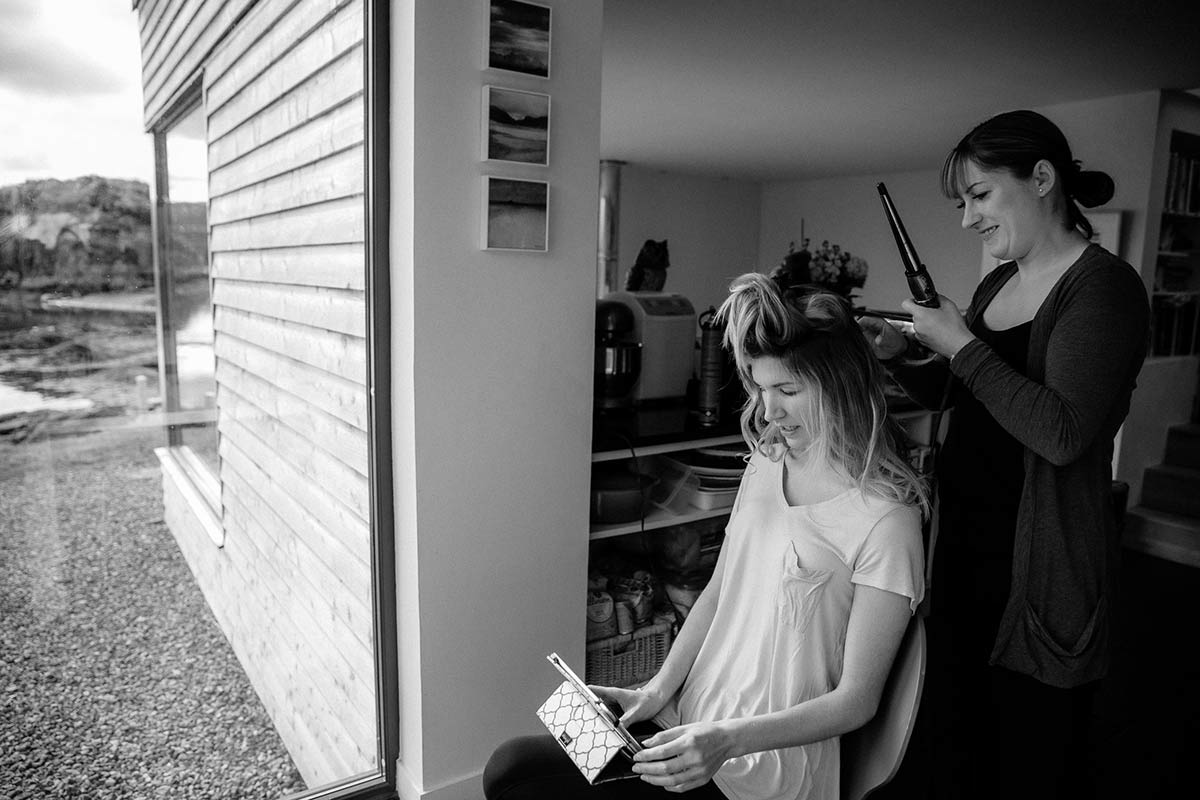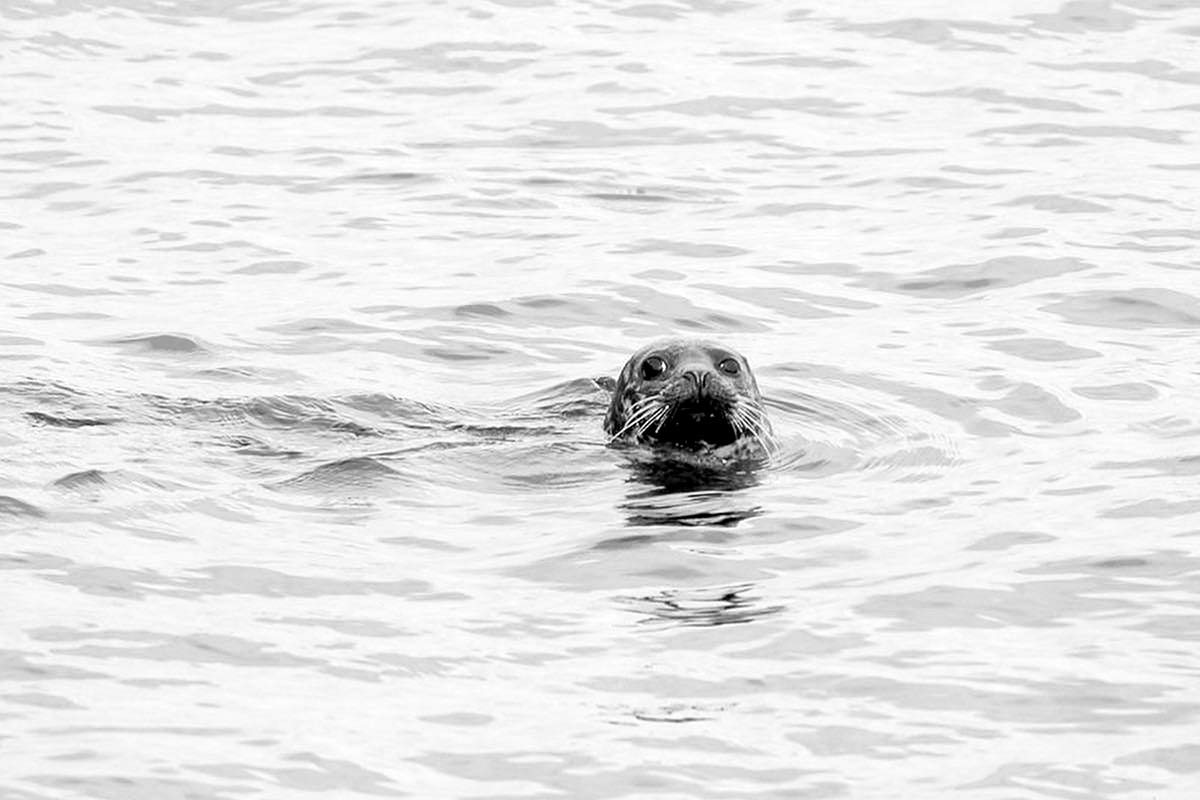 The Barley House Experience Includes
Full photography coverage of your elopement day: getting ready, first look, the ceremony, portraits at several locations, sunset session
Full detailed planning service for your elopement – I'll organise everything!
Location planning and guidance for your ceremony and portraits
Help choosing your celebrant
Four nights at The Barley House B&B – highly recommended by Airbnb
Dinner on arrival, using locally grown/sourced food
A bagpiper or fiddle player to play for you (and be the second witness)
Hair and makeup, if required
Celebration dinner at Kinloch Lodge, one of the most famous places to eat on Skye and owned by Lord and Lady MacDonald
A sunrise photoshoot on one of your other mornings at The Barley House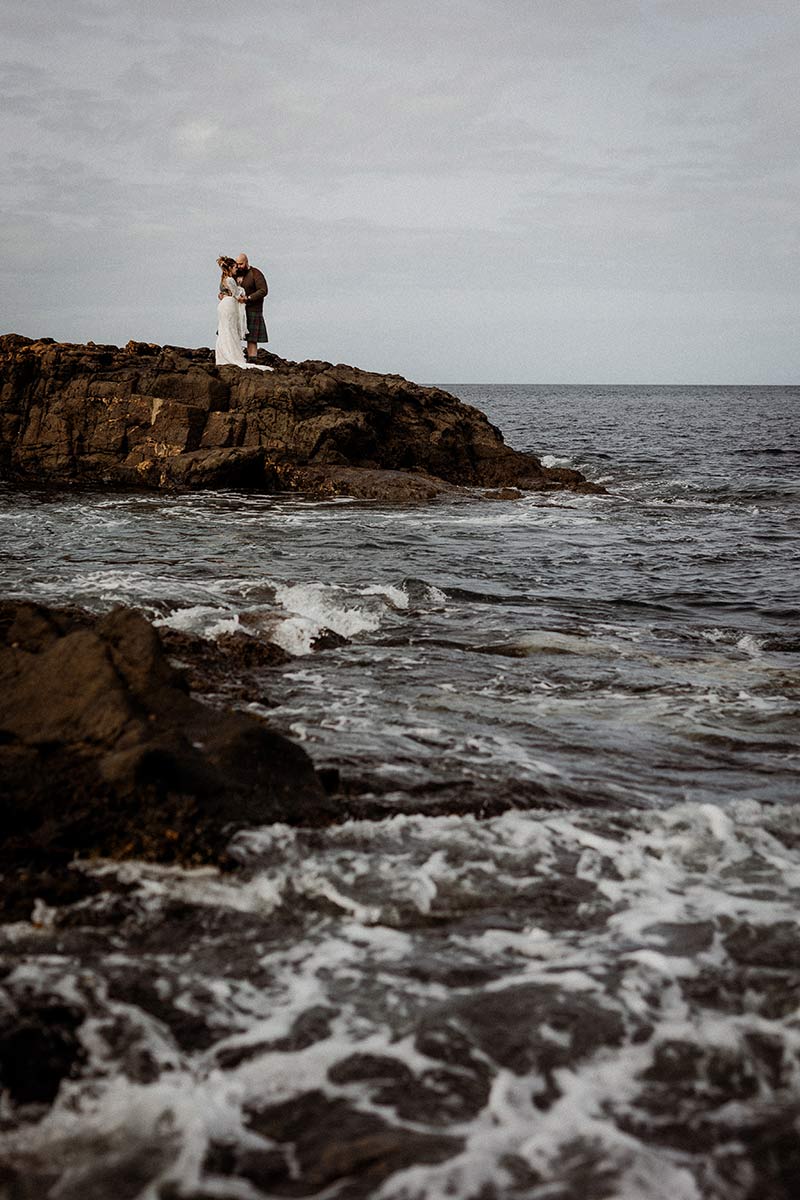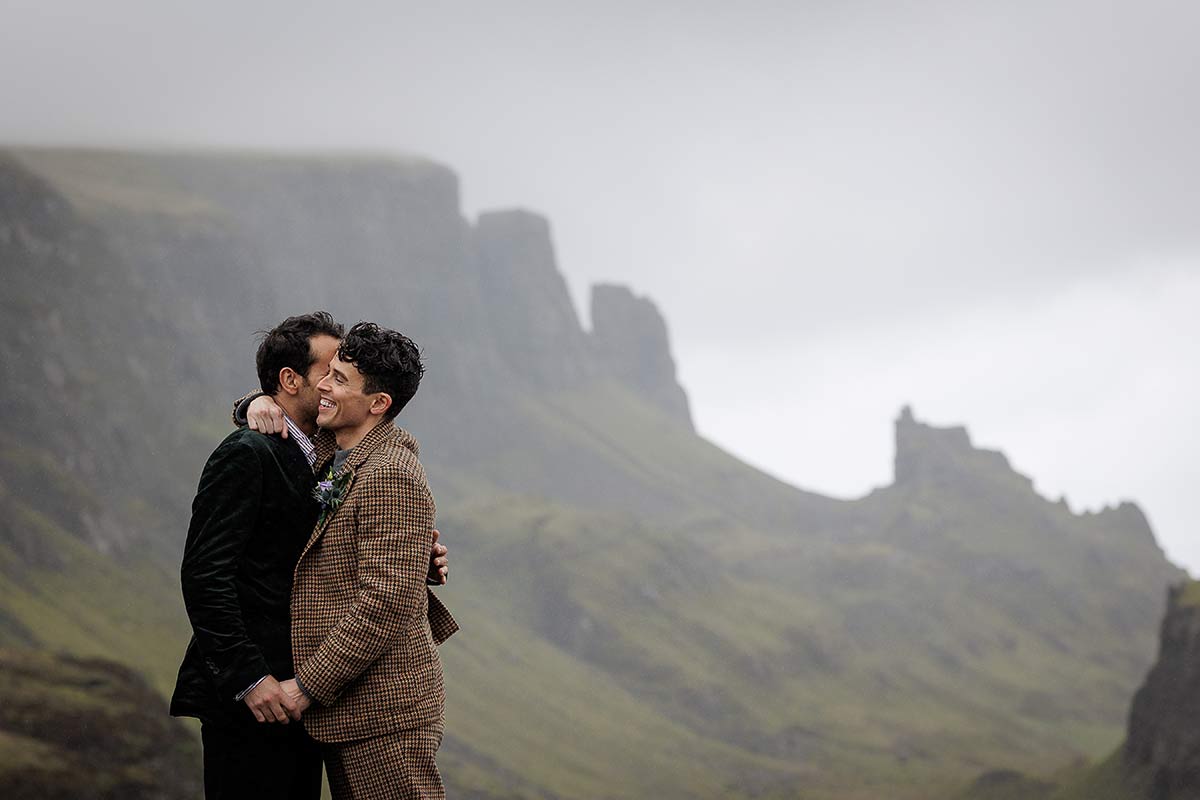 On top of all that goodness you will also get:
A champagne reveal of some of your photographs on the last night of your stay
Sneak peeks of 30 images so you can share the moment with family and friends 
A ten minute wedding day highlights slideshow that you can download and share with loved ones
Ten fine art prints of your choice
A download of all the photographs in high resolution for you to print or have made into wall art for your home
Your dream Elopement starts here…
The first step is to get in touch so we can get to know each other a little better, talk about making your dream elopement a reality, and of course see if I am the right photographer for you.
Once you've signed the contract and paid the booking fee, I'll send you a Welcome Guide and a couple of little things you need to do.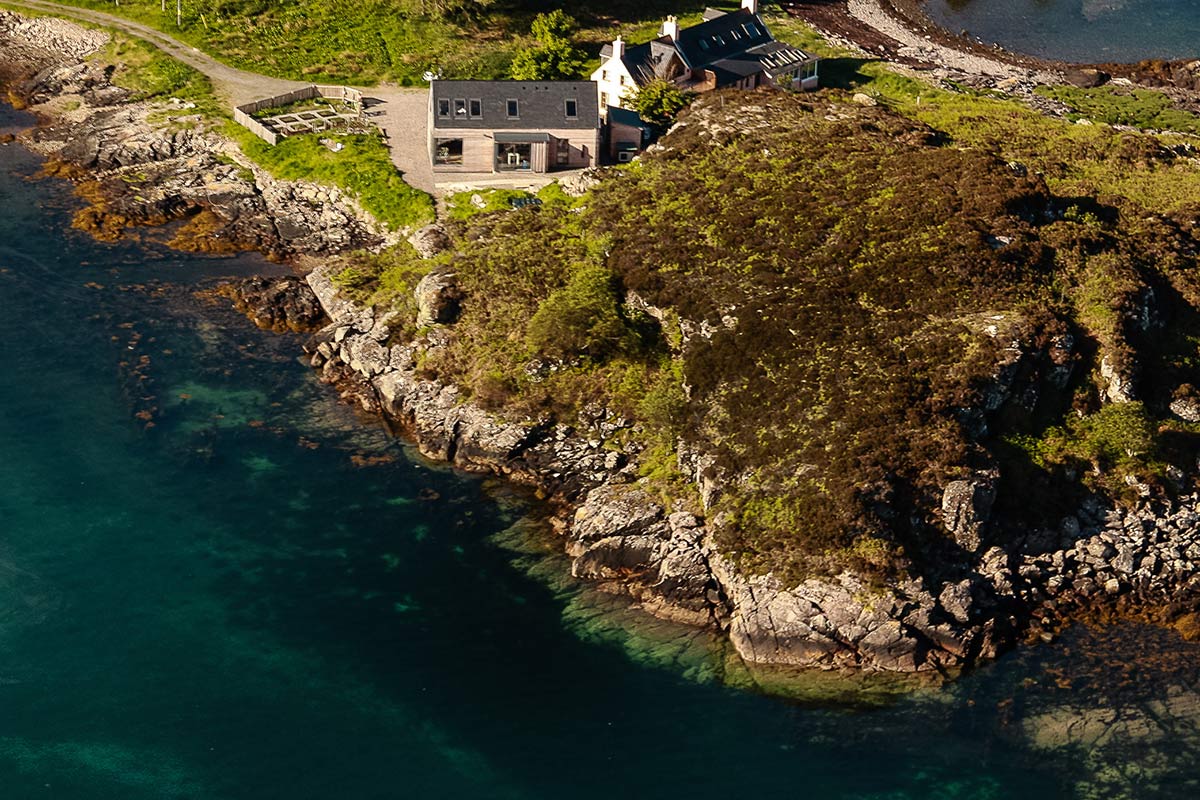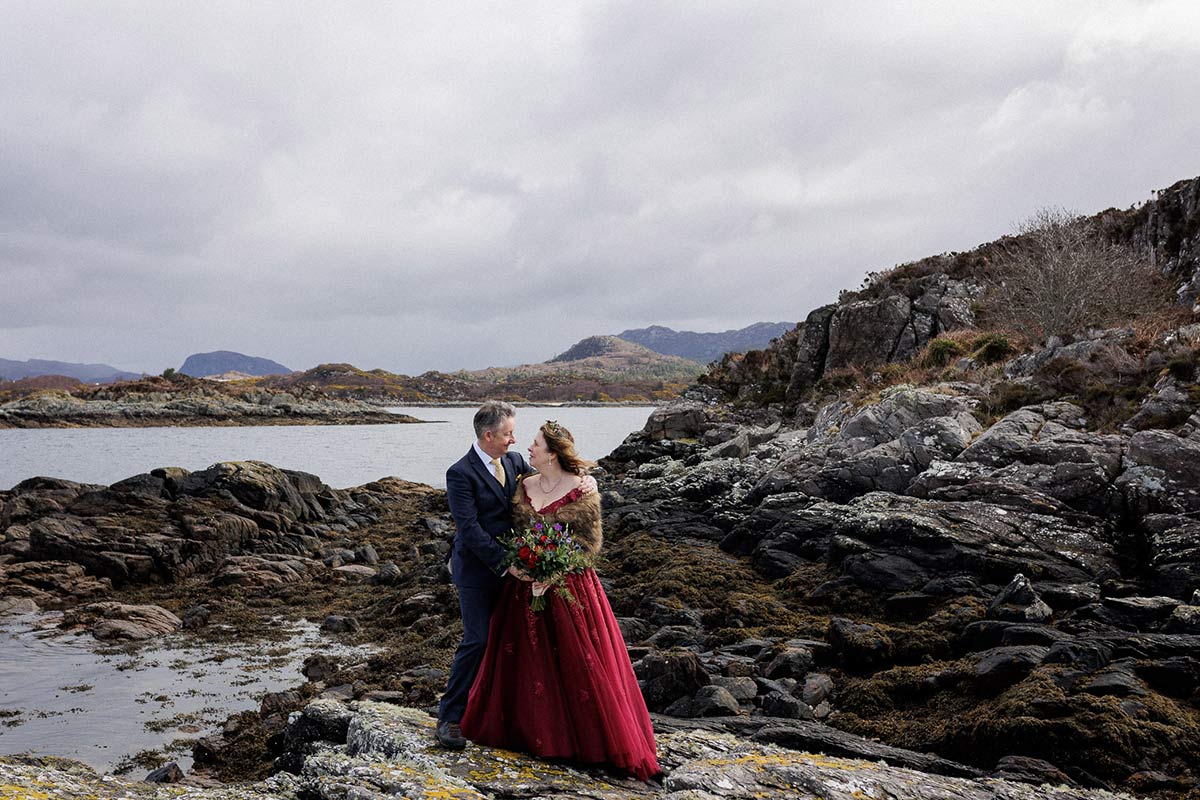 We'll have a video call so we can virtually meet each other and have a good old chat about your elopement retreat and run through how the day will unfold. I will then send you your personalised elopement plan, outlining all of the details for your special day!
On the evening of your arrival day, I'll cook you a delicious meal and we can sit and eat and have a chat and then you can have a lovely sleep ahead of your big day.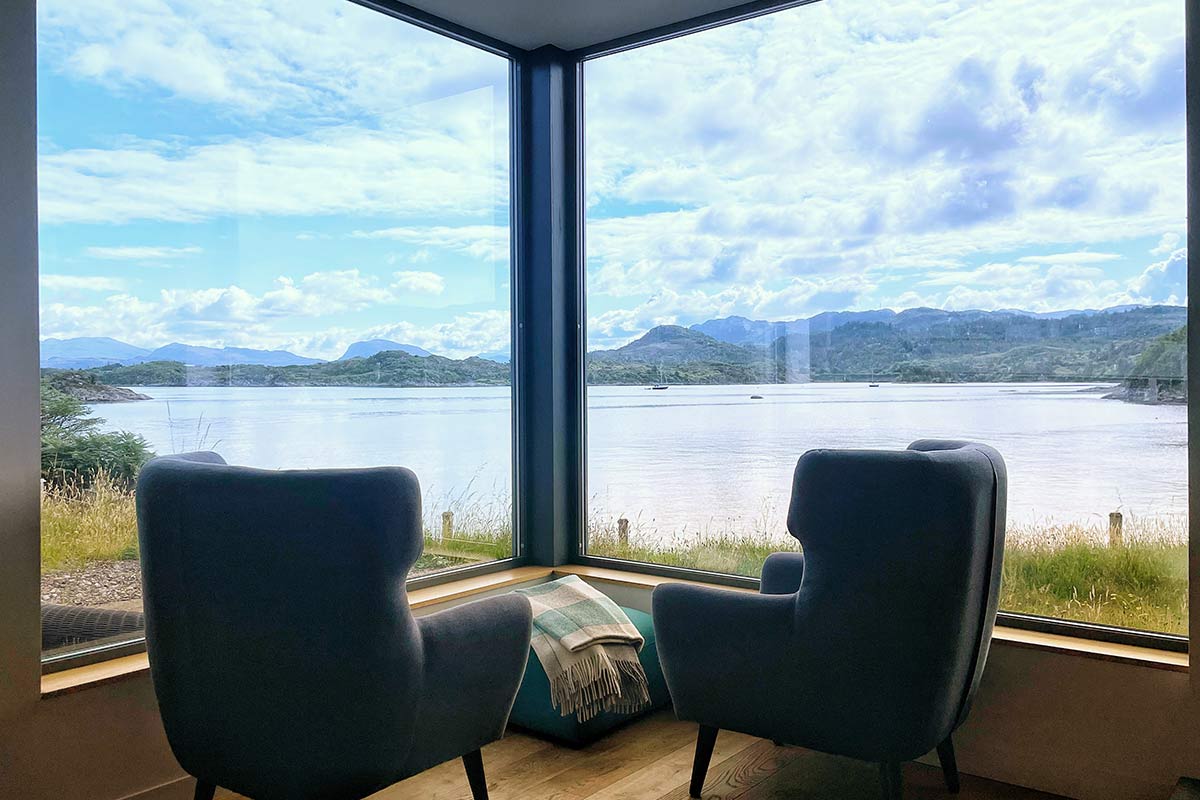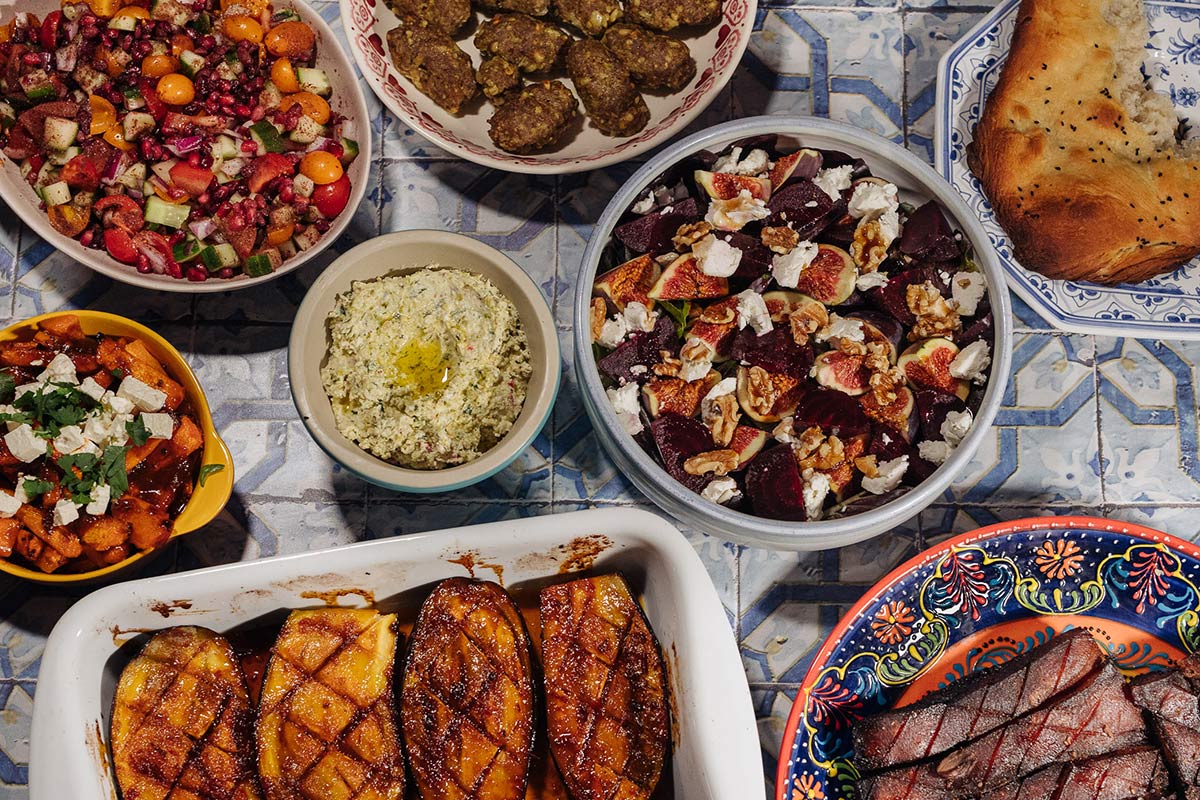 You will wake up and, depending on the time of year, you might go for a lovely walk along the coast, or a quick dip in the sea, or meditate for a while before having a sumptuous breakfast to set you up for the adventure ahead! Then you'll begin to get ready and when you are both dressed, if you would like to do a first look, we can do that nearby, just the two of you, as you see each other for the first time in your gorgeous outfits.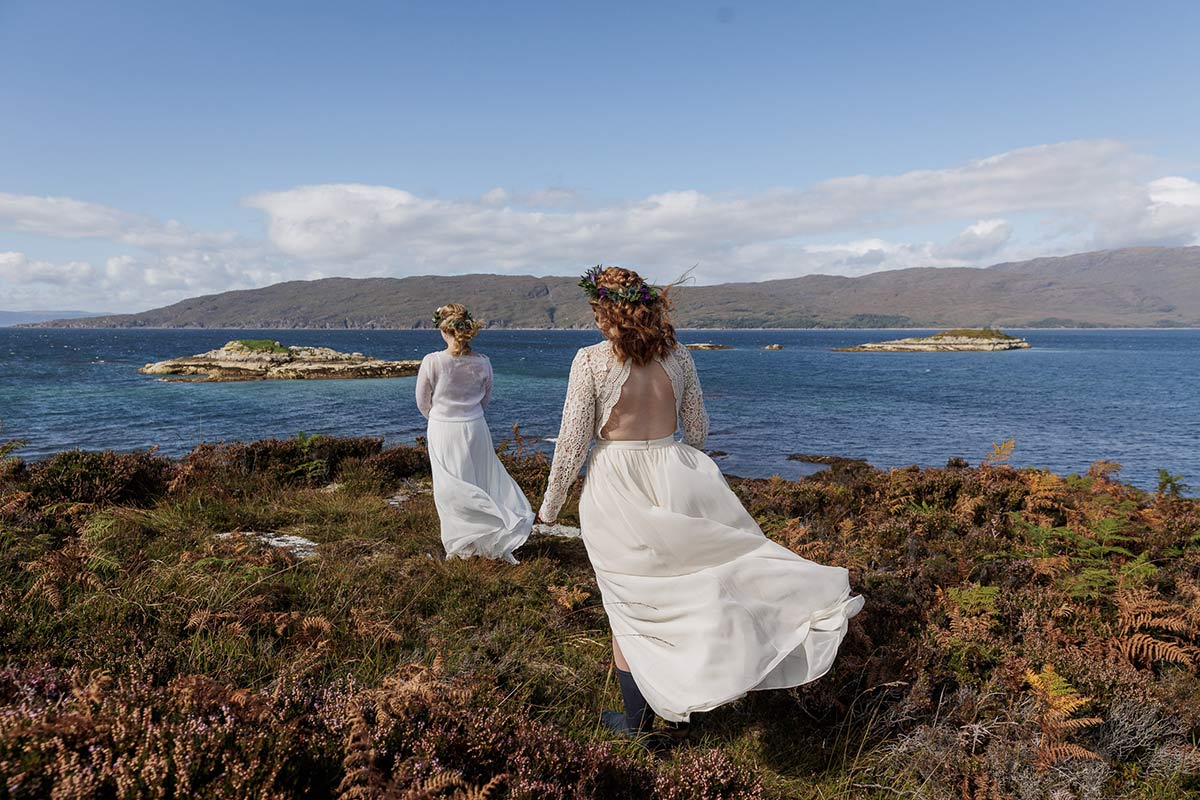 We'll set off then in my car, so you can completely relax and enjoy the day (and a drink or two if you wish!) and head to your ceremony location where we will meet your celebrant and piper/witness. THEN YOU'LL GET MARRIED!  and after your beautiful ceremony we'll bid farewell to your celebrant and piper/witness and spend a few hours together making those stunning portraits of you both. I'll drop you off for your delicious, romantic dinner at Kinloch Lodge and then collect you and bring you back for a nightcap beside a fire, either outside under the stars, or inside in the cosy lounge.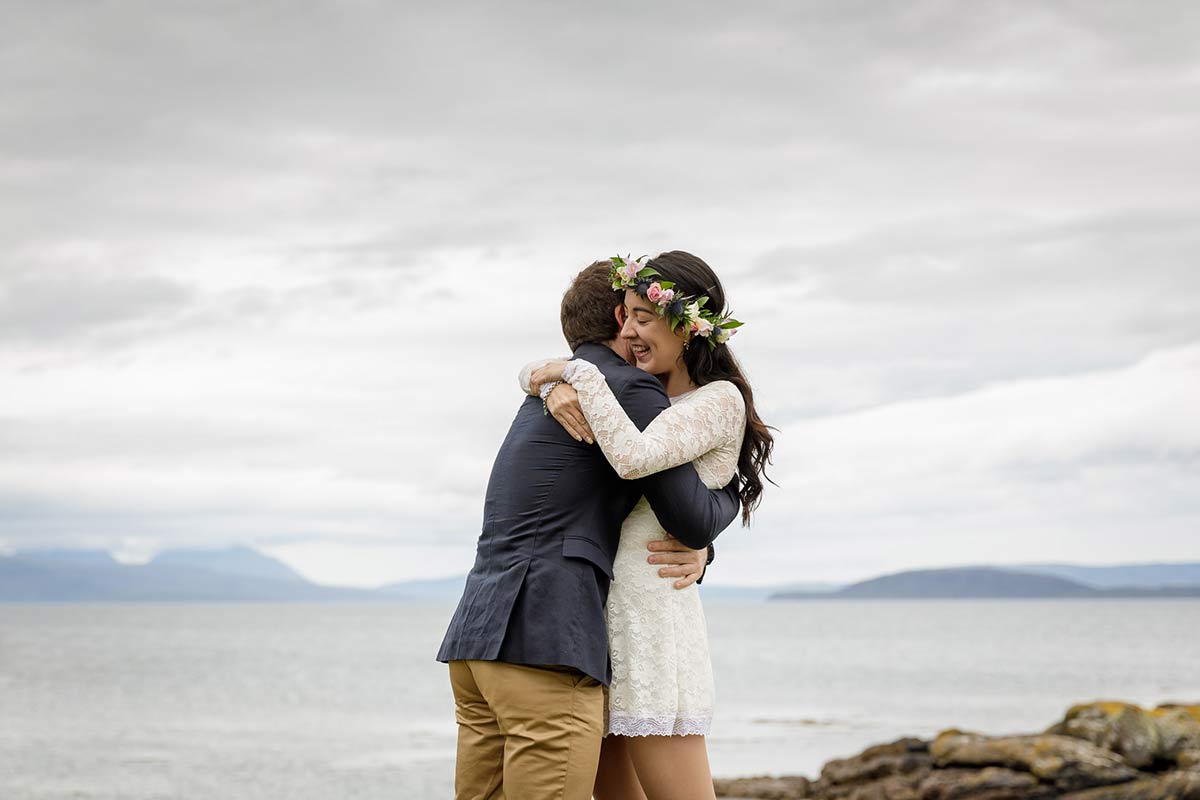 DAY 2 – YOUR FIRST DAY AS A MARRIED COUPLE!
Relax again over a leisurely breakfast and then we can go and feed the sheep and the chickens and you can then do whatever you want. Go exploring on Skye or around Lochalsh/Torridon (I'll give you lots of ideas). Visit a whisky distillery and do some tasting, or perhaps visit the Isle of Skye Smokehouse and see how smoked salmon is made, before enjoying a taste of it. Enjoy an incredible lunch at one of Skye's top restaurants, do a long walk, take a boattrip looking for dolphins – the choice is yours!
DAY 3 – MORE EXPLORING/OR JUST HANG OUT AND CHILL
The next morning, you can come and see the animals again if you want and then after breakfast just do whatever you want for the rest of the day. Then in the evening, after you've had dinner somewhere, you can come back for a lovely drink and watch a photo reveal of some of your photographs.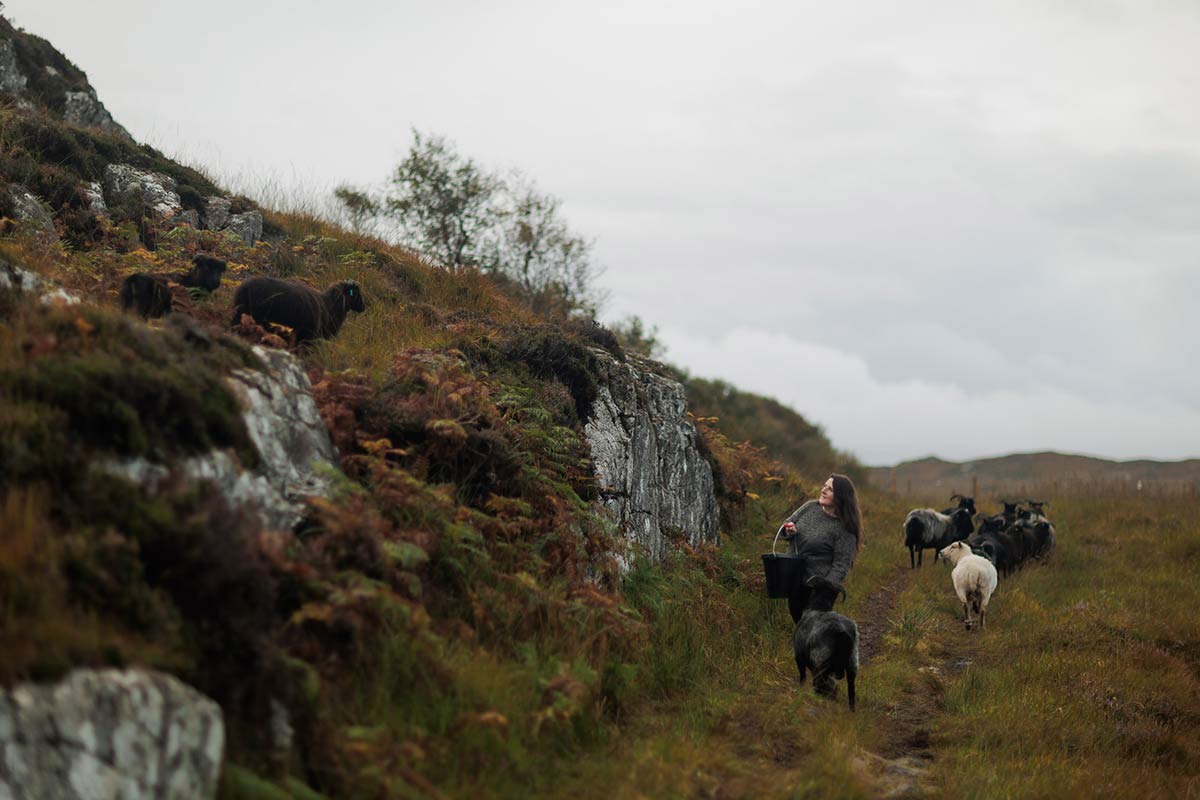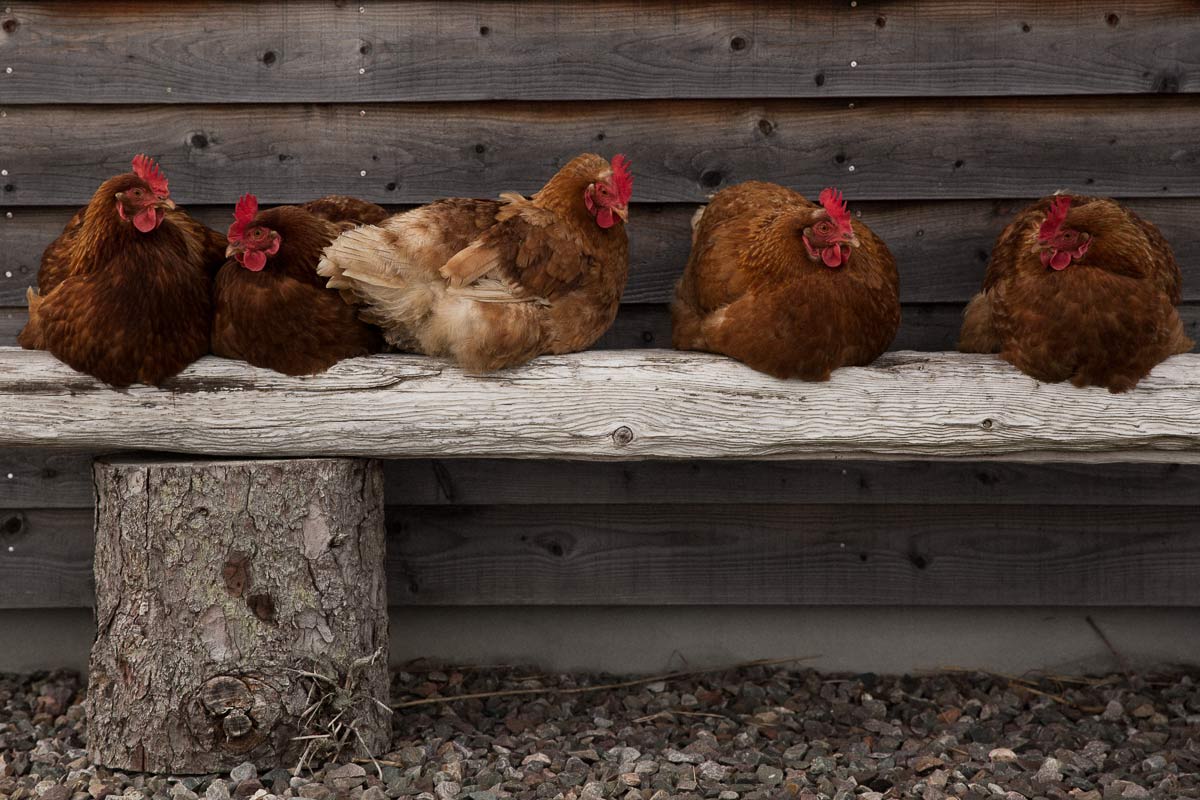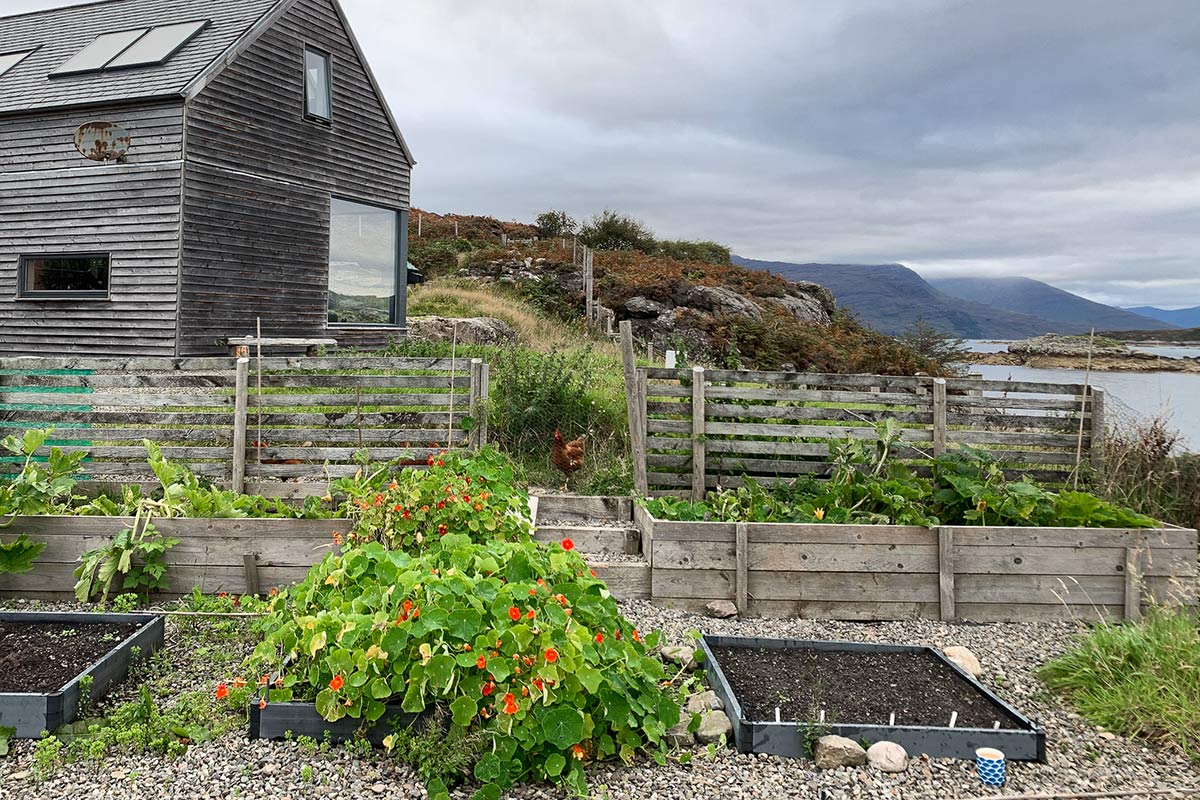 This is where you leave The Barley House, either to head home or onto the next stage of your Scotland trip (I can help with tips for that too if you want!) We'll say goodbye (but not forever, I hope!) and I'll send you on your way with incredible photographs of one of the most significant and emotional journeys of your lives.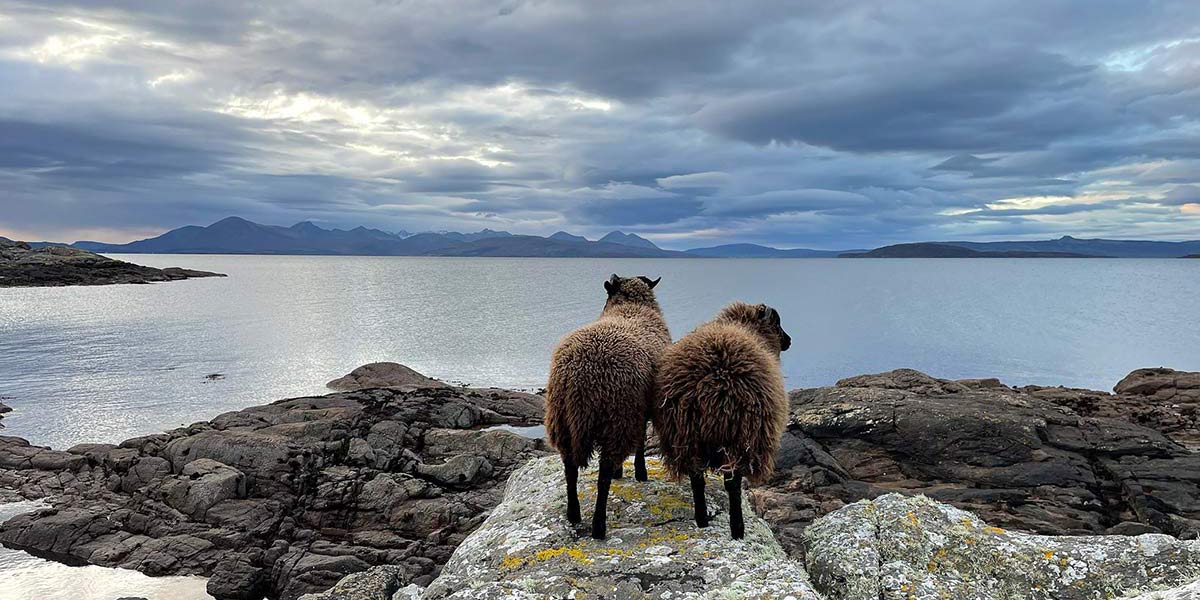 Your experience starts here…
SO GRATEFUL
We recommend Lynne as both photographer and wedding organiser par excellence. Without question she went above and beyond our expectations. We have nothing but gratitude to her for making our special day all we dreamed of.
Katy and Cliff, UK
What if we want you as our photographer but want to stay somewhere else?
There is no problem if you prefer to do this. I appreciate that for some couples, complete isolation might be what they want, so I can arrange accommodation somewhere else. If you want to come for one night at The Barley House and do the champagne photo reveal, you can add that on to your package.
How do we know what is the best location to get married at, and for our photos afterwards?
Don't worry, I will help you find the perfect location for this momentous moment in your life. I will show you some slideshows of other elopements so that you can see a range of different locations and then you can tell me which ones you love the most and we can narrow it down to the perfect place.
Do we get any input into the flowers and the music?
Absolutely! I'll chat with you and you can send me some images that you like and we can work with the florist to give you what you want. Remember, the flowers you are able to have, will be dependent on the time of year you are eloping. Again with the music, I can give you some examples of the types of tunes that are typically played so you can make a choice. Or you may decide to just be surprised on the day. All my piping contacts are great at what they do.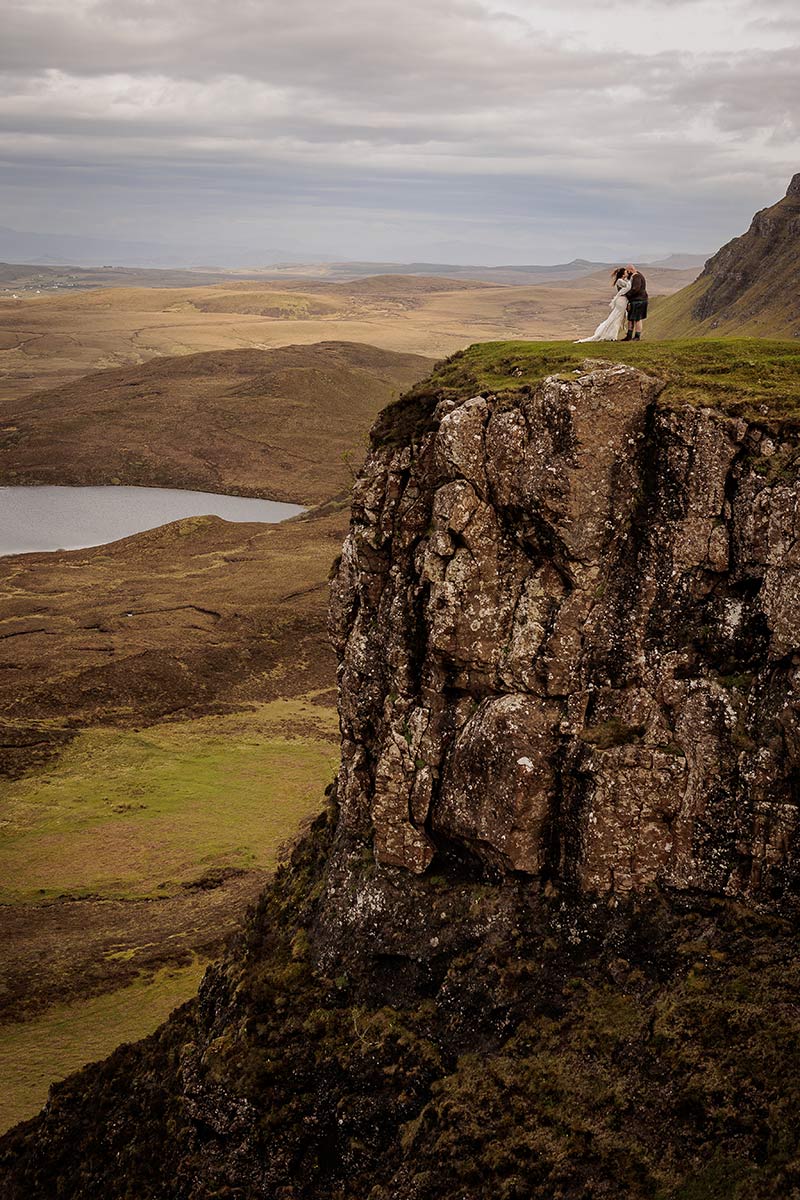 We are not very good at having our photographs taken. We might be awkward. How will you deal with that?
Well, my superpower is making people feel so relaxed that whatever worries they thought they had about being photographed literally evaporate. I have countless testimonials from clients who were worried about being photographed and then couldn't believe how much fun they actually had on the day. Don't forget, I have a ton of experience of doing this and I know exactly how to make you feel at ease. I won't make you do stupid poses and we'll just be hanging out together for a few hours in some nice locations and you'll be hugging a lot and having fun with your partner. I will give you a little direction here and there, if you need it but if I do that, it's only to make a great photograph even better – the tiniest move of a hand, for example, or a tilt of your face – that sort of thing.
We've got kids, can we bring them?
I have photographed many elopements with children and if you have got kids and want to bring them then that's completely okay, but we'd need to build a different package for you, as The Barley House is only suitable for hosting a couple. Something else you will have to consider if you are bringing babies or young children is that you might want to have someone there to look after them. It's difficult for you both to concentrate on saying your vows to each other if you are holding a baby or trying to keep a little child from being distracted.
If you have an older child who can help, then that's great. If you don't want to bring another adult, it might be possible for me to source someone who could act as your witness and also just look after the baby while you concentrate on your vows.
It's something we can work around for sure.
Can we bring our dog(s)?
If you've read the about me page on my website you will know that I LOVE DOGS and so I totally get why you'd want to bring your canine pal(s) with you. Because we have two rescue dogs, and because I don't know how they would get on with your dog(s), it may be that if you wanted to bring your dog(s) we would have to look a
If you think that you'd like to find out more about the Barley House Elopement Experience, please get in touch with me and we can schedule a chat. I'd love to hear a little more about you and your love story. Click the button below and send me some details!
JUST PERFECT
We were thousands of miles away, never having set foot in Scotland but we put our hearts in her hands,
and it was the best thing we could have done.
Luciana and Joselina, Argentina