Don't give up on your dream of being married just yet!
Plan a winter elopement and you could end up saying your vows sooner than you thought!
2020 – It hasn't been the year that anyone imagined, has it? I was supposed to turn 50, have a fabulously crazy party, go to Shetland on holiday and shoot a lot of gorgeous elopements and intimate weddings. Of course, I still did turn 50, but minus the fabulous party and I didn't get to Shetland. And also, I didn't get to meet and photograph the majority of my clients.
With the rules being what they are right now, it's completely understandable that some people will want to wait until whenever they have to, in order to have their wedding day as they had originally planned, with all their loved ones present, and I really hope it isn't long before those dreams can be realised. But, if you are a couple who just want to be married as soon as possible, because you simply can't stand the thought of waiting any longer and you're happy to have a party a bit later, then this post is for you.
Did you know that in Scotland you only have to give 29 days notice of your intent to marry and you don't have to do it in a church, or inside, anywhere, for that matter. So, if you want to wed the love of your life sometime soon, why not think about a winter elopement wedding on the Isle of Skye*. You can get married where there are mountains (possibly even snowcapped!) as a backdrop for your photographs and then enjoy a cozy evening somewhere lovely after you've celebrated with a delicious meal somewhere (or had one catered for you, if you fancy staying in!)
The Isle of Skye has it all; awe-inspiring landscapes, amazing food and an array of incredible places to stay – whatever your budget – so why not start planning your winter elopement or winter micro wedding now. I'd love to help and so here are a few reasons why it's something you might want to consider so that you can say those vows, swap those rings and get on with being married!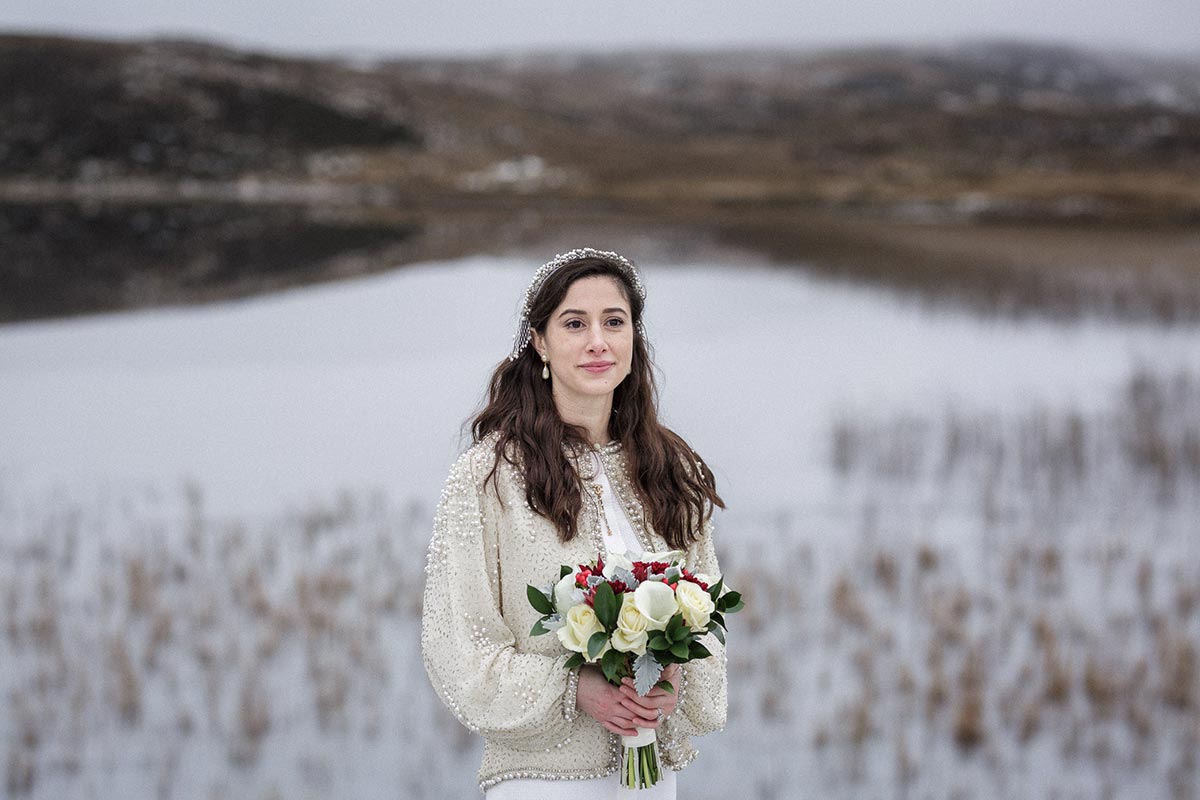 1. It's much quieter
Winter elopement weddings mean less people around
It's no secret that Scotland is a very busy place, with tourists travelling from all over the world to visit our country. After Edinburgh, the Isle of Skye is the most popular place in Scotland so choosing to come out of season is actually quite smart. By coming in the winter, you'll have your pick of gorgeous accommodation. Maybe you want to indulge in total luxury in a beautiful boutique hotel or perhaps you want to just cut yourselves off in a remote and fabulous self catering cabin or cottage. Whatever you fancy for your stay, it's much more likely that you will be able to book it for the October-February period much more easily than the middle of summer. There are plenty of fabulous places to choose from and I have a great list in my little black book so if you need any accommodation tips, just ask me!
Another bonus is that when you are here and you're driving around exploring the island, it will be a lot more peaceful as there will be a lot less traffic. Restaurants may be easier to book too which is always a bonus given how delicious our local food is!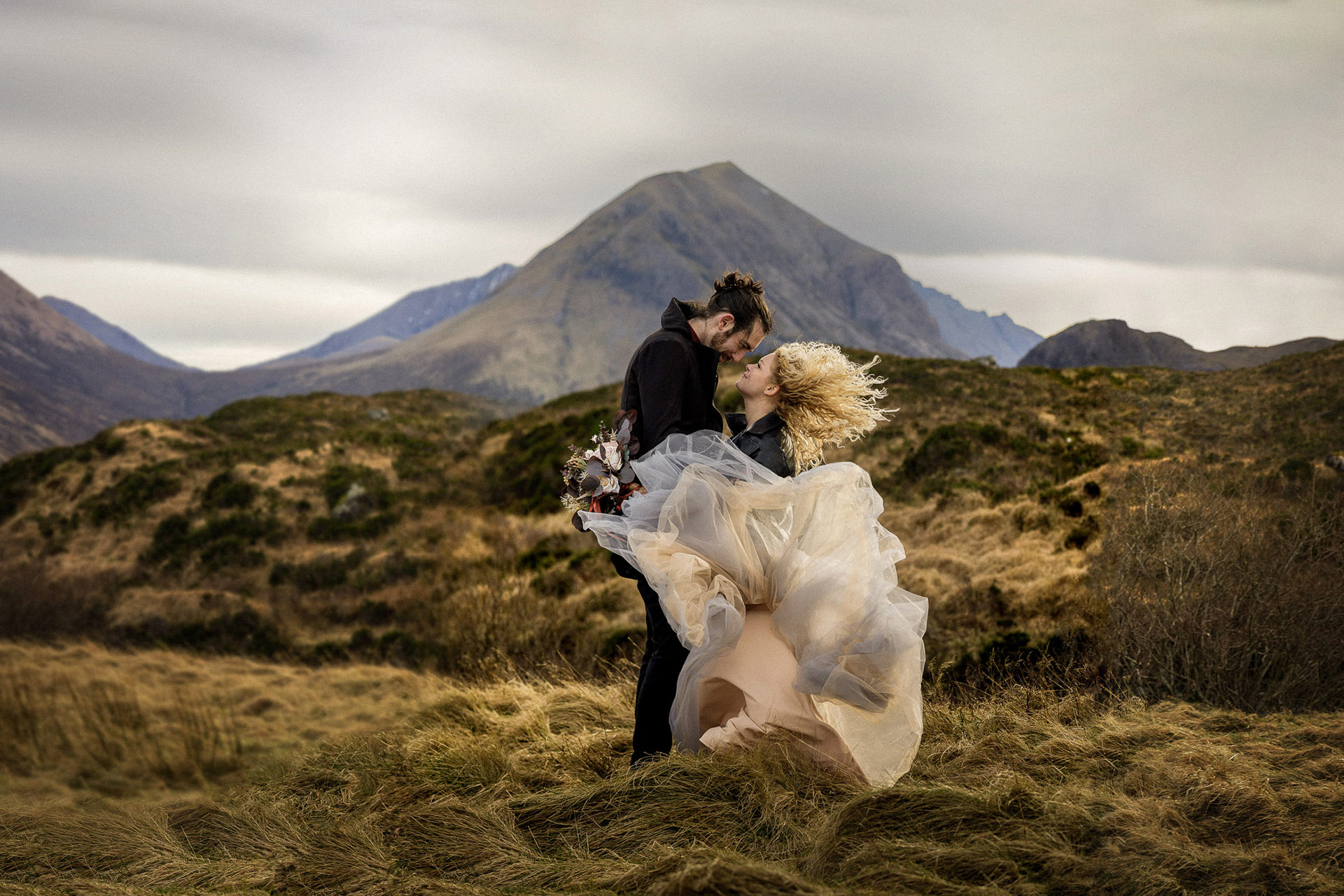 2. Shorter days and better light
Winter elopements mean epic sunrises and sunsets
The winter months do mean less sunlight however, the upside is that sunrise is not ridiculously early, so you can appreciate it a bit more easily, either from your bed or by taking an early morning walk. Sunsets are also earlier which are great news for photographs as who doesn't love a sunset shot and it means you two can sit somewhere and take in the setting sun with your drink of choice and maybe even some nibbles. In general, the light is often more beautiful at this time of year too as the sun sits lower in the sky. I would happily shoot all my elopements between October and April – it's my favourite half of the year and there are no midges!!! (If you don't know what I'm talking about, Google "Scottish Midge"!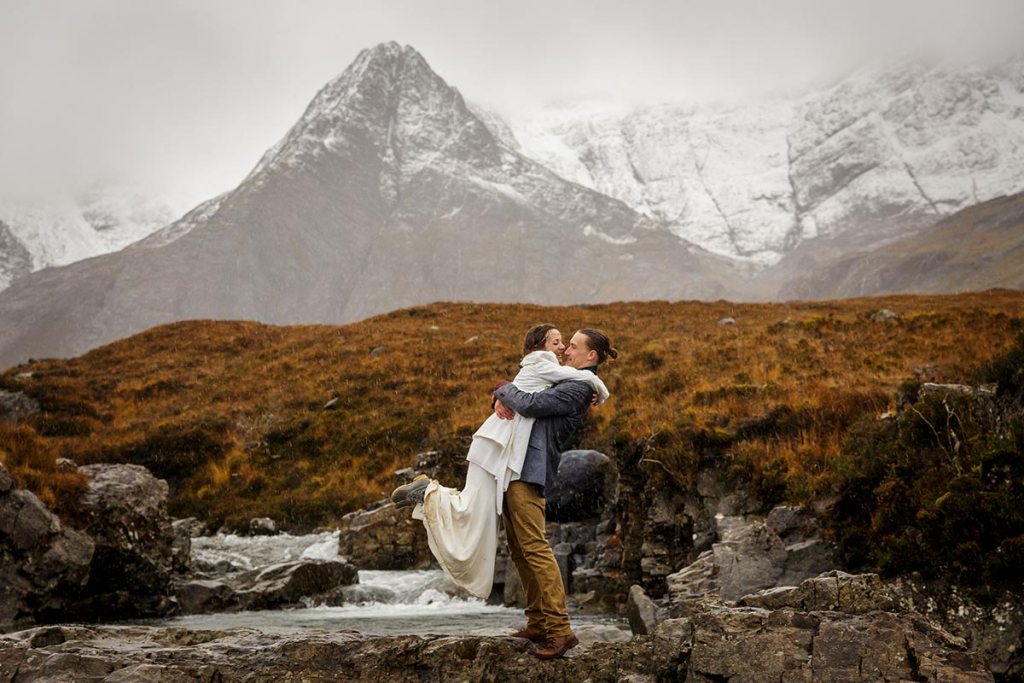 3. It may be a little bit cheaper
Winter weddings mean travelling outside peak season
If you leave out the Christmas and New Year holidays, then travelling to and staying in Scotland can be cheaper than in the summer. It's not unusual for accommodation to be slightly cheaper and also flights can be less expensive too. Demand and supply could well work in your favour and might mean you have more pennies in your pocket to spend on fantastic experiences and beautiful crafts that are available here.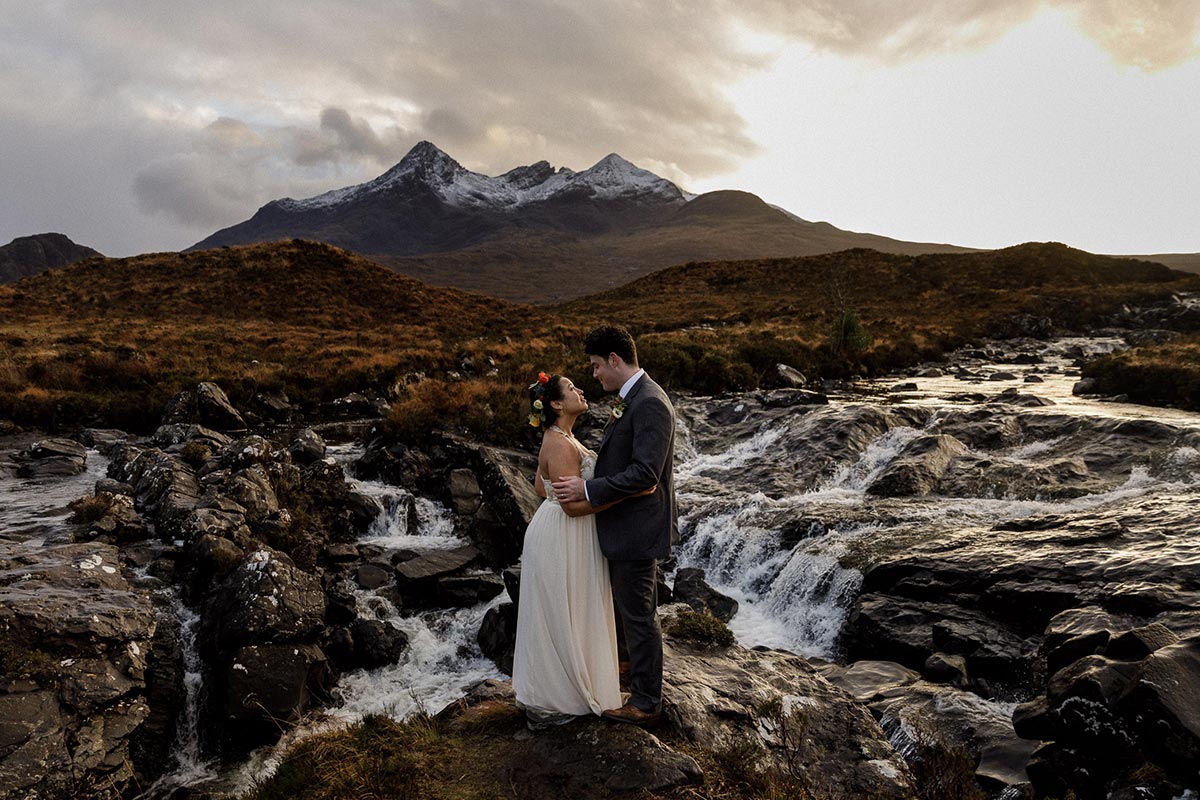 4. Colours & cozy
Winter means you snuggle up more!
The landscape of Scotland changes in autumn from mostly green with purple heather, to a rusty orange as the bracken dies back and the grass dies off. Leaves start to turn giving beautiful tones from faded yellow, through bright yellow, orange and red. The whole place looks so incredibly beautiful and it stays like that over winter, albeit with less leaves as they drop from the decidious trees. When the winter sun hits these colours, everything turns golden and it is so pretty. If you're lucky, you might see some snow on the mountains which just adds to the beauty of the epic landscape. It's the perfect time to cozy up together too – to 'coorie in' as the saying goes. [Coorie means 'snuggle/cuddle/nestle in]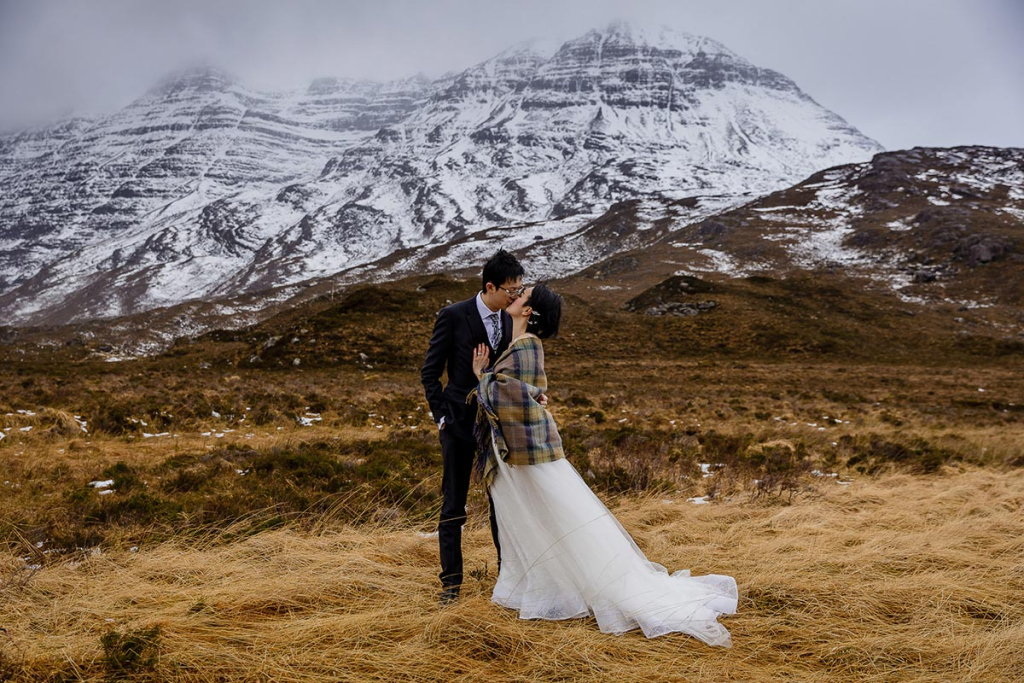 5. Starry starry nights
Winter weddings let you see stars (in a good way!)
If you love stargazing and you would love to see the Northern Lights then you need to come when we have dark skies so that means autumn and winter. There is no guarantee that you'll see the aurora, however, if you get lucky, it can be a real WOW experience. Even if you don't see them, you can probably still do a bit of stargazing – possibly even from the coziness of your bed – and with very little light pollution in the Highlands, it's often an incredible experience. I still can never believe just how many stars are up there when I look up outside my own house.
and last but not least……….
Winter elopements might mean snow!!!!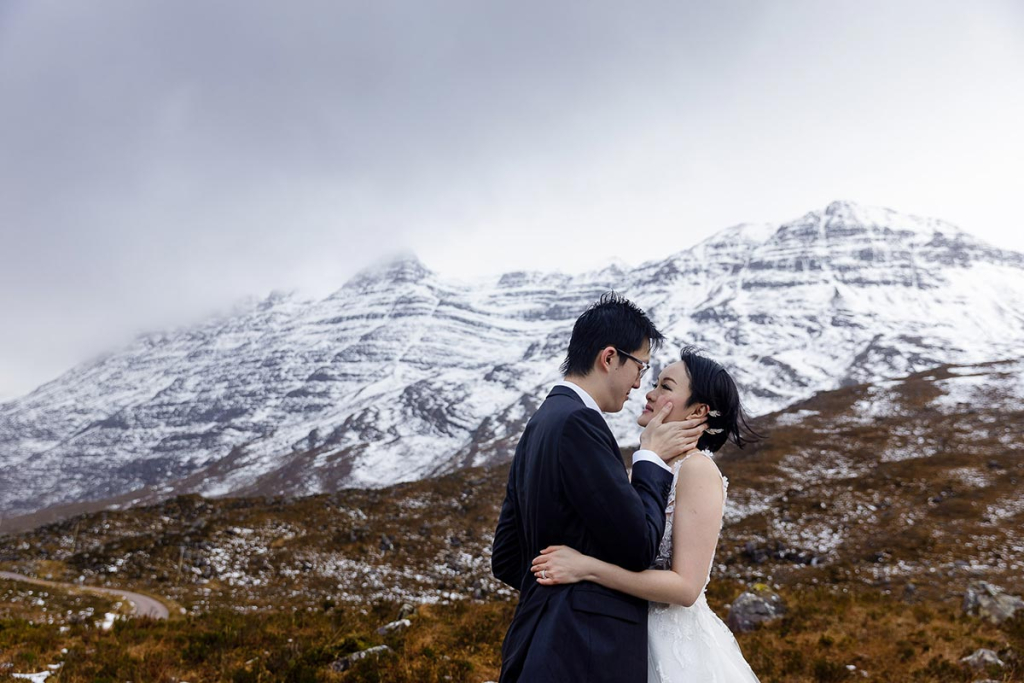 What can I do for you?
Would you love some help to create an amazing elopement day? Do you need more information on eloping to Scotland? What about suggestions on the best people to hire to make your day run smoothly?
I help my clients plan epic elopements and intimate weddings, guiding them through the process to make it as stress-free and fun as possible. If you want your elopement to be the stuff dreams are made of then let's talk. All I need are some details from you and your incredible elopement journey can begin!

Let's Go!