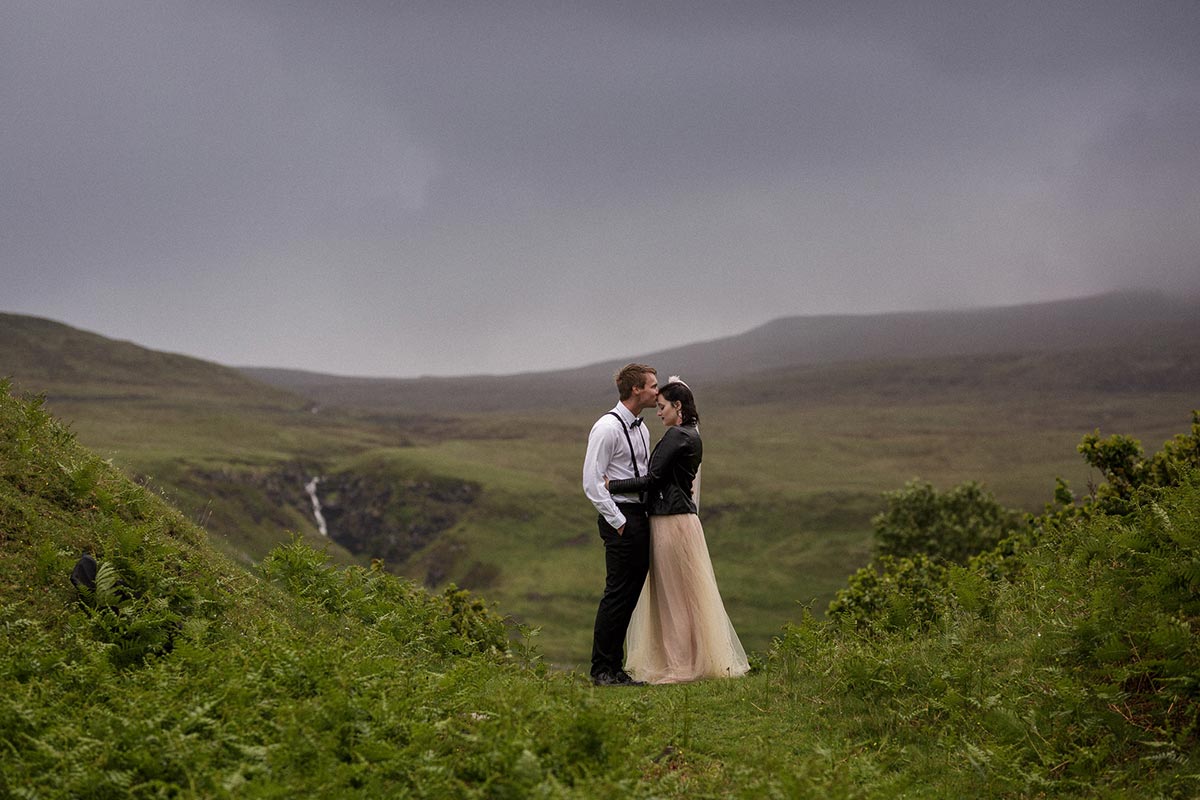 For Rachel and Dinesh from Rhode Island, USA, a Fairy Glen elopement on the Isle of Skye was the perfect choice for their wedding. The couple met online dating and after 18 months together, romantic Dinesh arranged a holiday to Mexico to coincide with their 29th birthdays, which happen to be two days apart. Rachel had no idea where they were going until they got to the airport and was totally surprised when her boyfriend got down on one knee on a romantic beach to ask her to marry him. They wanted to have their wedding somewhere neither of them had been before and as they both love whisky, the Isle of Skye seemed the perfect place! Beautiful scenery and fine malts!
As locations go, the Fairy Glen is one of the best – ethereal, spiritual, beautiful – and although there are often tourists around, there are a few little private pockets to be found to hold an intimate ceremony.
Rachel and Dinesh chose to say their vows close to a little waterfall, near the top of the glen, on a chilly March morning. The weather was mixed – a little sun but mostly cloudy with the threat of rain.
The couple were piped down their outdoor aisle by local piper Lea MacLeod and the music echoing around the glen was hauntingly beautiful. The whole ceremony was emotional; I love the shot of Dinesh wiping away Rachel's tears.
After they read their vows to one another, Dinesh presented Rachel with a gorgeous necklace. Such a thoughtful thing to do and it was a lovely surprise for her. The necklace was a perfect accessory to Rachel's glamorous wedding look.
Rachel's beautiful stole, which kept her warm in the chilly March weather, is around 60 years old and was orignally sold in the 1950s at Gimbel's Department Store. Thanks to Verbena Vintage Etsy Store it made it's way to Rachel.
As part of their ceremony, Rachel and Dinesh wanted to incorporate some traditional Celtic marriage rituals.
They had a handfasting and they also drank from the Quaich – the cup of friendship.
After we finished our photography session, which also included some time around the Quiraing area, Rachel and Dinesh went for dinner at The Old Inn at Carbost. The owners and customers gave them a fantastic welcome – cheering them when they walked in – and their wedding meal was haggis and fish and chips. Sounds delicious!
Rachel and Dinesh's wedding was recently featured on the fabulous wedding blog We Fell In Love so check it out! Meanwhile, if you are planning an elopement or a wedding on Skye please get in touch here.
Celebrant – Sonja Eckl, Heart and Soul Ceremonies