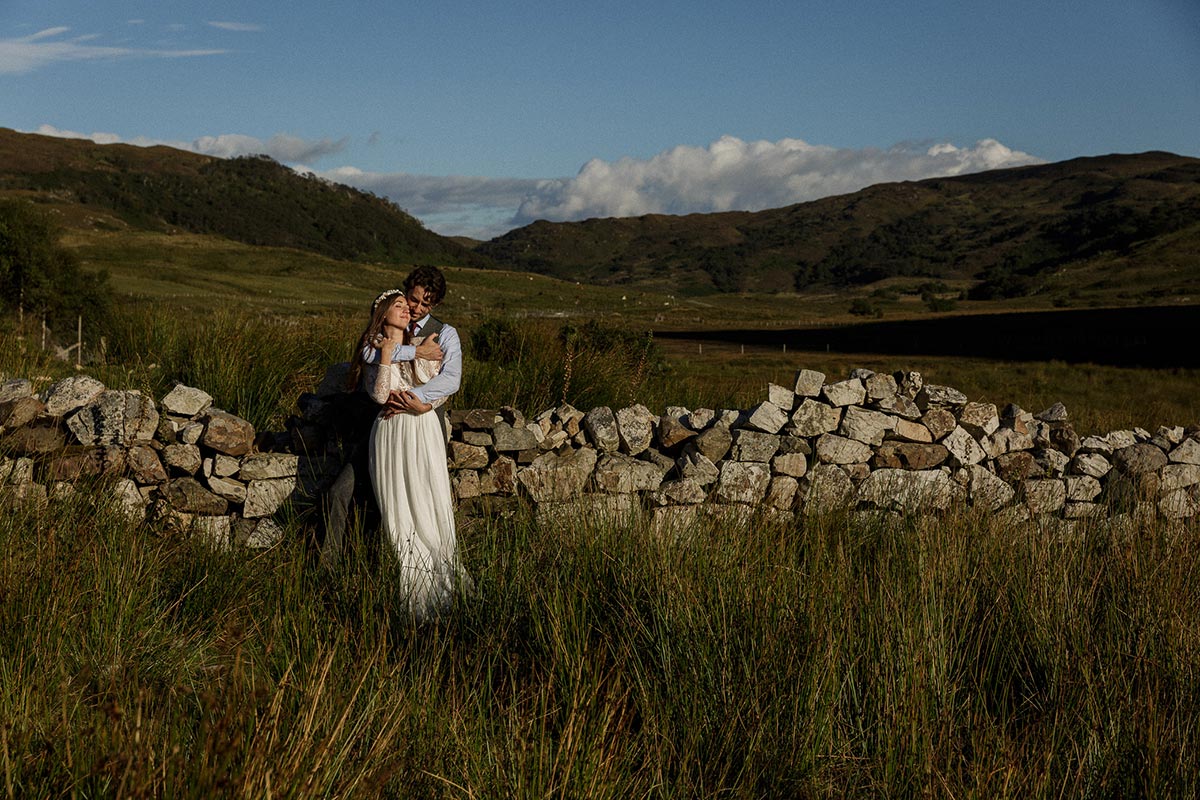 As an Isle of Skye elopement photographer, I get to meet some amazing couples from across the world and one of those was Kristin and Eric from California, who were married last summer on a ledge, high above the sea, and with views of the Lealt waterfall on Skye. I met them a couple of days prior to the ceremony for a pre-wedding shoot and we had a fantastic day. I knew from spending a few hours in their company that their love for each other was immense; such a passionate couple.
For this blog post, I decided to ask Kristin and Eric a bit more about why they decided to elope to Skye, so, in Kristin's words, here is their story.
"Eric's maternal grandmother was born on the Isle of Skye, Mary McLeod. She passed just a few years ago and Eric was inspired to come and explore the home country as a place to propose. May of 2014 was the first trip to Skye for both of us. Eric knew that the Isle of Skye would be full of wonder and awe and that's where he wanted to propose. I, on the other hand, thought we were just vacationing and getting to know the family history and roots. When he suggested it as a vacation spot I was thrilled at the chance to explore a place so rich with adventure and history."
So, what about the proposal?
"There is so much to say about the proposal! I will stick to the most important parts. Eric told me we would be going on a wee walk around the Quiraing. I dressed warmly with my super stylish heeled rain boots (yes, this becomes relevant!). On the drive cross the island we made a turn and the view opened to this moving vista of the land and the ocean. I asked Eric to pull over so we could take it all in. Wow, stunning! Unlike anything I'd seen before. And yet somehow my heart knew this was an important view. (Turns out this little stop is where we chose to be married a year later!)
We get to the Quiraing and begin our walk. Eric tells me it's rated as one of the most beautiful hikes in the world, and I believe it! We start to see avid hikers, with large backpacks full of gear, walking poles and study shoes. Looking at my wedge boots I asked him, "Do you know where we are going?" He assures me that it is not too far, and yes he does. Well, one thing to know about Eric is that he will go after what strikes his fancy. Up and up we go. Colder and colder it gets. The views sustain me, so we keep going. Finally we are at a place where the only choice is to scramble, directly up, a gravel slide. I explain to Eric the conundrum of my wedge boots, "I thought this was a walk!" He assures me we are close. I scramble up after him with my heart in my throat. It was a bit scary! He grabs my hand and pulls me up the last bit.
True to his word, we stopped at a small ledge at the top. There was no view to take in as we were directly inside a cloud. I edged closer to the cliff and dared to look down, the cloud rushing over the edge in front of me.
"It looks like we are at the end of the world" I tell Eric as I turn around. And just at that time he's getting down on bended knee and offering me a ring.
I don't remember exactly what he said. I do remember being entirely surprised and being afraid of falling off the cliff! I said yes! We snapped a picture. And each person we passed on the trail down was part of our celebration. I couldn't help but actually shout it from the mountain tops, "We just got engaged! He just proposed!"
The land, so verdant and vast, seemed very important to my memory of the engagement that I knew I wanted to come back for the wedding. In order to travel so far I knew that meant we'd need to have an elopement, so that's what we planned. Saying our vows on Skye was an integral part of our ceremony."
How did you feel about having a tiny wedding – glad you did it?
I am so thankful that we had an intimate wedding. The whole thing felt sacred and the memories feel epic.
We originally imagined our wedding to be an elopement. As we planned out the details I knew in my heart that I wanted my mother to help me on the day of the wedding, and Eric wanted his uncle and aunt present. And I'm so glad we did that. Mom was there to help me breathe through the excited nerves while we got ready at Canowindra guest house. And Eric's uncle was there to help him figure out how to properly put on a kilt as it was Eric's first time wearing one!
The eve of the ceremony we decided to move our location to the other side of the island. The weather on the west side of the island had been quite blustery, while the east side of the island had sun breaks. Eric and I took a drive and found an outcropping of rock that made my pulse quicken. The view was phenomenal, ocean on one side and verdant green with a waterfall on the other side of us. We knew this was the place we wanted to make our promises.
Having a tiny wedding allowed us to make such a large change in such a small amount of time. We just needed to tell our witnesses, Sonja, our celebrant, and Lynne, our photographer. The small wedding party also allowed Eric and I to focus entirely on each other. The experience felt authentic and right.
The most important thing is that we allowed our imagination to change and grow.
What were the best bits of your trip?
"We were able to take a journey to get to Isle of Skye. We rented a car and made it an adventure to drive from Edinburgh to Skye. It can be a day trip, but we took our time. We stopped and hiked, we looked at lots of castles, stopped by small art studios and jewelry shops, and we ate at lots of really cool pubs. We took in sunsets and sunrises, wind through the trees, and the harmony of moments in time. Taking the time to slow down and laugh and talk allowed us both to unwind, rest, and be truly present before our big day.
The sle of Skye is magic. The land and seas radiate love and adventure. Go! Breathe in the air and follow your instinct to find your sacred space."
Here are some of my favourite images from Kristin and Eric's epic Isle of Skye elopement. If you need an Isle of Skye elopement photographer then please contact me here.